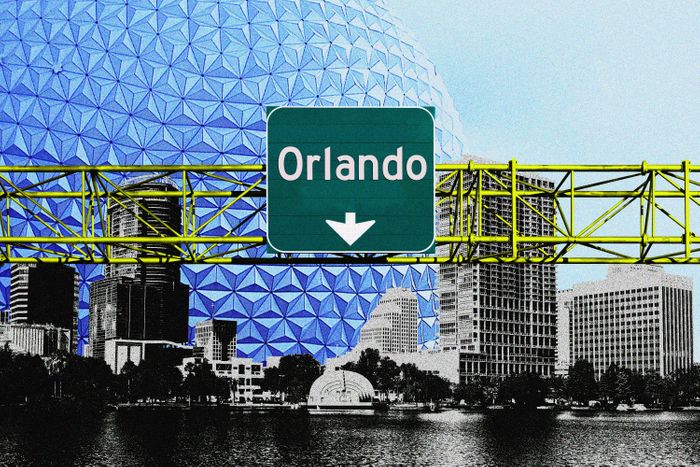 Photo-Illustration: Curbed; Photos: Getty Images
In "Realtor Diaries," we hear from people at the center of a wilder-than-ever market. Today, an hour-by-hour glimpse into the working world of a top Orlando broker who specializes in homes in Golden Oak, a residential area inside Disney World.
6 a.m. My wife and I work together as a team, so we like to wake up together, then work out together. We have our own gym; we built a whole thing during COVID. I'm 54 now, and I want to stay healthy and stress free. In our line of business, you need some kind of stress relief. There's a huge range of personalities here in Orlando and some very big egos. Plus it's such a strange market right now. Prices in the last two years have doubled, but there's limited inventory. And the buyers now are picky. No one wants houses that need any work. Homes have to be remodeled or brand new and basically "perfect" or they won't sell. Buyers don't want to fix things up in Florida. The predominant style of home in Orlando is Tuscan or Mediterranean with barrel-tile roofs.
7 a.m. My wife and I are debriefing over coffee about one particular situation. We had a client whose house was under contract for over $6 million. The inspection report came in, and a few small things came up: electrical outlets that weren't working, a small area on the roof that needed a minor roof thing — maybe it was $5,000 in repairs, tops. We encouraged our client, a successful businessman, to make the repairs and just move forward. He said he would not fix anything. It was a flat-out "If they want this house, they'll deal with it. I'm not doing any of those things." Well, the buyer had the same ego. He was like, "Then I'm walking." And at the end of the day, a $6.5 million sale didn't happen just because of some pettiness. I did try to warn my client, the seller. I said, "You don't know the buyer's mentality. They might already be on edge. Just fix these little, little things!" But there's only so much you can do. In the past, my wife and I have contributed part of our commission to make repairs like these, but in this case, it was a personality clash. We couldn't do anything about it.
8:30 a.m. We're in the office. We're never here for long. We make a road map of our day — how to divide and conquer. My wife will go to an inspection, I'll go to an appraisal, then we have showings later in the day. But, first, an email just came through. We had a buyer who flew in from California on his private plane. He wanted one specific home in Golden Oak; he was so set on buying this house. Everything pointed to a good deal. The guy came last week and said he wanted it. He says he's putting in an offer. And then today we get an email that his wife says, judging by the online photos only, that "it's too dark." Oh well! You learn to never get excited about anything until the deal is completely done.
Just to explain the Golden Oak phenomenon, it's a very upscale residential area within the Walt Disney World Resort. It launched in 2010 and is really its own thing. Golden Oak has a club, membership is $23,000 a year plus $8,000 for HOA, so that's $30,000 just in dues. There's a restaurant, a gym, a pool, a not-that-extravagant country club, and most people get around on golf carts. It's not very diverse, and I'd guess it's mostly Republican. The cheapest house is going to be $4 million and can go up to around $16 million. You're paying for the Disney name and the perks — close proximity to the parks, fireworks at night, VIP treatment. You move there because you love Disney; no one would pay that kind of a premium if not. If you don't care about Disney, you'd move to Isleworth and spend $10 million and get a huge palace. We recently listed a 3,600-square-foot house for $3.95 million. It's very close to the neighbors. We had six offers in two days. But the best of the best homes in Golden Oak are at the Four Seasons private residences. That's as nice as it gets, with a private golf course. The Four Seasons chefs will cook for you. Your concierge will do everything for you. It does not get any more luxurious (or expensive) than the Four Seasons residences.
11 a.m. My wife heads to the inspection. A 7,000-square-foot home takes all day to inspect. I'm glad it's her, not me!
1 p.m. I'm at my first showing of the day. It's in Golden Oak. Again, pretty much everyone moves to Golden Oak if they loved Disney when they were young and still love it now. Some are more Disney obsessed than others. This client today is fully Disney obsessed. The craziest thing about the homes in Golden Oak is that almost everybody has a "hidden Mickey" somewhere in their house. That's a Disney thing — hidden Mickey Mouse heads are all over the theme parks and hotels. But in these residences, they're everywhere too. There are custom stones carved to be the size of Mickey heads. Mickey heads hidden in the iron gates; a hidden Mickey head in the cabinetry, all beautifully stained and carved; an elaborate wood door with a hidden Mickey head. Owners do it just for their own amusement. I recently showed a house with 20 hidden Mickeys that came with a spreadsheet of where to find them. You'd never spot them otherwise. Anyway, the home I'm showing her today is beautiful but, uh-oh, no hidden Mickeys. I tell her, "You can add those after you buy it! Create your own hidden Mickeys!" She says, "Nope, it just doesn't seem like a Disney house!" What can I do? It's simply not "Disney enough" for her.
2 p.m. On the way out, I drive past a house I once listed where the owner spent $600,000 on a Star Wars home theater. It was incredible. In the end, he couldn't part with it and took his house off the market. He's not unusual. People spend hundreds of thousands of dollars on theme rooms. Princess rooms.
3 p.m. I swing by my least expensive property to see how the staging looks. It's a listing for $475,000, but the owner is a doctor who we've worked with for years. This is one of his investment properties. I don't typically work with this price point, but I'm not going to say "no" because we have a relationship with him. We once listed a $250,000 house and put a ton of effort into it for a client who proceeded to file for bankruptcy, which meant we'd get nothing out of it because everything went back to the bank. We never made him feel bad; we only tried to help. That same client has since referred us to more high-net-worth clients over the years than almost anyone else. He felt bad and appreciated how we handled it. Relationships are everything.
4 p.m. Another showing. It's a couple from California who can spend around $2.8 million. They are a bit shocked at what they can buy here — they thought they could get more for their money; they thought they could get twice the house here. For $2.8 million, you used to be able to get a lot, but our prices have literally doubled. For the longest time pre-COVID, every Realtor talked about a deal in Winter Park that sold for $11.5 million. That was the top of our market. But in the last year, my agency has had a total of seven sales over $9 million. Our market has completely changed.
4:30 p.m. Before we go in, I disclose to my client that this house has cameras for security and that we're probably being watched. It's legal to film people, but audio is illegal. I once had a client in an area called Celebration; her property was worth $5 million. She had cameras literally everywhere. You'd do a showing, and afterward, she'd coach you on what you did right or wrong — which meant she was also listening and we were being recorded. You can't do that without letting people know. We ended up breaking up with her as a client. I didn't like that she was watching and listening like that. It hurt because it was millions of dollars in business we walked away from, but she was a highly paranoid person. And I didn't need any coaching from her.
5 p.m. I arrive at my next showing, a $5 million property in Wintermere, a half-hour early to get the lights, smart-home system, pool, waterfall, and water slide all set up. It's another "Mediterranean Modern"–style home. Windermere has newer homes and less old money — you're going to find that old-money vibe in Winter Park. Windermere used to be all orange groves, but since it surrounds a chain of 11 lakes, it has become ultrapopular for luxury lakefront and golf-front real estate. Many of our most prestigious neighborhoods are guard-gated 24-hours a day, offering very limited access unless you live in the neighborhood or are visiting someone who does. The actual town of Windermere ("Downtown") is very quaint with brick-lined streets and lots of large oak trees.
5:30 p.m. The buyer is downplaying everything. "I don't like this. I don't like that." You can usually tell what they're doing. For me, I'd rather that type of buyer than the one who comes in hot and says, "I love it. All cash. How quickly can they close? Call the seller!" Usually, they're bogus. Either they're just overexcited and not thinking clearly or they're proper scammers. The ones who downplay things are usually the ones to make a real offer the next day.
We see a lot of scammers here. Orlando has over 70 million visitors a year. People come and they're on vacation and they're high on life. They want a house here and go crazy in the heat of the moment. We've had forged proof of funds. The fonts didn't look quite right. We contacted the bank. The bank told us they can't reveal much but these people don't even have an account with them. We've had several counterfeit checks. On the flip side, we had this couple from Sweden who showed up in fringed and frayed clothing, wanting to buy a $2 million home ASAP. I warned my client that they were probably not serious buyers, and a few weeks later, they closed on it with no issues whatsoever. You can't judge a book by its cover!
7 p.m. I have to get home for my teenage son tonight. He's an athlete and has a tournament to get to.
9 p.m. My phone never stops, but I don't mind.