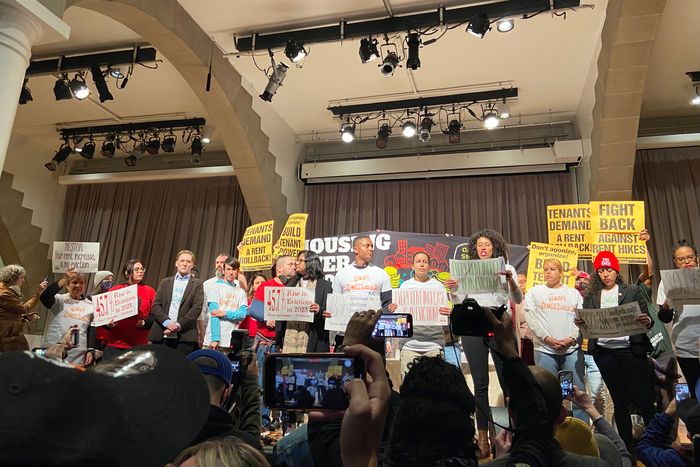 On Tuesday night, the Rent Guidelines Board gave preliminary approval for one of the largest rent increases in recent history — between 2 and 5 percent on one-year leases and 4 to 7 percent on two-year leases. This did not go over well. As the nine-member body debated — well, it was pretty much impossible to tell what they were debating with all the chanting and booing — the crowd, along with several City Council members, stormed the stage in protest.
Rent Guidelines Board meetings are notoriously heated, but this year has been particularly rancorous. At a meeting a couple of weeks ago focused on landlord expenses, the board discussed rent increases of up to 16 percent, telegraphing that it was likely considering a hefty increase. This came on the heels of a recent study that found half of New York City households can't afford to live here and Albany throwing up its hands at solving the housing crisis. Add in the fact that the board voted just last year to approve a 3.25 percent increase, and the groundwork has been laid for a battle.
During the de Blasio era, the members of the Rent Guidelines Board, who are appointed by the mayor and generally reflect his views, voted for several rent freezes. This year, 27 City Council members wrote a letter to the board asking for another freeze in light of a recent report that found three-quarters of renter households struggle to afford basic necessities. Landlords have argued that inflation, the pandemic, and a decade of only minor increases have strained their finances, leading to a growing number of apartments they'd rather keep vacant than rent out at the legal rate. "I'm glad there was a counter to the hike by the tenants — but the board doesn't have the courage nor the will," City Councilmember Chi Osse, one of four members who took the stage, said of the protests during the meeting.
About a million apartments in the city are rent-stabilized — just under half of all the apartments — and have a median rent of $1,400 per month, according to the New York Times. The median household income of rent-stabilized tenants is $44,000 a year. The proposed increases would mean tenants paying the median rent would see it go up between $28 and $70 per month. There are more hearings to come before the board holds a final vote in June. Buckle up.
Additional reporting by Sukjong Hong.