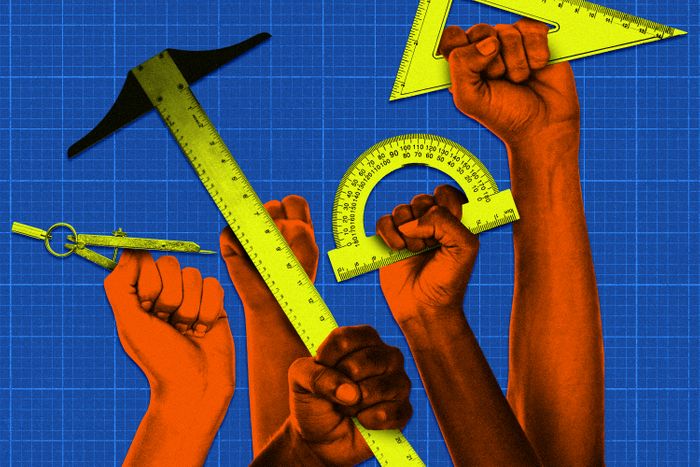 Photo-Illustration: Curbed; Photos: Getty
Workers at Snøhetta, the global design firm behind the renovation of 550 Madison and its lush public garden as well as One Vanderbilt's mildly hallucinogenic Summit, are filing to form a union. If their drive to join the International Association of Machinists and Aerospace Workers succeeds, Snøhetta would become only the second private architecture firm to unionize in the country in almost a century. And the workers would help create a potential road map for their peers: "Transforming the industry over time — that was what inspired us to start organizing at Snøhetta," says Leo Shaw, a senior proposal coordinator who is on the union's organizing committee.
The firm was founded in Oslo, Norway, where some employees are already part of a national union of design professionals, and has roughly 90 employees in New York and San Francisco. Workers at those offices say they started having conversations about organizing more than a year ago, before SHoP Architects' historic drive went public, and ended up joining the industrywide campaign led by Architectural Workers United, the group that sprang out of SHoP's organizing. And while the architecture industry is infamous for its low pay, lack of diversity, and long hours — at SHoP, employees say they worked an average of 50 hours per week, which shot up to 60 or 70 hours during important deadlines — the workers at Snøhetta say they came together for a very different reason: to lock in their working conditions. "It's an extremely good place to work," says Andrew Anderson, a technical specialist at Snøhetta who has worked in architecture for 35 years. The hours tend to be manageable, the culture generally supportive. "To the question of 'Why organize here?', the answer is 'Because we can,'" Anderson says. As for the management at Snøhetta, the firm says, "Snøhetta in the U.S. supports our employees' right to seek self-determination. We look forward to working with this group to better understand what joining a union might mean for the firm, our culture, our business, and our entire team."
SHoP's campaign ultimately failed, ending just a month after it went public. A group of associate principals at SHoP circulated a petition against the vote and painted a picture of financial blowback with one telling Curbed, "Clients threaten to stop working with us if we unionize." In the end, "fear of the unknown along with misinformation" overpowered the drive, organizers said. (A SHoP spokesperson told Curbed at the time, "Any allegations of bad-faith campaigning are unfounded.") Still, the effort at SHoP motivated organizers at Snøhetta. Araceli Lopez, an early-career designer at Snøhetta, says it "made people like me, who were very fearful of going into an industry that might not be interested in change, very hopeful." There is momentum in the industry, says David DiMaria, an organizer with the machinist union. The union is currently in talks with workers from nearly a dozen different firms who have reached out about unionizing, he says. Within a year of SHoP's drive, employees at Bernheimer Architecture, a small (22-person) Brooklyn-based firm, successfully became the first to unionize. "It's just an idea whose time has come," DiMaria says.
Snøhetta employees hope to be next. The long-term goal may be building broader, political power, but the focus among Snøhetta organizers, at least for right now, is winning their union election. There's a simplicity to the immediate effort, Shaw tells me: "One firm has organized to date, and we're hoping to be the second. Another firm will follow."