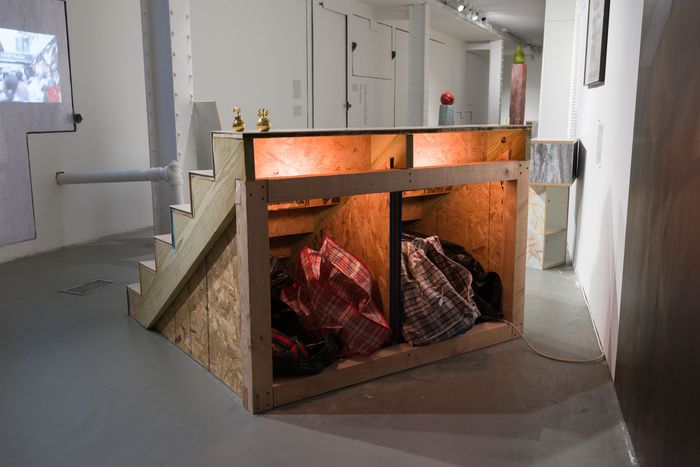 Counterfeit designer accessories are stashed beneath a freestanding staircase.
Photo: PJ Rountree. Courtesy of Storefront for Art and Architecture
The narrow, wedge-shaped gallery at Storefront for Art and Architecture is furnished with photographs of auras from a crystal shop, marble-tile samples, press clippings from 2008, a floor-to-ceiling ad for a turkey sandwich, and a giant sculpted pear. At the center of this puzzling composition is a staircase where you can sit and try to figure out what it all means. But the answer is hidden beneath the steps, which are open at the back and illuminated from within. There you'll find black plastic bags stuffed with counterfeit designer accessories like a "Gussaci" handbag and a "Chbistian Bior" scarf.
Eventually, I gather that everything in the gallery is a reference to New Land Plaza, a mini-mall on Canal Street that used to be a marble depot. The nondescript building, today shrouded in megascaled advertisements for Boar's Head deli meats, was once the capital of New York's "Counterfeit Triangle," where Canal, Walker, Baxter, and Centre Streets intersect. In the narrow stalls, souvenir-shop vendors sold fake luxury bags and accessories in plain sight until 2008, when then-Mayor Michael Bloomberg ordered a crackdown. The police busted 32 vendors and seized $1 million worth of contraband, and the administration sued the landlord, following a previous suit by a consortium of luxury brands, to lock out the bootleggers for good. It worked. Many shops have remained vacant, and the owners turned the building into a billboard.
Ming Lin and Alex Tatarsky, the creators of this Storefront presentation, look back on the demise of the Counterfeit Triangle as a cultural event that demands a countercultural response. "Bootleg is our methodology," Tatarsky said. In 2015 they launched Shanzhai Lyric, an ever-expanding archive of shanzhai, or counterfeit garments, whose mistranslated English phrases and nonsensical labels they hail as the inadvertent poetry of globalization. During the retail apocalypse of 2020, they set up the Canal Street Research Association, a "fictional office entity," as they call it, in a vacant storefront on Canal Street, ground zero for shanzhai. There, they invited visitors to browse (but not buy) shanzhai T-shirts and other "research materials," to jot down memories of Canal Street on a wall, and to use the storefront for performance and art-making (another artist even began using it as his studio). Lin and Tatarsky also brought their salvaged "bootleg" products to MoMA PS1's "Greater New York" show and Amant's "Siren (Some Poetics)." For their first solo show at Storefront, they leave the T-shirts behind to offer a more site-specific collection of urban ephemera that feels like a stage set, a quirky shop, and a work-in-progress all at once. Maybe that's by design. As a bonus: Storefront's triangular footprint echoes the Chinatown block that is the pair's muse.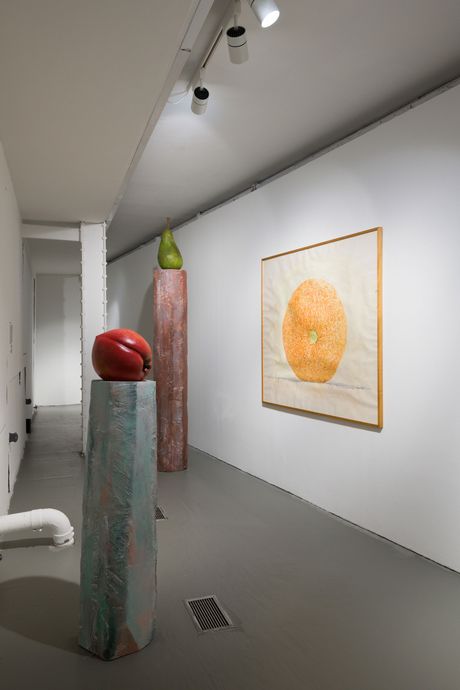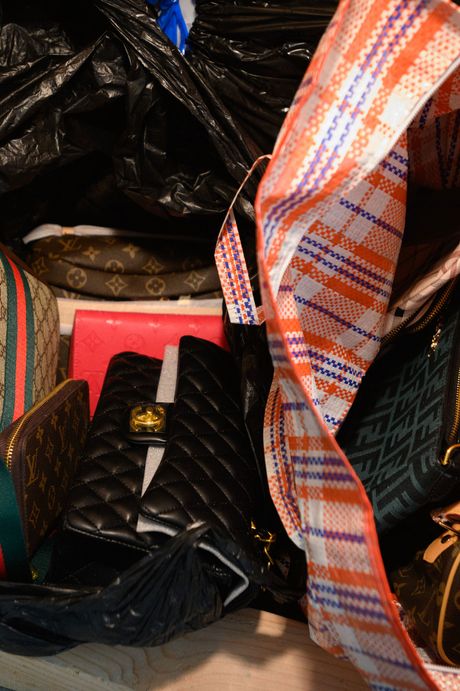 The exhibition's cheeky subtitle, "You Can't Beat a New York Original," is lifted straight from a massive ad on the side of New Land Plaza. To complete the body swap between Storefront and the mini-mall, a banner above Storefront's façade offers to sell "a premier 8 x 17 ft ad space." Inside, the half-hidden booty behind the stair recalls the not-so-secret back rooms of many a forlorn Canal Street gift shop. It also references the atrium stair at New Land Plaza, where — as shown in a couple of photographs in the exhibit — Bloomberg held a press conference to announce his administration's "biggest takedown ever" and denounce the "easy and sleazy" counterfeit trade. A subversively modified police poster nearby replaces a hotline number for reporting counterfeit vendors with the phone number of the artists, asking people to contribute to their research instead. The idea in staging these props and documents is to recast the counterfeit merchants as heirs to the city's legacy of rambunctious commerce and inventive street culture. Is it convincing? It's definitely intriguing.
Shanzhai Lyric also resurfaces a forgotten public-art proposal from the 1980s by Ming Fay, a New York artist who seemed to share their appreciation of street vending as a creative force. For Monumental Fruits, Fay envisioned decorating the eastern tip of the contested triangle, then occupied by fruit vendors, with oversize cast-bronze fruits — peach, pear, orange, and pomegranate, auspicious in Chinese culture — perched high atop stone or metal columns. At Storefront, Lin and Tatarsky have installed a couple of full-scale sculptural mock-ups and original paintings of the fruits lent by the octogenarian artist.
Neither the counterfeit trade nor the informal street vendors have disappeared entirely from Canal. But the thoroughfare, normally one of the neighborhood's most crowded and coveted strips of real estate, has a large number of vacant storefronts, and over the past year, the Adams administration has stepped up enforcement against street vendors across the city, clearing them from the Brooklyn Bridge, parks like Washington Square, and the subway. Although the answer to a tough business environment may not be letting the counterfeit curbside economy go unchecked, Tatarksy and Lin's project highlights the way these businesses epitomize the city's ethos of hustle.
One of the remaining merchants at New Land Plaza is a feng shui consultant who goes by the name of Robert and says he was there for the 2008 bust. His interview with Tatarsky and Lin is featured in the newsprint publication that accompanies the exhibition. Asked if he thinks he can keep his business alive, he said, "If I've created good feng shui in my store, then I can stay. Even now, when everybody's gone and closed up shop, I'll try to stay longer."
The exhibition is on view through May 27.