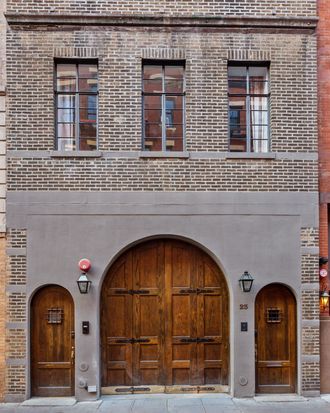 Photo: Al Siedman/VHT for The Corcoran Group/)2022 VHT Studios All rights reserved
Swifties will apparently pay anything for tickets to the Eras tour, but what about the West Village carriage house where Taylor Swift spent a few months in 2016? The 5,500-square-foot home at 23 Cornelia Street — where Swift lived briefly but, at least according to her lyrics, vividly, while her $50 million Tribeca loft was undergoing renovations — is now on the market for $17.995 million with Corcoran's Laurence Carty. Whether or not it will sell at that price is a matter of debate among brokers.
The carriage house last sold in 2019 for $11.5 million, according to city records. It's been renovated in the years since Swift rented it and has five bedrooms, four full baths, two half-baths, and a number of terraces with gas fireplaces. There's also an indoor lap pool and a garage — unusual features that some brokers say could win over a deep-pocketed buyer. "I am the biggest fan of unique properties," says Sydney Blumstein, a Corcoran associate broker who grew up in Greenwich Village and has sold a lot of real estate there. "You can't comp out a private swimming pool on a quiet street like Cornelia." For David Kornmeier, an associate broker at Brown Harris Stevens, the garage is the real draw for a certain tier of high-profile buyers who don't like being photographed getting in and out of their cars: "Some people like having a pool and some don't, but everyone likes a garage."
But other brokers I spoke with pointed out that you could get a lot more square feet in the neighborhood for $18 million. And some properties with similar amenities have languished on the market for considerably less: For example, 196 West Houston, a 7,200-square-feet home with a two-car garage that's asking $12.95 million, has been on the market for 266 days. Or 33 Perry Street, which is now in contract, last asking $16.9 million for 8,668 square feet. "You can buy something much bigger for that," says one broker. "And I know Cornelia is dreamy, but there are also a ton of restaurants on that block. It's kind of busy."
Which also brings us back to the Swift connection. "It's kind of tangential," as one broker put it — likely not enough to motivate a buyer. But the singer's brief tenure at the address has turned it into a destination for fans after her breakup with Joe Alwyn earlier this spring (for the non-stans, the song "Cornelia Street" waxes nostalgic about the early days of their romance), which may be a deal breaker for the kind of buyer who would pay nearly $18 million for a property with a private garage entrance. Walking out your door to the occasional horde of Swifties or sweeping up the bodega roses they leave behind may not appeal.