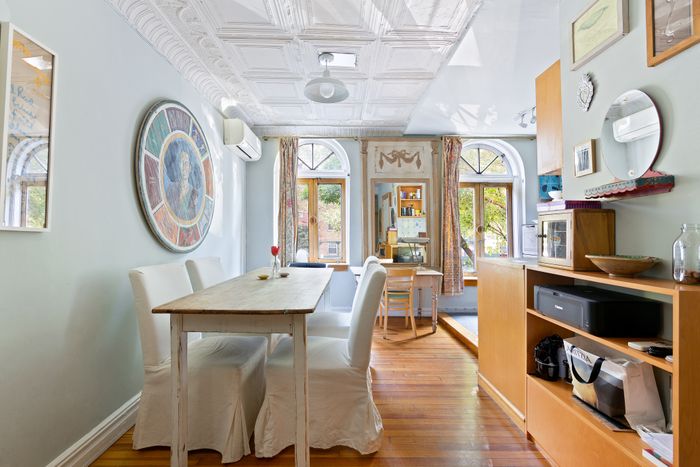 Abstract photographer Jack Sal lived here for more than 30 years in the front rooms of a former synagogue on East 6th Street — just up the stairs from his former roommate William Wegman. This was the section where the women of the Proskurover Zion Congregation would have prayed separately.
Photo: Allyson Lubow Photography/Allyson Lubow
In the early 1980s, photographer and East Village resident Timothy Greenfield-Sanders was obsessed with his neighborhood's stock of old religious buildings. He'd just closed on an old rectory on Second Avenue when a synagogue nearby on 6th Street went on the market. "It was a building that longed for a new beginning," he says. The problem was he didn't have money for another down payment. So he started talking it up to other people who might. Like the photographer William Wegman, who was quickly gaining fame for shooting his own Weimaraner dogs. On a shoot, Greenfield-Sanders found out Wegman had just lost his apartment to a divorce and was living with a roommate, the abstract photographer Jack Sal. Wegman and Sal were interested, and so was Greenfield-Sanders's teenage neighbor on Second Avenue, Maria von Hartz. "I'd just been discovered and suddenly had some money," says von Hartz.
Together, the 18-year-old model and the three professional photographers bought the building in 1982 for $154,500, dividing up the price and the space. Wegman paid five-eighths of the mortgage and taxes for the main worship room — a first-floor duplex with 20-foot-tall ceilings and a second story that overlooks the grand space thanks to two wide balconies. Sal paid two-eighths for the front of the building, where the women of the congregation would have once worshiped separately, a bright, cheerful space thanks to high arched windows. For one-eighth, Greenfield-Sanders took the smallest apartment on the fourth floor — believed to have belonged to the building's former caretaker. And for two-eighths, von Hartz took the third floor, the home of what Greenfield-Sanders remembers as a former Polish or Ukrainian social club when he arrived in 1982 but was archived in a 1923 copy of The Worker as Katz Hall, the meeting place for "sympathizers" of the Polish Branch of the Workers Party.
"It was this cavernous space," says von Hartz. "This huge loft with urinals in the front, pool tables, a 30-foot Art Deco bar with beer signs, neon signs, card tables, four pool tables. I was like, 'Oh my God! I'll take it.'" She and her friends would often run into Wegman's crowd. "He was always coming in and out with his dogs, and there would be famous people in the halls. I'd be coming in with all my makeup on from a modeling shoot and the B-52's are in the hallway, getting their album cover done."
"I remember once Bill had a shoot with Steve Martin, who came to pose with the dogs," says Greenfield-Sanders. "It was kind of glamorous in that way." For Wegman, it was a perfect workspace — the balconies meant he could shoot from overhead, the high ceilings let him work with bigger lights, and the space was so immense that he could carve out a separate small apartment in front where his assistants could crash. "Another thing that I used, not legally, was the yard," he admitted. But the neighbors, which incidentally included the playwright Lee Breuer, were friendly and gave Wegman's dogs freedom to roam.
Things changed when — per Wegman — "the Pyramid Club kicked up." The club — which opened in 1979 — meant bass lines made a constant boomp boomp boomp in Wegman's bedroom from midnight to 4 a.m. despite all efforts at soundproofing. For Sal, whose rooms faced the street, the noise came years later. "Towards the end, there was this horrendous bar called Death & Co.," he said. "There'd be people out at all hours. We tried to fight them."
Wegman officially grew out of the studio when he had kids. "With children, it became a kind of hair-raising space," he says. So he eventually found 40,000 square feet across two empty buildings in Chelsea. In 1996, he sold his share of the synagogue to Paola Igliori, an artist and writer who had just published American Magus, a book about Harry Smith, the Beat Generation artist and visionary. "Harry Smith would be there all the time," Sal remembered. "And all these other crazy people. Crazy in a good sense of the word."
"I always had huge parties with, I don't know, Allen Ginsberg and the rapper Killah Priest from Wu-Tang Clan," Igliori says. She furnished the small apartment Wegman had built for his assistants with furniture from the Chelsea hotel suite that had once belonged to the artist and poet Rene Ricard, whom she wrote a book with. In 2014, Igliori bought out Sal, too, taking over his apartment but renting out Sal's basement studio to Vito Schnabel, who, before he opened his own gallery, used it to stage shows for the Bruce High Quality Foundation. "I'm like the godmother of Lola Schnabel," she says. Julian Schnabel's ex, May Andersen, moved into Sal's old apartment for a time, and Andersen's friend, the performance artist Kembra Pfahler, ended up using the basement studio. Greenfield-Sanders got out of the building in 2004, in part because despite only owning one-eighth, he found himself doing an outsize portion of upkeep. "It was too much work."
Von Hartz was on the third floor-through most of this mayhem, gradually transforming the space to match her life, which later included a husband and children. She added bedroom walls, upgraded bathrooms, and expanded the kitchen, getting rid of the old bar, which never stopped smelling of beer. "It kind of just morphed into a kitchen bar." Recently, she rented the space to a tenant and moved into the townhouse her parents had bought when she was a kid, right next to the former rectory on Second Avenue where Greenfield-Sanders still lives. This year, she listed the loft at 431 East 6th. "I have to go to therapy about actually selling it," she says.
Igliori refuses to move out entirely, keeping Wegman's old duplex for herself. But this week she listed Sal's front apartment, the small studio apartment Wegman built for his assistants, and Sal's basement studio — an offering of three stories at the front of the building that broker Brian Goldfarb is marketing as a "maisonette."
On tours, Goldfarb has found himself forced to explain who Wegman is. ("I say, 'You know, the guy who takes the photographs of the dogs?' And they're like, 'What?' and I explain.") But Wegman's career is sometimes less confusing than explaining how the building's ownership was divided up into eighths, and how that agreement still stands, 41 years later. "It's basically an agreement between friends."
*Updated June 29, 8:15 am: The article originally stated that May Andersen is the mother of Vito and Lola Schnabel. It has since been corrected to state that she once dated their father.