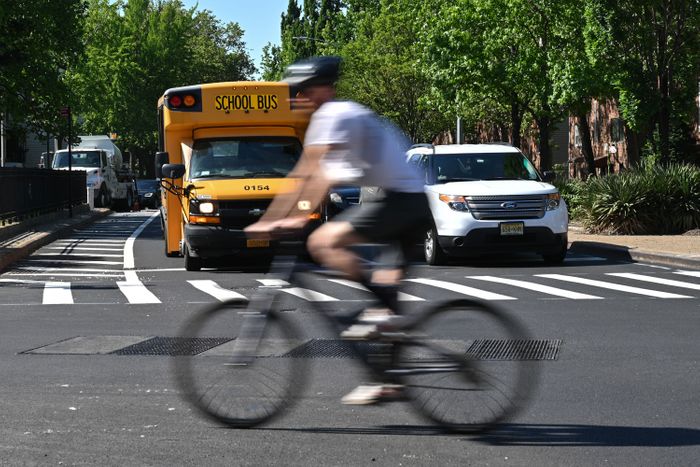 A cyclist riding on McGuinness Boulevard in Greenpoint.
Photo: Erik Pendzich/Shutterstock
An extensive campaign to shut down a Department of Transportation proposal to make Greenpoint's McGuinness Boulevard safer for pedestrians and cyclists has one family at the center of it. An investigation by The City found that the Argentos, who own the film production company Broadway Stages, are behind 37 of the 59 limited-liability companies listed on the "Keep McGuinness Moving" site, an effort to block a redesign of the dangerous street, where three pedestrians have died and hundreds more have been injured in the last ten years. The DOT proposal is one of the city's most ambitious under Adams, taking out two lanes of traffic and adding protected bike lanes on both sides of the road.
So who are the Argentos? For those in the film and TV industry, they're a familiar name. Tony Argento founded Broadway Stages in 1983 as a music-video production company in Astoria. Since then the company has expanded to operating more than 60 soundstages in the city and a huge number of productions have used them, including shows like Law & Order, Broad City, Saturday Night Live, and Russian Doll, along with movies like Ocean's 8 and It's Complicated. Their clients include most of the big production companies, like Netflix, HBO, Marvel, Universal, Fox, and Amazon. The family are also well-known Greenpoint figures, with Tony's son Anthony running his own Greenpoint film studio and heading up the Greenpoint Film Festival.
This isn't the first time the Argentos have worked to squash street-safety plans, according to The City. A DOT proposal to add a bike lane on Monitor Street last year was tabled after Tony and Gina Argento, his sister, complained and wrote letters. (Back in 2011, when opposing an extension of a bike lane on Greenpoint Avenue, Tony actually suggested moving the lane to Monitor.) Meanwhile, John Ciafone, husband to Gina, whose law-office address is affiliated with three of the LLCs on the Keep McGuinness Moving list, once advocated for street-safety redesigns in Astoria when he was running for City Council in 2013. The Argentos told The City that their concerns with the McGuinness plan had to do with slowing down truck traffic and its impact on local businesses. "We welcome the opportunity to find the right road diet that meets our mutual goals — the safety and long-term economic prosperity of our community," Tony Argento said.
Yet the family also has a somewhat checkered history when it comes to their business practices. A company owned by the Argentos, Luna Lighting, applied to register as a waste business in 2012 with the Business Integrity Commission. The BIC rejected the application, writing that the applicant "lacks good character, honesty, and integrity" because the company had illegally carted waste multiple times and because Anthony Argento and Luna Lighting owed $1 million in taxes to the IRS. They also claimed Argento had lied about his criminal record, which included a 1997 arrest for driving while intoxicated. (Ciafone told Staten Island Live that Argento was being discriminated against because he was Italian American and that they only owed $435,000 in taxes.) Gina Argento, a Bill de Blasio donor, was also part of a federal inquiry that looked into whether campaign donors got favors from the mayor, since Broadway Stages depends on the city for its permits (in the end, de Blasio was never formally charged).
The family is also responsible for the closure of a beloved neighborhood movie theater. Ciafone, a landlord whose properties include a building in Queens that housed Sunnyside Center Cinemas, didn't renew the theater's lease, forcing it to shut down so that he could redevelop the site. Someone rearranged the theater's marquee sign to read "Death by Speculation, Starring Limpdick Landlord," which most would call a fun prank, but Ciafone responded by reporting it to the Queens DA office, telling the Sunnyside Post, "I take this seriously and I am going to prosecute. I view it as a threat and don't understand who would be sick enough to do this." (Those sick enough to do this changed the marquee another time to read "Ciafone Lost Again Long Live Radical Communism" after he lost a 2021 City Council primary race to Tiffany Cabán.)
After The City pointed out who was behind the campaign against the street-safety improvements, the site removed the list of supporting businesses out of "the unanimous concern for safety." A town hall today about the McGuinness proposal, hosted by the campaign with the DOT, also restricted attendees by closing online registrations and requiring IDs and bag checks. It cited "numerous instances of falsified registrations" and the "safety of all attendees" as the reason. It seems the Argentos think community pushback is more dangerous than trucks careening down McGuinness Boulevard.