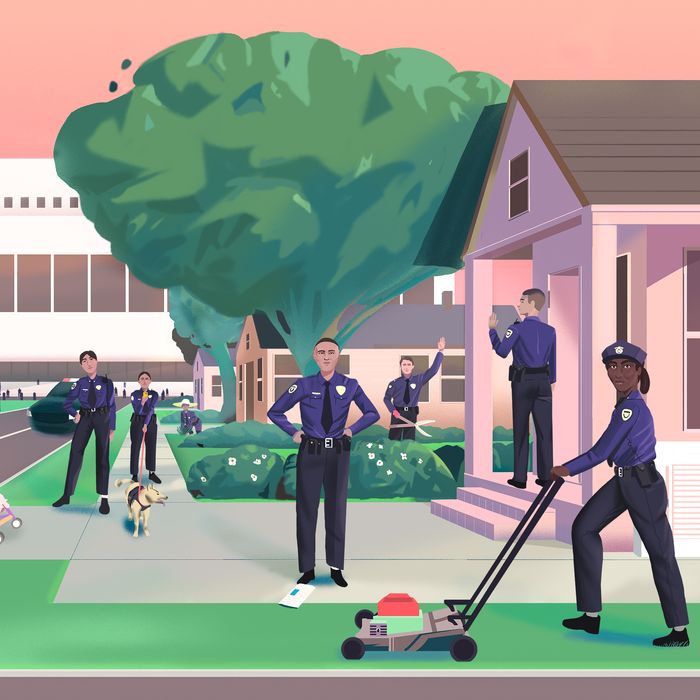 Illustration: Richard A Chance
At first glance, the renderings of the $90 million Atlanta Public Safety Training Center look like Google's Mountain View headquarters or an idyllic college campus. Walkways are lined with flowering trees, and a pair of deep-blue lakes frame a leafy quad. In another image, children spill out of a school bus parked near a stately lecture hall, greeted by a police officer in dress uniform. The main point of departure from your average office park are images of the complex's planned replica of an Atlanta city block, its roads choked with armored vehicles and awkwardly parked police sedans. Here, police will run riot drills at a fake gas station and stage hostage interventions in apartments and motel rooms. (On another nearby lot, a high-rise tower is shown consumed in flames.) According to city leadership, these scenes of perpetual crisis are crucial to the work of police reform. As then-mayor Keisha Bottoms said in 2021, using language that has been echoed by the Atlanta Police Foundation and the project's architectural firm, the sprawling training complex, planned to open in December of 2024, offers a "physical space to ensure that our officers and firefighters are receiving 21st-century training rooted in respect and regard for the communities they serve."
But Atlanta residents who oppose the project — hundreds of people lined up to give 14 hours of testimony at a recent City Council meeting — see a hollow justification for funneling more money into law enforcement while the city itself languishes. This "reality-based training," a kind of exposure therapy meant to mimic high-stress situations law enforcement might encounter in the field, has been utilized by police departments since at least the 1930s. And while the optics around these tactical villages may have changed in the years since they first emerged as spaghetti western–style sets where law enforcement performed acts of brute strength for national media, the people fighting Atlanta's "Cop City" say very little else has.
Georgia's Fort Gordon and Fort Belvoir in Virginia are some of the earliest specially constructed tactical villages used by law enforcement. They resembled sets for old-west towns in cheap amusement parks, and they were more or less stages for police to rehearse effective riot control as cities across the country erupted into protests over police violence and racism during the 1960s. Archival footage of these facilities in Sierra Pettengill's 2022 documentary, Riotsville, USA, show the elaborately scripted mock riots that took place there: A group of mostly white young men stationed at the bases wear fake beards and carry signs that read "Arrest Santa Claus" and "Love Not War." They are quickly corralled by law enforcement, who confront them in tanks and Jeeps. Bleachers full of spectators erupted into applause after the "leader" of the riots, a Black serviceman, was eventually dragged into a paddy wagon. But these fake cities offered more than just field training; they were their own form of propaganda. Crude as the stagings may have been, much of the media was astonished by the spectacle. "Welcome to Riotsville," an ABC reporter deadpanned in 1968 as the crowd behind him shouted and shook their fists in the air. "This is a simulated riot in a simulated city, but as another summer approaches, it might be Anywhere, USA." A 1967 headline in the Augusta Chronicle about Fort Gordon reads, "Army Defeats Hippie Mobs." The sets were as much a law-enforcement comment on cities as the people who lived in them. "My initial reaction to seeing the footage was, what a rare thing to get a total fantasy film from the state's perspective of what they think America looks like," Pettengill tells me. "It was a flattening absurdity and a real open mockery."
As more federal money began to flow, training villages started to look less like high-school theater productions and more like actual cities. Hogan's Alley, built in 1987 in Quantico, Virginia, cost $1.5 million and had Hollywood set designers consulting on the project. The results were aesthetically impressive: gabled brick Victorians and boxy cement storefronts. More buildings were added over the years, mimicking the organic growth of a real city. There's a post office, single-family homes, apartments, and a Subway franchise. Care was taken in the designer's choice of construction material: The buildings were made with extra-thick plywood that could withstand the wax bullets used in training. The realism (and expense) was considered a critical part of the training. As Jim Pledger, the special agent who directed the FBI Academy's Practical Applications Training Unit, told Time in 1990, "Crime doesn't unfold in a classroom. We realized we could no longer limit ourselves to a square brick building." And like Fort Gordon before it, Hogan's Alley seemed to function as a law-enforcement fever dream about the American city: The FBI home page describes it as "a hotbed of terrorist and criminal activity" where "mobsters, drug dealers, and international terrorists lurk around every corner." A Washington Post reporter who visited the mock city soon after it was constructed described it as a "violent Disneyland."
Demand for reality-based training only further exploded after the attacks of September 11. (A Washington, D.C., company that supplied professional actors for FBI, Secret Service, and Capitol Hill Police training scenarios said it saw a 450 percent increase in demand for its services.) A cottage industry of consultants and architects now exists to bring ever-more realistic and sophisticated design approaches to the builds, from foam furniture that eats bullets to fog machines that mimic the zero-visibility environments caused by smoke. Their sophistication grew accordingly, and so did the training benefits promised by law enforcement. The New York City Police Department's $950 million College Point Academy, which opened in 2016, has an indoor mock village that includes a jail, a courthouse, and a fake subway station with real turnstiles and a train car, and trompe l'oeil photographs on the walls to give the space the depth of a real station. The village's other visual tricks include a bodega stocked with real (but empty) food packaging, a street scene with prop trees and hydrants, and actual squad cars set on casters. When the project was announced back in 2007, then-commissioner Raymond W. Kelly said the investment was crucial to the needs of a modern police force: "We've expanded both the size of the force and its mission to include new counterterrorism and intelligence programs, expanded community outreach and greater focus on quality of life. All these activities create new demands on the Police Academy that this facility will meet."
Michael Birzer, a criminal-justice professor at Wichita State University who researches police behavior, policy, and operations, believes this type of training becomes more critical as it is perfected. "Creating an environment that is almost perfectly matched to what an officer's going to be experiencing when he gets into the community better prepares that officer to go into the community. So you want to make that environment look as similar as possible." Judith Anderson, a psychology professor at the University of Toronto, argues that training in mock cities that includes emotional coaching will teach law enforcement to "control the cascade of stress chemicals" so that they fire their guns less often and more accurately.
But the impact of hyperrealistic bodegas, like all police reform, is difficult to quantify. There have been some positive changes to policing in the years since millions of people flooded the streets in protest of George Floyd's murder — like a recent neighborhood-policing initiative in Brownsville and more departments banning chokeholds — but police violence remains a crisis. A 2022 Washington Post investigation found that since 2020 the rate of police killings of Black people — which is significantly higher than other racial groups — has increased. A 2021 study by University of Washington researchers, which was published in The Lancet, found that police killings have been massively undercounted, by about half, over the past four decades. "Reform is sold to the American public as a way of saying, 'Policing is not working the way it's meant to be working; we can just train our way out of it,'" Pettengill says. "When in fact it is working the way it's designed to be working."
Cop City is a microcosm of this whiplash: After the brutal police response from Atlanta police to the 2020 uprisings — six officers were charged with excessive force, but those charges were later dropped — there was a promise made to the residents that the department would do better. And a new training facility, with its claims to "21st-century policing," was just the place to practice doing better. But in the nearly two years of protests against Cop City, domestic-terrorism charges have been levied against 42 people protesting the project, and one person has been killed. Police are now stationed around the construction site, like a crisis scene out of the tactical village being built there. The City Council asked the department to reconsider the decision, saying that allocating officers to stand guard is hurting crime-fighting efforts elsewhere. Police Chief Darin Schierbaum said he couldn't make the change: "There are those who want to harm my officers."