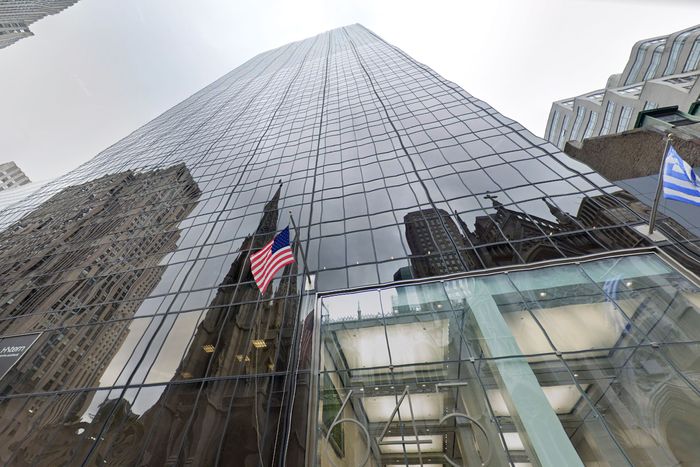 The Gucci family penthouse in Olympic Tower has spent the last eight years flirting with the market — listing, unlisting, relisting with a different broker, then another and yet another. But one thing has stayed consistent over the years, and that is the asking price: always, always $35 million. Now, it's back again, listed with Loy Carlos of Serhant, asking — no surprises here — $35 million, as Crain's first reported.
Why can't the listing sell? One broker who has worked in the building suggested the price was not just aspirational but had been plucked out of thin air all those years ago — untethered to anything as prosaic as, say, comps. "Look at the StreetEasy history. That will tell you everything you need to know," she says. The apartment did have one price cut — from $45 million — after its first four months on the market, but then the owners, sisters Alessandra and Allegra Gucci, apparently decided that this was enough.
The apartment has been in Gucci family since the 1970s, according to Crain's. Maurizio Gucci, the sisters' father, bought two apartments around the time the building was completed and combined them into a 9,450-square-foot duplex on the top two floors. The place looks perfectly nice — if a little dated. Sweeping views, an open floor plan, wood-paneled walls, lots of woodburning fireplaces. It seems that no one from the Gucci family has lived there for decades. It was listed as a $25,000-a-month rental in 1998 and has been rented out a few times since.
"It's overpriced," says one broker with a laugh. "There are a lot of newer, high-end buildings in the neighborhood (the MoMA Tower, the Mandarin) — 641 Fifth is just a dated building. It's well-run, but it's dated. It's not an amenity-rich building. They have a high number of staff, so it's high-touch, but for that price, people want something newer. It was built in the '70s. It's old. And, at least on the lower floors, the Mandarin cuts the view of the park a little."
Carlos wouldn't disclose the owner or say why they won't budge from the asking price, but he did say he thought that the price, while too high in the past, was achievable now. "When it was first on the market, what was in that price range? 432 Park, 15 CPW. It was off. It was aspirational. But now, when we talk about $35 million, $45 million, $75 million — it's not unusual anymore. The buyers are there. And this apartment is huge, it's sprawling, it's over 9,000 square feet."
Yes, it needs renovation, he concedes, and the layout is unusual. The penthouse's eight bedrooms are divided, compound-style, into two separate suites with a shared living space below — a setup favored by international buyers seeking a pied-à-terre to be shared by extended family. But at 432 Park, the average price per square foot is in the $7,000 range. The Olympic Tower penthouse is, by contrast, asking $3,700 per square foot, which; even factoring in a high-end renovation at $1,500 per square foot, is kind of a bargain. Or at least in line with the market, he argues. Sure, some buyers might prefer something newer or directly on the park, but Olympic Tower has a devoted following.
Still, the more expensive listings at Olympic Tower have had a hard time selling. They get unlisted, relisted, reduced, rented instead of sold. And most of those are asking a lot less per square foot. To wit, Apartment 46/47C, a 7,750-square-foot duplex on a high floor, appears to have sold for $17 million in 2020. It was relisted almost immediately at $18 million but can't find another buyer (not for lack of trying out different prices). Most of what has sold in the last few years is in the $1.5 million to $5 million range — for solid luxury-condo buyers but not the whales.
"People shoot for high numbers there, but they don't get them," says a broker. They may have owned for a long time and don't fully understand where Olympic Tower falls in the pecking order. Many sellers are also international and not so in touch with the nuances of the local market. "They think, Fifth Avenue. It has a cachet to it, but it's not just a blanket Fifth Avenue."