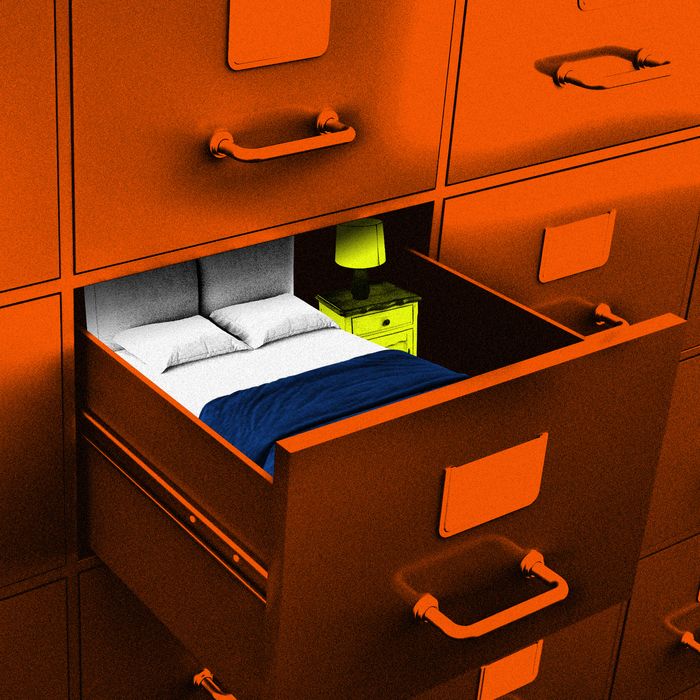 Photo-Illustration: Curbed; Photos: Getty
Carly had survived recruitment season (her name has been changed for this story). After weeks of applications and multiple "superdays" — part final-round interview, part endurance challenge for finance interns and junior-analyst hopefuls — she secured an internship at a major bank's Manhattan office. She was relieved. "The biggest weight is lifted," she remembers thinking. "Things are going to be okay." That feeling lasted for about a month. Then she was introduced to New York City's summer housing market.
Thousands of interns join the city workforce every June, ready to do what it takes to get that return offer. They also need a place to live. The resulting hierarchy stacks roughly as follows: The lucky ones are either already from here or have housing provided by their temporary employer — a Citadel intern I talked to was put up at the Olivia, spending his summer with access to a luxury gym and a 24-hour concierge. Others might have an aunt in Montclair or an older brother in Bushwick they can stay with through August. But for those going it alone with a stipend and a prayer, things can get disorientingly rough. The obscenities of the market, familiar as they may be to a more seasoned tenant, often come as a shock to someone looking to live in, say, Fort Greene for three months. True to the college experience, finding an apartment becomes its own kind of hazing ritual.
Summer is already the city's most competitive, and expensive, rental season. Average rental prices saw a record high this past May, reaching $5,379 according to the Elliman report; median rental prices rose to $4,395. Robert Straube, a broker at Bond New York who specializes in relocation to the city for both short- and long-term rentals, seemed to only be half-joking when he told me that, when approached during peak season, unless a client has an "enormously huge sum" to spend on a place, "I tell them I can't help them and feel no remorse about it." Carly, instead, had a budget of $1,800 and aspired to live in the East Village — somewhere small with a roommate, easy access to the subway for her commute to midtown. Maybe even within walking distance to the intern bars she'd heard about. She didn't think she was asking too much.
Early efforts on StreetEasy proved pretty useless; short-term leases were basically nonexistent. So she quickly turned to Facebook groups with names like Young Females: New York City, NYC-Apartments, Sublets, Roommates and Sweats and the City: New York City Apartments, looking for a lease takeover or an open room. A spot in a cramped two-bed in Chelsea asking $2,300 a month per room that had no AC, no in-building laundry, and a roommate who worked from home full time had dozens of people swarming it within an hour of its going up. A post about a Financial District one-bedroom with in-unit laundry seemed promising, so Carly wasted no time reaching out: She pleaded her case in DMs, but the woman who had posted the apartment on behalf of her boyfriend — he was going backpacking for the summer, she said — said the room was already gone. Someone had offered $750 over asking, she wrote, adding a little frowny emoji. Carly watched as her response — "Interested!" — on a $2,300 street-level sublet in the East Village slowly disappeared in the flood of comments. She never heard back. This became the norm.
Some of the people I spoke to thought they'd apartment hop — cobbling together stable housing through a series of medium-to-super-short-term sublets — rooms that become available in one-to-two-week intervals. These are the people who "just want to make some money while they are off on their summer vacation," one former communications intern, who spent $6,500 for a place in midtown, told me. She had seen it up close. "Nightmarish," she said. "You're already stressed enough. Let's add dragging your suitcases through the subway system each weekend on top of it." One finance intern I spoke to thought she'd lucked out after finding a furnished sublet in StuyTown for a little over $2,000 a month. It wouldn't get her through the full summer, but it was otherwise ideal: conveniently located and, per the listing, fully furnished. What she found upon arrival, she said, was a mattress on the floor and a single chair.
Go through all those "and then you get desperate," a marketing intern told me. "When you get desperate, the more likely you are to be duped." With enough horror stories about other interns standing outside what they thought were their apartments only to find themselves locked out, Carly let go of whatever preconceptions she had about her big-city apartment. She turned, instead, to the cottage industry built exclusively around intern housing that greatly resembles college housing. There are companies like Internz, which offers rooms in buildings across the city like the $13,000 "Lofted Triple" at the New Yorker. (Colleges are also a natural part of the market: NYU, for instance, offers a single room in a shared dorm for about $6,300.) Carly ended up in a three-bedroom, dorm-style suite shared with two other girls — each paying nearly $6,000 for 11 weeks. It's not ideal, but at least she was done looking. "I didn't think living in New York was going to be a dream," she says, "but I didn't think it was going to be this shitty, either."