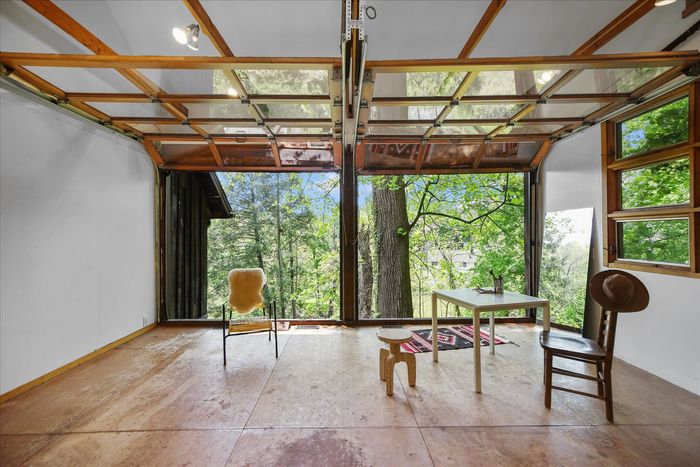 The painter Jasper Johns worked out of this studio from 1973 to 1987. The room is an addition to a barn that was converted to a home in the 1930s, and Johns added windows that roll up into the ceiling like a garage door, opening the room to the trees.
Photo: Scott Mcmenamin
Jasper Johns has always been a recluse. In 2021, the 93-year-old painter described his "perfect day" as one with "few interruptions." That's probably why, from 1973 to 1987, he ended up in Stony Point, New York — a town of just 12,000 — where he worked out of a home studio that's almost invisible from the road, and from the curators and collectors who must have descended from the city like vultures. "It's sort of tucked away. You really don't even know the house is there," says Jacob P. Matthews, one of two agents who are listing the home for $600,000, or about as much as a signed Johns print sells at auction.
The former post-and-beam barn was set low into the side of a slope that looks out over a creek. Records show that Johns bought the place for $48,000 from Adele Earnest and Cordelia Hamilton, founders of the American Folk Art Museum, who held the mortgage. "[Adele Earnest] probably knew he was talented and was helping him buy the house from her," says Jody Atkinson, who shares the listing with Matthews. "There was just a whole artistic community here."
That community included Johns's tight circle of friends: John Cage had been visiting since the 1950s as a founder of the nearby experimental-artist colony Gate Hill Cooperative, also known as "The Land." That project also pulled in Cage's partner, Merce Cunningham. The three would spend time at Johns's picnic table in the back, according to local paper The Journal News. "I do most of my work here," Johns told the paper in 1976.
When Johns moved in, he led a renovation to bring in light and add space. He ripped out the first floor's south-facing wall, replacing it with a grid of windows, whose thick wood frames echo the barn beams. Johns also added an addition to the western side, wedging a family room into the first floor and a studio to the second floor, whose windows roll up into the ceiling like a garage door, opening the room to the trees. He put in a skylight, too. "That whole space has light from every direction. You have ambient, bright light all the time," says Stephanie Gutmann, a writer and editor who bought the house in 2013 for $380,000 with her husband, the author William Tucker. Land records seem to show two owners between them and Johns, with Tucker buying from Robbin Novak, and Novak buying from Frederick and Elsie Lowell.
Gutmann says none of the owners seem to have changed much of what Johns had done. "I always felt the whole time I was there that the whole house had been renovated by people with great aesthetic senses," says Gutmann. Tile on the lower level, stretching from the kitchen into a wood-walled dining room with a working fireplace, is a hand-glazed brick in a pale turquoise. Windows on the upper level come without fussy panes. And in the kitchen, plates and bowls are displayed on shelves that stretch from floor to ceiling: a simple, minimal choice. "Those are open shelves, not cupboards," Gutmann points out. "That's a very smart, aesthetically minded decision: It doesn't cut off the view or the light and doesn't make the space smaller. The priority was for openness. He wasn't very big on barriers."
As for why the house is only $600,000, says Atkinson, the agent, "There's the romance of it and then there's the reality of it." (The property, says Gutmann, needs regular maintenance, as all old houses do.) The other reason: This isn't some luxury country estate. The kitchen's outdated. There's one solitary bathroom. "It's not real fancy," Gutmann says. "Every creature comfort is not taken care of. But what you get, in exchange, is this unique immersion in nature."