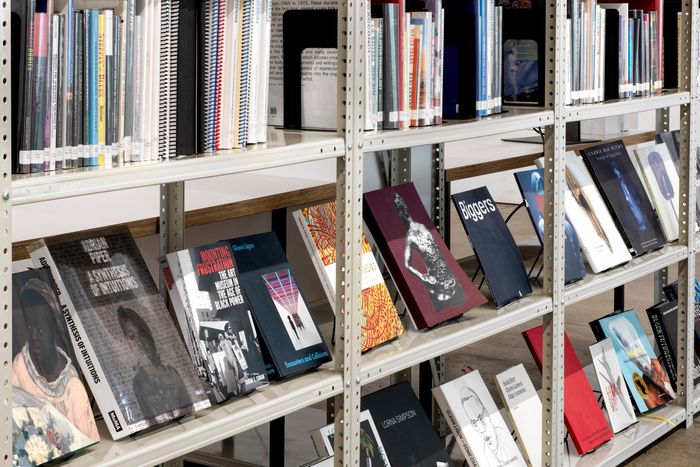 Photo: Kerry McFate/Courtesy of 52 Walker
Most libraries, at least the public ones, are designed for the general-interest reader, someone who might want a Times best seller one week and a new cookbook the next. What they lack in depth, they make up for in range. But having enough shelf space for that wide spectrum of interests (and the latest releases) means older books and obscure titles are routinely culled. Still, for those interested in architecture, design, and art, New York City has a fair number of highly curated, personal libraries that are narrower in scope but more likely to satisfy someone researching a niche topic or hunting down a back issue of Domus. Here are four that have opened in the last several years.
The Library at 52 Walker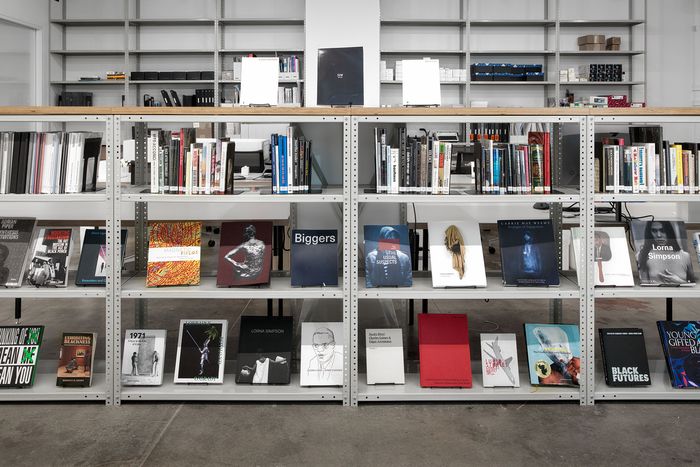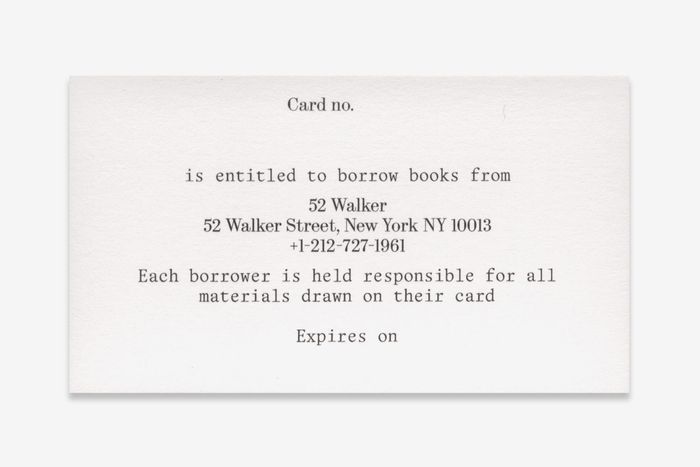 In one of the back rooms of 52 Walker, the Tribeca offshoot of David Zwirner Gallery, there's an all-white space with concrete floors and gray metal bookshelves filled with biographies, monographs, and even a couple of children's books. This library is one way that director Ebony L. Haynes offers visitors to engage more deeply with the exhibitions — something she thinks is missing in the New York art world. 52 Walker's stacks are filled with the books that Haynes and the gallery's featured artists consulted as they developed exhibitions, from theorist Saidiya Hartman's Scenes of Subjection to anthologies on Black Twitter and misogynoir from Cassandra Press. Most of the books can be checked out for free by anyone who signs up for a 52 Walker Library card, but a few of the rarer books are for reference only, like an Adrian Piper exhibition catalogue. Since opening in March 2023, the library has found a small following: 250 people have signed up for cards and have borrowed books over 200 times.
The Sorkin Library at the Spitzer School of Architecture
The architecture and urban-design critic Michael Sorkin amassed a library of over 2,500 books before he died at age 71 in 2020. He bequeathed all of it to the Spitzer School of Architecture, where he was a professor and the director of the urban-design graduate program for almost two decades. In his studio, Sorkin arranged his books by theme, including dedicated sections on utopia, the Marxist French critic Henri Lefebvre, and New York City architecture — all of which shaped his writing about how cities can and should become more sustainable and equitable. That organizing system was duplicated in the new library; each book was shelved in the same order as in his studio. While we'll never hear another impassioned lecture by Sorkin again, his library will serve as a permanent window into his philosophy and interests, a small comfort to those who miss his searing voice. It's available to students and researchers by appointment.
R & Company's Design History Collection
On the mezzanine in R & Company's design gallery on White Street, there's a built-in wood bookshelf that's at least 50 feet long. It's filled with archival pamphlets from exhibitions, monographs about architects and designers, and general reference books — over 4,500 publications in all. Gallery owners Zesty Meyers and Evan Snyderman were practicing artists and history buffs before they were dealers, and the library represents an astoundingly focused and comprehensive look at 20th-century modernist design and decorative arts. Among the highlights are a collection of drawings by Swedish mid-century designer Greta Magnusson-Grossman (R & Company represents her estate); a section on Brazilian modernism (Meyers authored Brazil Modern, one of the few surveys of modernist design from the country); and over 1,200 catalogues from European and American auction houses. While the items are not available for checkout, any design enthusiast can make an appointment to look through them. (R & Company has even hosted a middle-school class before.)
The Rauschenberg Foundation's Library
Robert Rauschenberg lived and worked in a five-story, 19th-century Soho townhouse from 1965 until his death in 2008. Before he moved in, the terra-cotta-clad building was a convent, an orphanage, and a school. While he lived there, it became a famous party spot where artists and art-world figures like Philip Glass, Leo Castelli, and Gordon Matta-Clark could be found hanging out in the kitchen. Today, it's home to his archive, which was recently renovated and includes a library with over 3,000 books, a few of which he owned (Rauschenberg was a self-diagnosed dyslexic and didn't keep a traditional library like most artists) supplemented with titles that his foundation added posthumously. The collection includes the expected museum catalogues and monographs, but there are also more ordinary items, like a Sunset magazine pamphlet on how to build storage, an Omaha Steaks cookbook, and a travel guide to Japan, that reveal more of Rauschenberg's personal life. (Artists: They're just like us.) The library also holds nearly 400 boxes of the artist's archival correspondence, notes, and writing, and more than 7,000 prints, slides, and negatives of photos that he and his assistants took while he was alive. The archive is open by appointment to academic researchers.