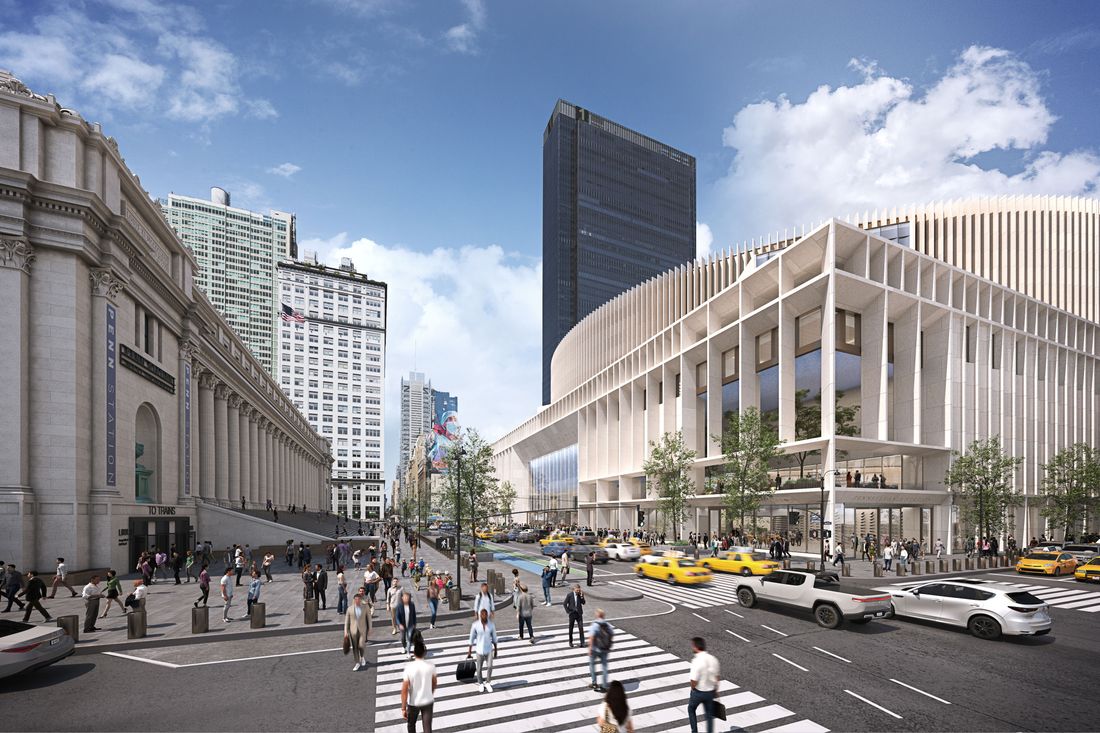 View of the HOK/PAU design, facing Moynihan Station.
Photo: Courtesy of ASTM, PAU, and HOK
Perhaps you're in the market for a new train station — a new Penn Station, to be precise — but you're finding it difficult to know which one to buy. How about the MTA's $7 billion glass-box version with the two-block-long skylight over the waiting area? Alternatively, the private company ASTM has just floated a $6 billion stone-clad model with a grand Eighth Avenue entrance. The pricing is squishy, the product specifications mystifying, and the delivery date vague, so you might consider a Frankensteinian combo of the two. All those options offer a more civilized environment to sprint through for the 5:55 to Massapequa. None will make the trip itself go faster, or give commuters more trains to choose from, or diminish the risk of a catastrophic tunnel closure under the Hudson; that requires a whole different set of features and many more billions. So, then, we could always just mull the possibilities for another decade or two and keep patching up the old thing one soggy ceiling tile at a time. Governor Kathy Hochul and, by extension, New York taxpayers, face a confusing set of choices — but at least we have choices, and they're starting to establish a plan for an achievable, possibly even excellent, future station.
Renovating the busiest and worst rail hub in North America has been on the city and state's to-do list for so long that it's easy to miss that we've finally entered the active-shopping phase. That should be encouraging to commuters, at least those who plan to ride the trains in the 2030s and beyond. If there's such a thing as a contentious consensus, that's what we've got. A broad collection of transportation executives, politicians, architects, and engineers now agrees on a few fundamentals: Principally, that Madison Square Garden can stay where it is, and Penn Station will evolve around and beneath it. Despite that 10-billion-gallon hat set immovably atop the waiting areas, sunlight can be made to penetrate below ground. Future passengers will navigate a single-level, H-shaped set of concourses, with a skylit mid-block atrium running parallel to Seventh Avenue. Most important, the plan to pay for all that by ripping out much of the surrounding district and replacing it with a bundle of ultratall office towers is effectively, though perhaps temporarily, dead.
That last nugget of news emerged from a strangely glum press conference held on Monday in the recently renovated LIRR concourse that the MTA now plans to rip out again and replace with a swoopy glass vault. As Manhattan Borough President Mark Levine and Representative Jerrold Nadler stood by, looking more shell-shocked than festive, Governor Hochul declared that she was "decoupling" the station renovation from the monster neighborhood project. The statement failed to quiet hecklers who were demanding exactly that. It also didn't clarify the fallback strategy, which so far seems to be: Forge ahead and hope the money materializes, perhaps from the federal government.
With some glossy new renderings on hand, MTA chairman Janno Lieber announced a plan to continue working on the same plan that the agency had previously announced. It also green-lit the design team it had already selected, a partnership of FXCollaborative, WSP, and John McAslan + Partners. But it didn't take more than a question or two before the governor started hedging. "Today begins the design process," she said. "We're not standing here wed to a plan … Everybody has an opportunity to show us their vision." In other words, We're definitely doing … something.
In Albany's political dialect, "everybody" might refer to a rival proposal from the Italian engineering firm ASTM, which has just released its own design, by the architecture firms PAU and HOK. I hope that's the case because, although the MTA has greeted that unsolicited but smart proposal with Maggie Smith–level chilliness, it deserves a much warmer reception.
The design is not yet a thundering triumph, and maybe given the intricacy of jurisdictions and trade-offs, that's an impossible standard. But fresh renderings, thorough research, and insightful drawings set the bar at a new medium-high. The proposal comes packed with enough thought and detail that it should jolt the designated team into catching up. While the MTA wraps up one pre-pre-preliminary phase and inches cautiously into another, ASTM's team has done its homework, picked its way through an immensely complex set of constraints, and offered a plausible funding mechanism through a public-private partnership. You want to know how to kick Madison Square Garden's idling herd of tractor trailers off the streets during a load-in? They have a plan to bring the trucks indoors. Were you hoping for a way to hustle arriving passengers more quickly off the platforms so the next arriving train doesn't have to wait 20 minutes before chugging in? They'll tell you how many new escalators they can add, and where. How is it possible, you might wonder, to open up all that space for passengers and still leave enough for three different railroads to stash their offices, machinery, and break rooms? They would move the back-of-house upstairs and out to the perimeter of a new podium, a square box enclosing the cylindrical Garden.
The PAU/HOK design envisions a stone station, meant to echo, however faintly, the original colossus by McKim, Mead & White and the existing Moynihan Station across Eighth Avenue. The standard elements of civic architecture are present and accounted for: porch, portal, cornice, and colonnade, all filtered through a stripped-down modern sensibility. The new structure doesn't hide the existing Garden but recasts its oil-drum shape as an overgrown Pantheon, trimmed in pale granite or limestone with Art Deco fins on top. The closest New York relative of this composition is Lincoln Center with its sleek arcades, light-box lobbies, and raised promenades before opaque auditoria. It's a curious way to sidle into the present, by taking a detour to the softened, historically allusive modernism of 60 years ago. But then each generation's stylistic synthesis invokes an earlier one, so maybe the future leads to neo–Lincoln Center. It's certainly an improvement on the idea of one more honking bell jar of a building.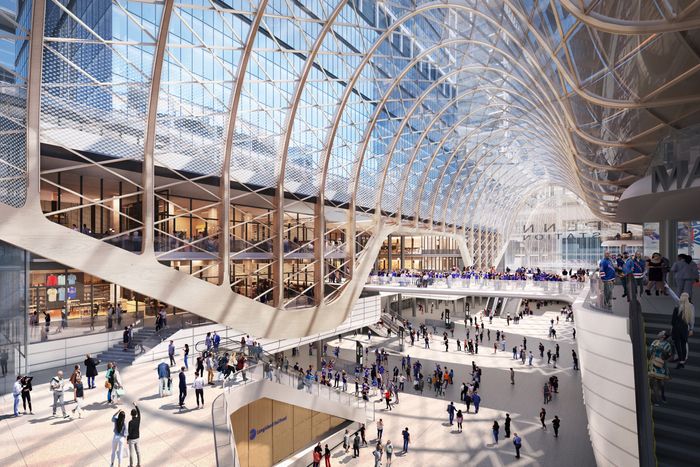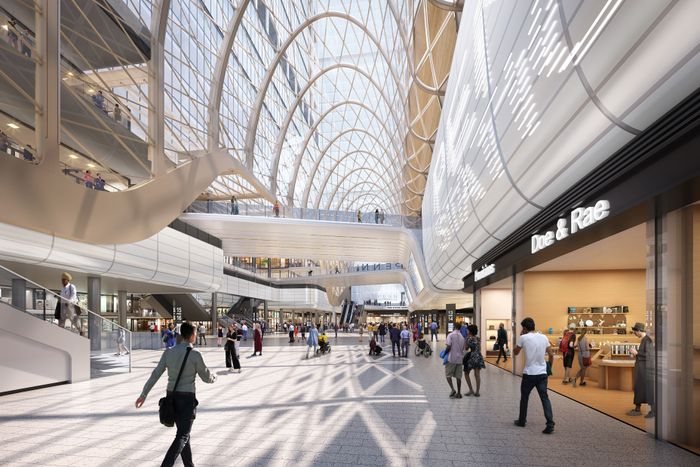 The Penn Station of the 1960s was designed without a true front entrance, just a scattering of back doors and human coal chutes. The MTA recently gussied up the 33rd Street sidewalk access with a glass-and-steel canopy over the mouth of the cave. At the same time, the developer Vornado is overhauling 2 Penn Plaza, which sits atop the station's Seventh Avenue escalator array, and when the scaffolding goes away, that entrance might acquire a smattering of dignity. But ASTM has bigger ideas: It aims to spin the transportation complex around so that it faces Eighth Avenue. In that version, an Art Deco–ish gateway leads down to a vast, light-filled, column-free bowl with views to Moynihan Station and the sky. A mezzanine lined with restaurants wraps the space, and a map of the New York street grid stretches across the 55-foot-high ceiling. The current draft of the design, elaborated in a ten-week sprint after PAU joined the team, doesn't yet make the leap from generic mall atrium to a civic masterpiece on the order of Grand Central Terminal and Eero Saarinen's TWA Terminal at JFK, but it does have the right aspirations.
The more immediate question is whether New York needs so much architecture trained on this particular spot. To achieve all that airiness, ASTM would spend hundreds of millions of dollars to buy and demolish the Theater at Madison Square Garden, a 5,600-seat venue (you may remember it as the Felt Forum, the Paramount, the WaMu, or the Hulu) that clings to the underside of the arena. Scrapping a cultural venue and replacing it with empty space seems like an odd swap, particularly since the MTA claims that even after accounting for the future growth of Hudson Yards and the Far West Side, only 15 percent of its 600,000 daily passengers will enter the station at Eighth Avenue. Everyone else would cluster in the building's eastern half and get hardly a glimpse of the western train hall's grandeur. Are those projections accurate? Is midtown's westward shift likely to be decisive enough to justify reorienting the whole station, or would the HOK/PAU design merely wind up proffering an extravagant back door? The architects insist that a flexible, forward-looking New York station needs to be a 360-degree affair, and even the MTA seems to be softening its intransigence on that point. The agency's latest batch of renderings include a suite of Eighth Avenue views suggesting that it's possible to squeeze all the delights of a new facility — daylight, glamour, clarity, lofty ceilings, and even a dab of architectural drama — into the crawl space beneath the Hulu Theater. I doubt that. Difficult choices don't resolve themselves just by keeping an open mind. Sooner or later, the governor is going to have to decide what she means.