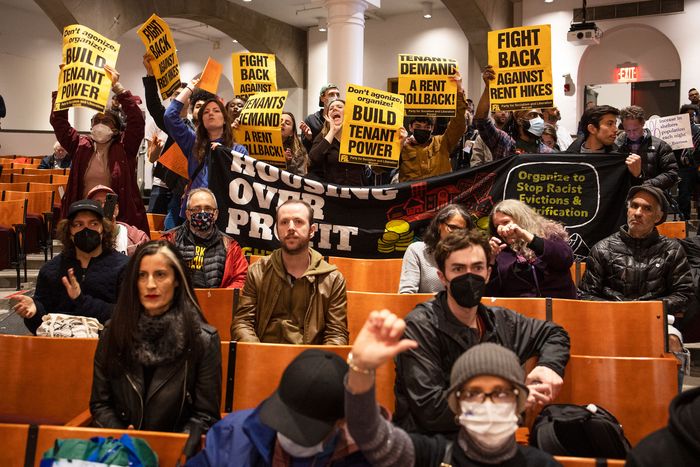 Photo: Andrew Lichtenstein/Corbis via Getty Images
Tonight, the Rent Guidelines Board will vote on the second proposed increase on one million apartments under Mayor Eric Adams. They are considering increases of between 2 and 5 percent on one-year leases and 4 to 7 percent on two-year leases, a big bump for the second year in a row. Last year, the board voted for the biggest increase in a decade — 3.25 percent on one-year leases and 5 percent on two-year leases.
Rent Guidelines Board votes are famously raucous, but this year's is likely to be especially so. The city's rents continue to hit record highs — in April, the median rent on a Manhattan apartment was $4,241 a month, 8 percent higher than it was last year. And Albany has continually failed to pass any meaningful housing legislation to help mitigate any of this.
At a previous hearing this spring, City Council members and renters stormed the stage where board members were sitting and started marching around their table chanting "Rent rollback!" and "Shut it down!" In an attempt to prevent disruptions tonight, the board banned "items that are reasonably likely to disrupt the proceedings, such as noisemakers and drums," according to the Daily News, a move that was mocked by tenant advocates, who pointed out tenants still had their voices. (Booing, jeering, stamping, and chanting have generally been the protest methods of choice at these meetings anyway.)
The board uses a complex formula to determine rent increases, taking into account landlord expenses, tenants' economic situation, and a number of other economic indicators. About half the city's apartments are rent-stabilized, with a median rent of $1,400, according to the New York Times. And the median household income of rent-stabilized tenants is $44,000 a year. For a $2,500-a-month apartment, a rent increase of 4 percent would translate to $100 more per month. This year, 27 City Council members wrote a letter to the board asking for another freeze in light of a recent report that found three-quarters of renter households struggle to afford basic necessities. Landlords, meanwhile, claim that they can't afford to rent out some vacant apartments because the rent won't cover necessary repairs and that even an increase at the upper end of the range would fall far short of covering their expenses.
While rent freezes were common during the de Blasio era, the board will almost certainly vote for an increase in the range they've already approved. As usual, this will please absolutely no one.