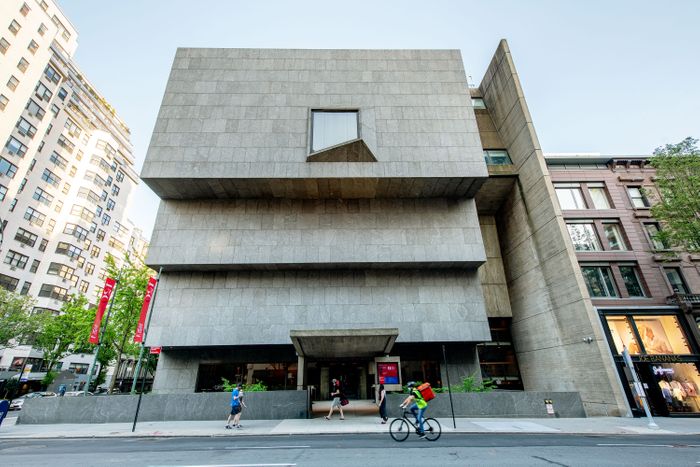 Photo: Roy Rochlin/Getty Images
What do you do with a whole empty museum? After a few years of rumors and a couple of periods in which it continued to show other institutions' art, the Whitney's old home is going commercial: Sotheby's has bought 965 Madison Avenue. Artnet reports that the auctioneers will spend a bit more than $100 million, take possession next year, and move its auction room and galleries over from 1334 York Avenue in 2025. (Though Sotheby's will keep the latter building, at least for now.)
The Breuer building opened in 1966. Architecturally speaking, it was avant-garde and divisive when new. Its top-heavy brutalist form, faced with dark-gray granite and a few irregularly shaped windows, looked like no other museum on earth, and a lot of traditionalists hated it. (The dry moat, literally and spiritually cutting it off from the surrounding streets, did it no favors.) More recent generations of architects and urbanists regard it far more warmly, and it still looks contemporary, as many 1960s buildings do not. It also appears to be in great shape, long since recovered from that terrifying moment in the late 1990s when an inspection revealed that some of those big slabs of stone on the facade were hanging on by a few bits of rusting steel. Mercifully, some terrible expansion ideas in the 1980s did not happen. Since the Whitney moved to Gansevoort Street in 2015, the uptown building has been briefly occupied by the Metropolitan Museum of Art (which showed contemporary art there) and more recently the Frick (as swing space during renovations).
The Frick's tenancy comes to an end soon, and that was the inflection point that allowed the sale to happen. "It was a very natural turn of the calendar," says I.D. Aruede, the museum's CFO and co-COO, "a cycle where we knew that we'd have to decide what the future of the Breuer building was. At that point, either some other museum shows up and decides it wants to program in there, or we reoccupy it, or we really think about the next chapter."
That said, it was not like selling any old office tower. The Breuer building would be butchered if a buyer tried to adapt it into conventional office space or apartments, and turning it into, say, a Ferrari showroom would have provoked hysteria from the community board and beyond. "It's a specific building—a tricky building to repurpose," says Aruede. "It's the other side of the coin of the fact that it's iconic—it's different, it's unique, it's beloved and maybe even loathed, depending on who you are! And so finding someone who's interested in the building and for whom it works so perfectly is — I wouldn't say a needle in a haystack, because that'd be hyperbole, but it really is. There's not that many users for whom that would be such a logical and clear alignment."
Were there other potential buyers, say from the Gagosian-and-Zwirner solar system? "I don't want to say galleries didn't approach, because I know we had several conversations," Aruede says. "But you know, anybody can talk. So I wouldn't say we were approached with any level of specificity or clarity." There was also a bizarre rumor that it might become an extremely upscale gym, but apparently that was vaporware: "I'm embarrassed to say if that was flying around, it's not a rumor I actually ever heard," Aruede says. "That does sound far-fetched — I don't think the Whitney would've been able to hold its head high, passing it on to an Equinox. It certainly was not anything that was ever, ever a real possibility."
The Metropolitan Museum of Art seemed like another contender, since it rented the space for four years starting in 2016. It made sense: The Met has historically had trouble showing off contemporary art in its Fifth Avenue home. (Also, the building's temporary rebranding of "the Met Breuer" hinted at something more long term.) But, says Aruede, the institutions never got into serious talks about a sale. "I'm sure it came up in conversation that, depending on how that program went, they might consider it. In the vaguest sense of the word, when you lease a building for a long period of time, you always think, Might we want to make this a permanent home? But nothing specific or contractual." So when Sotheby's approached, it did not have to fight off other suitors.
Although it's in the Upper East Side historic district, the building itself has never been landmarked and thus could (with great difficulty and multiple approvals, which are unlikely) be modified or even demolished by a new owner. This purchase would seem to forestall that; both Sotheby's and the Whitney imply in their statements that it will not be messed with. (Breuer's high-drama interiors, however, are fair game for renovation, and deserve protection.) One impossible-to-uninstall artwork in the building will be retained by the museum and placed on long-term loan to Sotheby's: Charles Simonds's Dwellings. The Whitney also confirmed, via a spokesperson, that it's "actively discussing" plans for another site-specific piece, Nicole Eisenman's mural Self-Portrait With Exploded Whitney, which was painted for the 1995 Biennial on the building's lower level and is now hidden behind a wall.
Despite all this, and the fact that Sotheby's does indeed house a lot of art, it's also very much a for-profit entity. And letting go of the building, Aruede admits, "is bittersweet. The Whitney has owned it for as long as I've known the Whitney. But there's a clarity of mind and purpose that it's the right thing for us to do at this point—the Meatpacking District is our home, we're committed here, and it seems to work really well for the folks at Sotheby's. So I would call that a happy ending." Did they haggle? "Oh, come on!" he says, laughing. "A real-estate transaction of this size and magnitude! Obviously there's some back-and-forth. Nothing acrimonious. But it was not a one-step conversation."