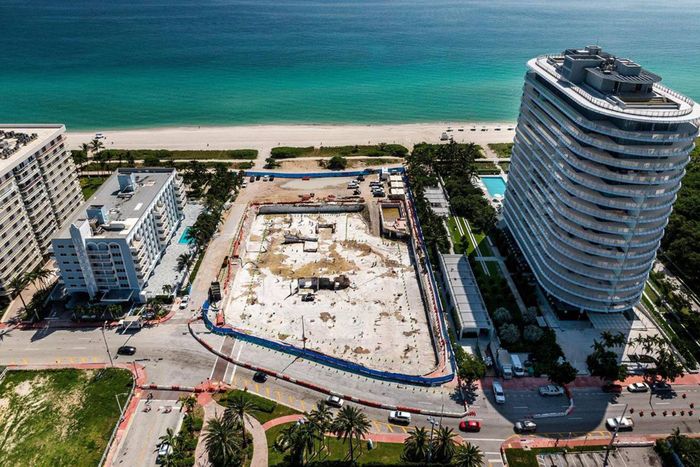 The site where 98 people were killed when an apartment building collapsed two years ago is slated to be the home of a luxury-condo complex.
Photo: Getty Images/TNS
Two years ago this month, 98 people were crushed to death in Surfside, Florida, when a beachside condo collapsed late at night. Some of their relatives would like to turn the site into a memorial. But developers and architects had other plans, which got unveiled today.
As the Real Deal reports, the Dubai-based developer Damac shared renderings for what its spokesperson is calling "the most luxurious project ever to Surfside." The 12-story glass box, by Zaha Hadid Architects, features wide balconies that cascade in rivulets down the façade, their curves recalling '60s retrofuturism. On top of that, the developer is considering branding the whole place around Cavalli, the Italian fashion house better known for distressed jeans. (This has become common in South Florida, where there is also a Porsche Design Tower and the Fendi Chateau Residences.) The condo that collapsed was already pretty fancy with a 4,500-square-foot penthouse that sold for $2.88 million. But that unit would be among the teeniest in the new plans, which call for less than half the number of original apartments (57), with monster floor plans up to 15,000 square feet. No news yet on asking prices, which makes sense; sales might not start until 2024.
The site's ascendance into the upper echelons of luxury shows how much South Florida beachfront real estate has ballooned in the past two years despite some pretty obvious facts. Saltwater will still help corrode whatever goes up there, and the land may not be exactly stable: A 2020 study singled out the building for having "a higher rate of subsidence" over years of sea-level rise.
Which might help explain why Damac was the sole bidder last year in a sale ordered by a court to compensate victims and their relatives. It generated $120 million, but families still questioned how anyone could dare to build there. This got a simple response from a Damac spokesperson: "We have to look after our shareholders' interests."