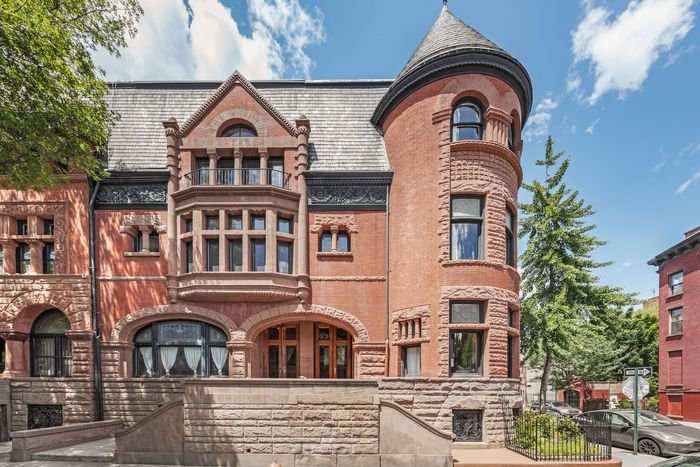 The row of Romanesque Revival townhomes along Dekalb Avenue in Clinton Hill was designed by Montrose Morris at the turn of the century. 289, at the corner, features what Professor Andrew Dolkart describes as an "emphatic" turret.
Photo: Chapoteau Real Estate, Inc.
289 Dekalb Avenue comes up about once per semester for Professor Andrew Dolkart. "I always show this house, the row it's part of, and the row across the street as exemplifying the highest level of speculative middle-class row houses in New York," says Dolkart, who teaches at Columbia. "It's not that common to find such an emphatic turret."
Emphatic is a good way to describe 289 Dekalb's bulging brick turret tower, and the whole over-the-top townhouse, a Romanesque Revival with a Victorian curiosity cabinet's worth of details. First, there's that turret, a three-story cylinder of brick and carved stone, buffered to resemble rocks, smoothed into arches, and whittled into curling leaves and ribbons. Then there are the upper windows (arched, between sets of miniature colonnettes) and the lower windows, whose stained-glass panes pull light through pale-pink and blue circles, checkers, and diamonds to throw color onto the patterned floors.
Inside, the details never end. "It just doesn't stop, right?" says broker Daphnée Chapoteau, who put the home on the market this month for the first time in 23 years and has been showing it recently to a series of interested families. There are coffered ceilings, working pocket doors, crown moldings, built-in bookshelves, parquet floors, and eight working fireplaces, each distinct. In the central parlor, the mantel stretches up to the ceiling and is carved with smiling, winged demons. The dining room's mantel has mini, dollhouse-size loggias with two-inch-high balustrades. The staircase swings against textured walls, its balustrades carved to resemble flowers. On the second-floor landing, the newel post is topped with a globe lamp — original, like the wall sconces, whose glass shades resemble cones of flames. And on the third floor, there are domed ceilings and a stained-glass skylight.
All of this ornament is typical of the era, says Dolkart, who says the home was designed in 1889, a time when new upper-class homeowners liked to show off what a new phase of industrialization could bring them: Railroads could pull in various materials from farther afield, and machines could carve wood more efficiently. "They loved variety," Dolkart says. The person responsible for all the variety in 289's case was the architect Montrose Morris, who Dolkart says "designed some of the finest rowhouses in Brooklyn." Many of his luxuriously detailed buildings still stand, like the Alhambra Apartments on Nostrand Avenue, the landmarked Imperial Apartments at Pacific, and the double-turreted mansion on Prospect Park West that's now home to Poly Prep's lower school. "I believe that if Morris had worked in Manhattan instead of Brooklyn, he'd be nationally known," Dolkart says.
289 isn't just a piece of history. It's fairly livable as is. The corner lot means the 22-foot-wide townhouse gets sun on both sides. And the current owner, a therapist, stayed for 23 years, hosting parties for family and turning the bedroom at the top of the turret tower into a space for meditation. Plus, there's a back deck, a car garage, and an income-generating first-floor one-bedroom apartment with French doors, patterned ironwork grates, and a private entrance with a stone patio. Another source of extra income: renting the home to period films. Chapoteau says interiors appeared in The Knick, and Boardwalk Empire.
"He kept it all as is," says Chapoteau. "And it's a showstopper."