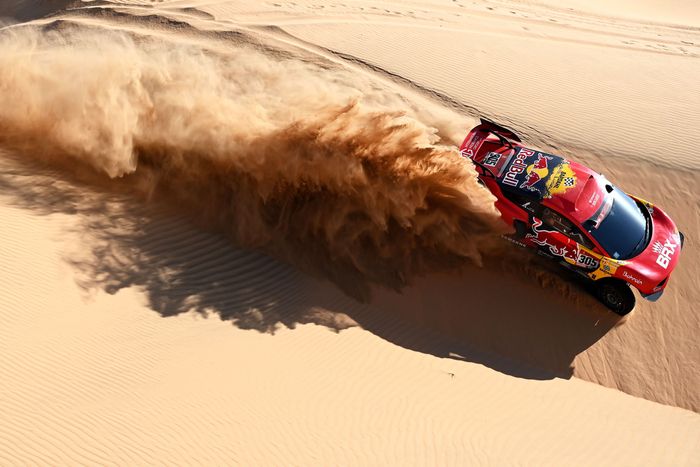 Photo: Franck Fife/AFP via Getty Images
It isn't recommended that a complete amateur compete in the Dakar Rally, the off-road endurance competition in which racers have traversed Paris, Argentina, and now Saudi Arabia in the vehicle of their choosing. The landscape is beautiful and punishing by design: Think racing a motocross bike down a sand dune, then up a literal mountain, and continuing to do that for about two weeks. The event has averaged more than a death a year since it started in 1978.
But for a price starting around $1.2 million, the luxury-tourism agency Momentum will set a client up with a custom Land Rover and fly them out to the desert, providing logistics support and driver training to help them — at least theoretically — win the glory and the race's relatively paltry cash prizes.
"Our clients are looking for an authentic, inspirational experience," Momentum's founder, Matthew Robertson, told Maxim in 2020. "Which is exactly what we offer." The five people that are likely running out of air aboard the Titan following its disappearance en route to the Titanic are, like Robertson's clients, part of a $683 billion adventure-travel industry that's ballooned over the last two decades. A spot on the 72-square-foot Titan, despite industry warnings about the vessel's lack of certification and the wisdom of the recreational voyage, costs $250,000. "For those who think it's expensive, it's a fraction of the cost of going to space," the founder of the company that built the Titan said.
The Boston Consulting Group has been tracking the exponential growth of the "experiential luxury" market since at least 2013, and it has now joined more traditional markers of extreme wealth — the waterfront compound in Miami, the house in Sun Valley — among the millionaire and billionaire set who style themselves the next Richard Branson or Stephen Long. (One of the crew members who shelled out the cash to travel 14,000 feet below sea level in an unclassed deep-sea vessel operated by a video-game controller is Hamish Harding, the founder of an investment firm whose hobbies include chasing Guinness World Records and going to space.) In the years following the emergence of COVID-19, the corner of the industry was expected to increase as much as 70 percent.
The adventures are varied by design, and often facilitated by "travel designers" who customize experiences with the promise that they're entirely bespoke. It could be a gas heir spending $120,000 on a trip to the top of Mount Everest with a guide who provides gas-powered showers and steaks cooked by a personal chef, or a hedge-fund trader organizing a $50,000 excursion including a game of "extreme adventure paintball" with former DEA agents for his friends. One luxury agent described setting up a "desert island" experience on Fiji, stranding a client for a set number of days. Naturally, this kind of tourism has also become a conduit for under-the-radar political dealings: This week, ProPublica reported Supreme Court Justice Samuel Alito took a $1,000-a-day king-salmon-fishing trip in Alaska paid for by Paul Singer, a hedge-fund billionaire who had repeatedly asked the court to rule in favor of his firm.
There are a number of reasons the ultra-wealthy might be turning toward extreme adventures. A spate of trend stories detailing billionaire's adventures in the Maldives or Alaskan helicopter snowboarding emerged in the years following the financial crisis of 2008, arguing "conspicuous consumption" had become less popular in the immediate aftermath of a large swath of the country losing jobs or homes because of mismanagement on behalf of a few very nice suits. Others might point to the Instagram effect, where anyone with a web browser and the means wants to telegraph an exclusive experience. But the most natural explanation is that for people for whom the most unimaginable luxuries are within close reach, simply sitting on a yacht unacknowledged isn't enough: Billionaire status has become significantly more diffuse in recent years. A blood-diamond heir wants to become a space explorer or someone who made his fortune pumping and dumping real estate would rather be known as a philanthropist who also holds the record for the longest duration at full ocean depth. (Plus safari trophies, the original bauble of the intrepid and superrich, are now considered in poor taste.)
Recently, the New York Times interviewed luxury-travel services about the risks the ultra-wealthy are taking in response to the Titan's disappearance. "There are a lot of well-traveled folks out there who constantly push the boundaries of their travels to claim bragging rights," one told the paper, adding that naturally such adventure-seeking people would seek out "unique experiences" that "involve a degree of risk." But when pushing the boundaries of what a reasonable person would consider a vacation is the end goal, some billionaires want an even more exclusive experience than visiting the Titanic and risking death. A few years ago, the BBC interviewed a concierge travel agent whose client asked to detonate a nuclear warhead. The travel agent declined.