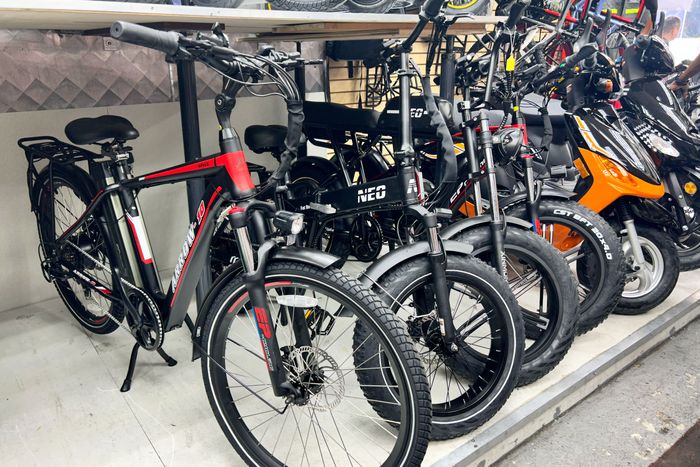 Two months have passed since Uber announced it would sponsor two trade-in programs to get old e-bikes off the streets. In that time, there have been at least six battery-related blazes in New York City—including one last week at a Chinatown e-bike shop that killed four people and left two others in critical condition. While the make of the batteries involved in the fires isn't always identified, the FDNY has repeatedly underscored that non-UL-certified batteries and those used improperly — such as those that are repaired — are much more likely to ignite, and the city outlawed the use or sale of refurbished lithium-ion batteries in March. However, actually enforcing the new law has been a challenge — the shop involved in the fire that killed four had already been inspected by the FDNY, but investigators didn't look in the basement, where several bikes were being stored, or check to see whether it was selling refurbished batteries.
On paper, the Uber rebate programs sound like a great idea. The rideshare company said it would partner with e-bike company Zoomo and the Equitable Commute Project, an organization expanding e-bike access to low-income riders, to offer delivery workers discounted pricing on UL-certified bikes in exchange for their non-compliant ones. Because e-bikes are a huge start-up cost for delivery workers, paying people to trade them in makes sense, and has worked before in other cities. The announcement didn't specify how much the discount would be, but Streetsblog previously reported that Zoomo would likely offer credits of at least $200 for old bikes, although the figure could change.
But none of the delivery workers or e-bike shop employees I spoke to had heard of the program. On Berry Street in North Williamsburg, I met Carlos Hernandez, who's been working for Uber Eats for five years. He said he's been using an Arrow bike — one of the preferred brands for delivery workers, which is considered affordable at the base price of $1,800. The bike hasn't given him any problems, but he said he's spent a lot of money on replacing the batteries when they fail to hold a charge. The batteries last him around three years, he said, but he also has to buy and replace backup batteries so he can work longer hours.
Still, Hernandez added, he wouldn't trade his bike in if the credit was just $200. "Each battery alone is expensive — they cost about $500," he said. He's also confident that he wouldn't need to trade it in; he said he's never tried to repair his degraded batteries, and he takes them in for recycling when they no longer work. "I think it's happening with another type of bike. From what I've heard, the bikes that are exploding are cheaper models that we don't use," he said, gesturing to other delivery workers parked on the same corner.
Gustavo Ajche, founder of Los Deliveristas Unidos, agreed that the rebates weren't enough. He explained that $200 is nothing compared to the "$10,000 to $15,000 in operations cost every year" that deliveristas sink into their bikes, from purchasing additional batteries, repairing rain or snow-related damage, and tuning up their bikes' brakes around once a month. A rebate of $200 wouldn't even cover a one-month rental of a Zoomo bike, which costs about $250 per month (the company offers rent-to-own pricing). Instead, he said the city and the major gig worker corporations should offer deliveristas the option to "buy new safe certified batteries at no cost" by contributing to a fund that would expand a city-run trade-in program.
Raheim More, a courier for Uber Eats, started renting a Zoomo bike last August, but hadn't heard of the trade-in program either. He said using the ebike allowed him to make up the $250 rental fee. But when his building banned e-bikes in February, More had to get rid of his e-bike altogether.
"I don't like how they're going about it," More said. In his view, blanket bans on e-bikes mostly stigmatize workers like himself, and besides, he argues that the fires are mostly caused by older bikes. Uber has a similar view. As Laura Hahn, Uber Eats's general manager for New York and New Jersey, wrote in April: "Many delivery workers still own and use the older e-bike models with fire-prone batteries that they purchased prior to the legalization of e-bikes, and the cheaper price point of these uncertified bikes further encourages their proliferation."
More has since switched to an electric scooter, but he's not allowed to charge it in his apartment either. Instead, he charges it at friends' houses or at the library.
He pressed again for a more comprehensive, public plan: "The city should give us public charging stations that are enclosed or shaded at least," he said. His ideal charging station has "outlets that can handle 30 bikes at once" where people can charge for an hour or two between deliveries. "That would be better than doing the loopholes we have now: charging at the bike shop, or knowing somebody" who will let him charge in their home.
There are a few pilot programs in the works, including four charging hubs that will be installed by Con Edison in several NYCHA complexes, but work won't start on those until late this year. One of the city's first charging hubs, initially planned for West 72nd Street, is also delayed, partly because of community pushback. More recently, Grubhub has partnered with the e-bike company Joco to open a charging hub in Soho. But it's yet another piecemeal solution being offered to the city's 65,000 delivery workers — if they even know about it.