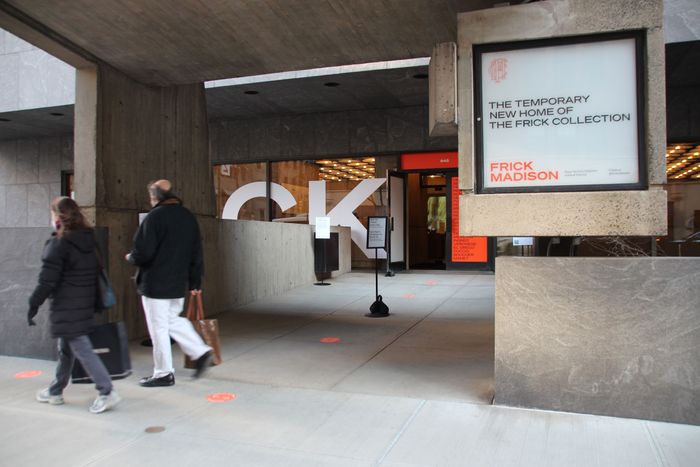 Now home to The Frick Collection, the building at 945 Madison Ave. has reportedly sold for $100 million.
Photo: Christina Horsten/picture alliance via Getty Images
When one uptown townhouse broker heard that the Breuer Building — an architectural masterpiece located on one of the most expensive blocks in the entirety of New York City — had sold for $100 million, his first reaction was "Well, that's kind of low."
For the neighborhood, and considering that the building won its architect, Marcel Breuer, a gold medal from the AIA, it does seem low. Half the price of a recent Picasso. Two-thirds of the New Museum's current renovation budget. According to the same uptown broker, "It's about 77,000 square feet, which means you're getting it for $1,200 per square foot." This is substantially less than the median for the neighborhood. (And seriously substantially less than that of the several penthouses recently sold at 220 Central Park South, many of which went for upward of $150 million.)
This might be, in part, because pricing something like this is exceedingly difficult, not a matter of simple square footage and neighborhood comps. "It's like trying to price the Mona Lisa but more difficult," says Paula Del Nunzio, a broker with Brown Harris Stevens who specializes in top-tier Manhattan townhouses. And while the building is a work of art in itself, it's anchored in the realities of the local real-estate market, in which pesky things like maintenance, taxes, and use value apply. The American Folk Art Museum, also considered something of an architectural gem, was razed a few years back, because it didn't fit MoMA's space requirements. And even if the Breuer did meet the space needs of a potential buyer, that buyer might not want to be on the Upper East Side or not like the very particular Breuer aesthetic. (Plus it's not exactly a liveable space.) Taking all of this into consideration means, per Del Nunzio, that "this isn't numbers. That's the trouble. It's more of an art than a science."
Bruce Becker, an architect and developer, bought a former Breuer-designed office building in New Haven for a lowly $1.2 million and turned it into Hotel Marcel, which opened in 2022 with 165 rooms. Becker got such a good deal, he thinks, because the previous owner, Ikea, didn't feel comfortable selling it to just anyone — it would be reputationally disastrous to offload a Breuer building on someone who wouldn't try to preserve it. Also, Becker says, preservation of this type of building isn't exactly inexpensive. The Hotel Marcel building needed extensive environmental remediation. And both it and the Breuer Building in Manhattan are made of high-strength concrete, which Becker says is stronger than granite, making it difficult and costly to slash through.
"A commercial appraiser would call this a 'why me?' assignment. Because that's how you feel when you walk up to the building," says Jonathan Miller, who specializes in residential appraisals. But if anyone would know how to put a price on this thing, Becker says, it's the building's new owner. "Sotheby's makes the market in priceless objects."