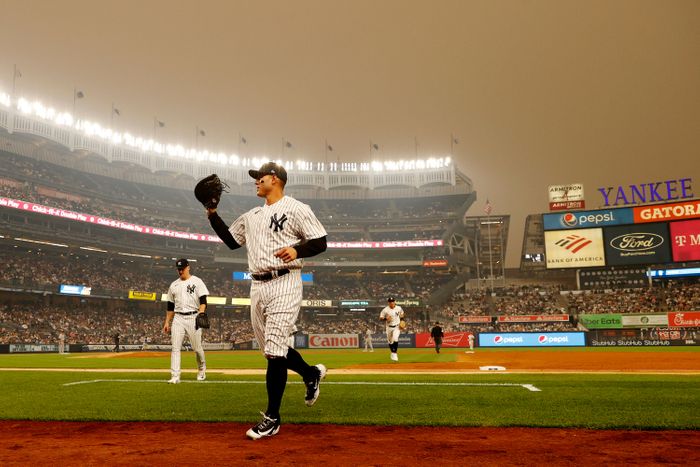 The Yankees played to a crowd of 38,049 on Tuesday evening, well after meteorologists had forecast that hazardous smoke from wildfires would blanket the city and endanger New Yorkers.
Photo: Sarah Stier/Getty Images
People who track New York city's weather had known for days that smoke from the wildfires burning in Canada would likely get into the lungs of New Yorkers. Meteorologists had been posting forecasts, and the state's Department of Environmental Conservation had sent an advisory out Tuesday morning. But it wasn't until 6:43 p.m. that night, when the bridges were shrouded in haze, the air smelled vaguely of a campfire, and the air-quality index was over 150, far into the "unhealthy" red zone — that the city's official Twitter account warned New Yorkers to stay inside. And it wasn't until after 10 p.m. that the mayor issued his first official statement, sent after the Yankees had played to a crowd of 38,049, after people who cared to celebrate Henry Kissinger's 100th birthday had lingered outside on a red carpet, and after I spent an hour and a half at a playground birthday party, surrounded by toddlers whose parents had, apparently, not gotten a message to keep them home. That statement? Outdoor activities at schools would be canceled the next day.
On Twitter, the progressive Brooklyn councilmember Lincoln Restler fumed, calling for an oversight hearing on how on earth "the most consequential action" the administration took on day one of an emergency was "a tweet." To State Senator Jessica Ramos, who represents a slice of Queens, the steps that should have been taken went well beyond schools. She suggested cutting emissions by asking drivers to stay off the road, giving out effective masks, and lifting a shelter rule so guests don't have to check out. Plus, "Is the mayor talking to any major employers?" Ramos asked Gothamist. "Should construction sites be shut down for the next few days?"
What steps the city did take felt like a reaction rather than a proactive measure. Closures came — but they pushed vulnerable New Yorkers into the greasy air. Masks were distributed by the city, but only after the Democratic Socialists of America started delivering them. I talked to experts in emergency management, crisis communications, and a government official in a state that's pretty used to this particular kind of nightmare about what we should do next time.
Don't make alerts opt-in
The New Yorkers who did get alerts Monday and Tuesday had taken proactive steps to sign up for them by downloading a little-known app called NotifyNYC or signing up for its text service — which, as of last spring, only about an eighth of New Yorkers had done. (NotifyNYC also sends out alerts about traffic, weather, and missing persons.) David Abramson, a professor at NYU's School of Global Public Health, did sign up with NotifyNYC, and he said he got his first email about air quality at 4:15 on Monday afternoon. Over the next 48 hours, he got dozens more notifications. Still, he says, it's not enough — because most people haven't, in fact, signed up. "I think they should have a push notification that goes to everybody for something like this," he says. Push notifications do go to New Yorkers for other kinds of events: We get AMBER alerts after reports of kidnappings and learn of sudden flooding thanks to the National Weather Service. In California, the National Weather Service pushes messages about dangerous air quality through a partnership with the South Coast Air Quality Management District, a regional agency.
Since not everyone has a cell phone or can look at their cell phone at work, the city should also send out clear messaging to employers on whether they should send people home or not, Rae Zimmerman, a professor at NYU whose research looks at the intersection of climate change and emergency management, says. (She suggested something similar in a study written after the blizzard that killed 31 Buffalo residents.)
Abramson says the city could also be using the messaging systems it already has: billboards on highways, screens on subways, and the LinkNYC cell chargers glaring over sidewalks — which even as of Thursday morning shared no notice of air quality or suggestions to mask, instead displaying a drawing of a dog, the dollar amount of Mega Millions draws, and a schedule for far-off hockey games. The message those signs do share should align with the severity of the danger, Abramson says. "If you really need people to do things, you may need to elevate the rhetoric," he said, citing the eerie message that the National Weather Service sent the day before Hurricane Katrina made landfall: "Most of the area will be uninhabitable for weeks … Perhaps longer … Human suffering incredible by modern standards." To Abramson, "That is a piece of communication that catches your attention."
Open public spaces where people can go
Those push notifications should also be explicit in telling people who have asthma, or other conditions that make them more vulnerable, where to go. And those places need to exist in the first place. California and Canada have been opening clean-air shelters in gyms, museums, malls, and libraries. On Wednesday, as libraries closed, Adams didn't usher anyone toward specific shelters; he just vaguely called on "vulnerable New Yorkers" to "stay inside." (And there should be clear messaging for New Yorkers who are at home, too — the California Air Resources Board and the California Department of Public Health guide for public-health officials urges messaging about taking steps to improve indoor air quality during smoke events, including not using gas or wood stoves or even lighting incense.)
Act before you can smell the smoke
In general, the city just needs to have plans in place for when this kind of thing happens, instead of acting reactively. At the height of bad air quality, on Wednesday, city libraries closed, shooing out some of the unhoused New Yorkers who depend on them for shelter. Scott Epstein, the supervisor of the air-quality-assessment group at California's South Coast Air Quality Management District, says there are sometimes reasons a city may not want to close buildings, which can have a negative effect: "Oftentimes the air quality in the school can actually be better than at home," he said. "It actually may be a public building that has the best air quality."
Either way, these decisions should be made off of forecasts, not after the smoke has wafted into the lungs of 38,000 people at a ballgame. Adams on Wednesday said the deputy mayor and chief of staff came together on Tuesday afternoon to respond to what he called an "unprecedented" event. This elicited a laugh from Zimmerman,. "Every emergency is unprecedented," she said. "The whole reason for having emergency and disaster planning is to be able to anticipate it. The whole point of disaster planning is that it's unexpected."
Plus, Zimmerman says, the federal government does share plans for disasters through FEMA's National Incident Management System. Those plans get into which city and state officials are responsible for which aspects of a disaster, and FEMA gives officials the best practices developed by California's Air Resources Board and Department of Public Health. But, Zimmerman says, "The real issue is getting the resources to put that into effect." And the Office of Emergency Management is not currently beefed up to deal with a slew of fast-moving climate emergencies: As of February, 16 percent of its positions were unstaffed. Still, says Michele Olson, a researcher at the University at Albany, things may be better next time around. "Every event you learn from what went wrong," she says.