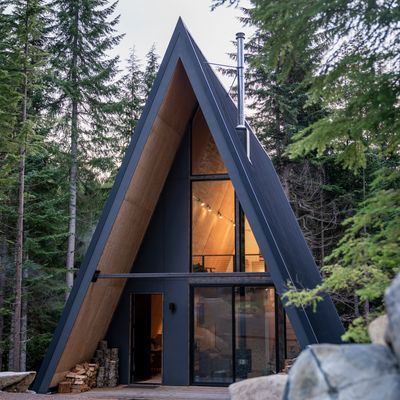 Photo: Courtesy of Warner Bros. Discovery
My millennial home buying fantasy has never felt stronger than when watching Magnolia Network's The Cabin Chronicles, a short-form series streaming on Max that consistently delivers what can only be described as "aspirational living porn." From West Coast bungalows, to quiet Midwestern lake houses, to upstate New York hideaways, this show proves there is no lack of truly stunning, yet humble, vacation homes across the country — and scratches the itch inside every 30-something renter's brain that tells them it's time to tend to something.
Though I'm a voluntary city dweller, the dream of escaping the concrete for (actually) greener pastures is palpable — especially in the long sticky summers of New York. And when scrolling through real estate listings in random waterfront-adjacent ZIP codes no longer delivers the hit I need, I turn to this show specifically to get my fix of natural solitude. Each episode delivers a unique look into the life of a home, which whether built or renovated, is crafted so intentionally by its owners that it feels almost voyeuristic to watch. Like a good New Yorker, though, voyeurism is a part of my DNA… and watch, I do.
While every episode is worth the 7-10 minute runtime, these are six of the cabins that have a permanent place in my dreams, and my vision board.
Forestbound Cabin (Season 1, Episode 10)
There are fancier cabins on this list, but this sweet New Hampshire fish-camp-turned-retreat is my ideal for the ultimate getaway from city life. Sitting firmly off the grid (and next to a pond), it is the best of simplicity and quiet luxury tucked away in an unassuming little package — filled with light during the day, and candlelight in the evenings. The space was refreshed by its current owners with handcrafted seating, a modest kitchen, and a tiny bedroom perfect for two. Most charming of all, it's filled with secondhand finds, and everything from the furniture to the tchotchkes feels like a curated look into the cabin's past, present, and future.
Agua Norte (Season 1, Episode 9)
Like many of the cabins in the series, Agua Norte started as a plot of land and a dream. Unlike most of the other cabins, however, it was built using traditional methods of fitted wood and oak pegs — making it a marvel of engineering and a DIY masterpiece. Set atop a hill overlooking Lake Superior, the home's one-of-a-kind views make it ultra-covetable, but a custom wood sauna is what puts this property into real fantasy cabin territory.
River Cabaan (Season 2, Episode 4)
This homey ranch-style cabin made me whisper "heaven" under my breath when I saw it for the first time. Nestled among the trees and ferns of the Tillamook Rainforest in Oregon, it's filled with the promise of perfect rainy days — from the massive brick fireplace to the open breezeway that gives coverage for indoor-outdoor living. To me, the real clincher is the river running beneath the property that gives everything a majestic feel, like a wild moat fit for its tiny wood castle.
The Blackwood Cabin (Season 2, Episode 1)
The dark wood that gives the cabin its name is a showstopper, but the real star of the space is the fireplace that the entire home is centered around. It's a vertical style that, per the owners, is called Rumford-style — a shallow, tall fireplace that draws smoke up and out more efficiently, and creates strong radiant heat. It's the kind of fireplace that begs for a day spent lounging in front of it, carving your way through a pile of books and a pot of tea.
The Desert Milk Adobe Cabin (Season 2, Episode 6)
The owners call this cabin "a restorative artist's retreat." It's gorgeous, it's small, it's rural — but can you really call it a cabin if there's an in-ground pool? Most of me doesn't care, as I'd personally love to live, relax, and create within its painstakingly renovated adobe walls. The space feels made for finding spiritual balance, and with the soaring Sawtooth Mountains in the background, puts everything into perspective.
The Artist Cabin (Season 1, Episode 3)
When you think of a cabin, the word "industrial" might not be the first thing that comes to mind — but it's hard not to appreciate the innovative splendor of this sharp-edged studio-meets-cottage. Built by an Aleut artist following her heart and honoring her father's legacy, the house is steeped in meaning, inspired by her very personal relationship to the land and crafted in her own vision. Details like wide wooden barn doors, floor-to-ceiling windows, and a counterbalance wall that can roll down all invite the outdoors inside, making this cabin a true commune with nature and the episode a perfect mental escape no matter where you live.
Subscribe to Max to watch all episodes of The Cabin Chronicles.
This advertising content was produced in collaboration between Vox Creative and our sponsor, without involvement from Vox Media editorial staff.