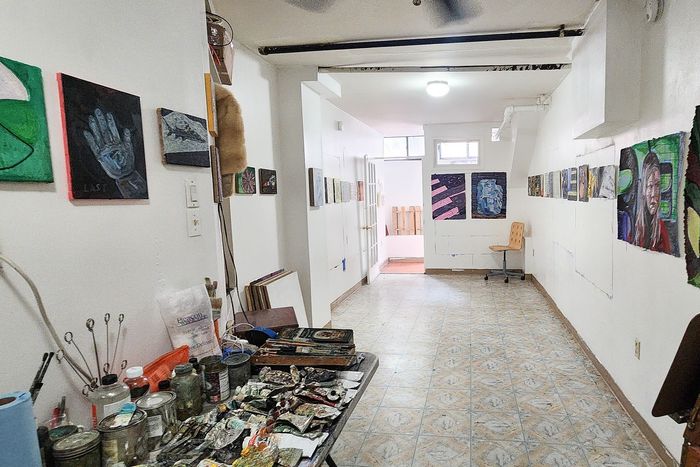 The studio apartment is currently being used as a painter's studio.
Photo: Arianys Wilson
Back in the 1980s, when Barbara Sitomer moved into the ground-floor apartment at 206 East 7th Street, a tenement in the East Village, the floor was dirt, the front was covered by a roll down gate and there were no walls. Sitomer, who had a vegan bakery down the street called Gone Pie, hired some of her employees to fix it up. They were squatting in tenements nearby, and knew how to do things quickly and cheaply.
"They closed in the pipes, put in windows, built the walls," she says. "I didn't have a bathroom, but there was a woman in the building who was a plumber and she did the bathroom. I tiled it myself."
These days, most Manhattan apartments that come on the market have the sheen of sameness, buffed to blandness and staged with generic West Elm furniture. But Sitomer's apartment, which was listed for $295,000 earlier this week with Arianys Wilson of Highline Residential, still looks like itself.
The studio has its own entrance — with a black brick façade and clerestory windows. And while it's not large (around 350 square feet), it's also less expensive than everything else in the neighborhood right now. Other studios in the area start at $350,000 and another studio in the same building, asking $449,000, is in contract right now. That one's a bit more polished, though. Sitomer's place has a kitchenette, not a full kitchen, and is being marketed as a "blank canvas for creative uses." Like a painter's studio, which is how it's being used now — Sitomer, who moved out of the city some time ago, has been subletting the co-op to an artist who lives upstairs. (The building itself has long been a creative place — Allen Ginsburg and William S. Burroughs once lived in an apartment on the third floor early in their careers, hosting friends like Jack Kerouac.)
Sitomer says she used to bake all night at her shop, walking back to the apartment at dawn. "It was a great haven. You'd close the door and it was just this bunker. Very quiet. I'd put in a big bathtub because I worked on my feet a lot. It was pretty womb-y."