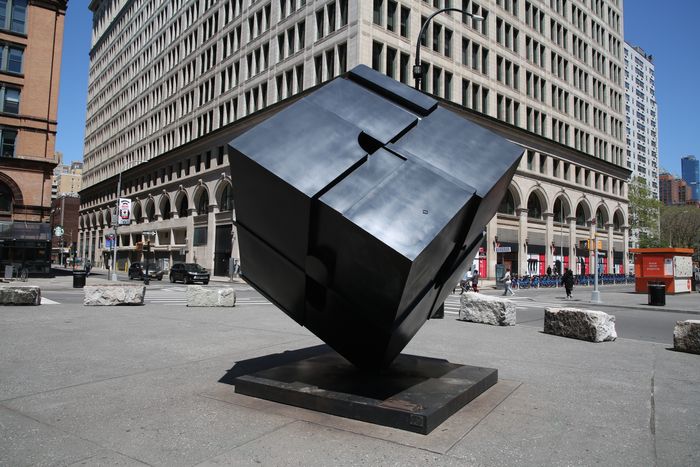 Photo: Rob Kim/Getty Images
We finally have the Cube to push around again. The Astor Place sculpture, officially named the Alamo, had been in various states of disrepair since 2021, when its spinning mechanism broke, and was subsequently barricaded off. The fencing came down in May 2022, but it remained wrapped in a sad little brace and locked in place. The Department of Transportation told Curbed last spring that there would be repairs, but the timeline was "TBD." Those repairs started two months ago — and it was returned in its full glory on Tuesday.
Artist Tony Rosenthal's 1,800-pound sculpture was supposed to be temporary when it was first installed in 1967, but the city loved it. The Cube became eternal except when it's out for repairs and general maintenance, which it has been on and off for the past few decades: Most recently, the New York Times reported that the Cube had been sent to a foundry in Connecticut to get a new weatherproof spinning mechanism and a paint job. The director of Rosenthal's estate, which paid $100,000 for the refurbishment, estimated that that should keep the Cube turning for another 20 years or so.
Before the Cube returned, though, it took a well-deserved beach vacation, spending the weekend on Long Island as part of the Hamptons Fine Art Fair. But its time off is over, and now it's back to work for the Cube.