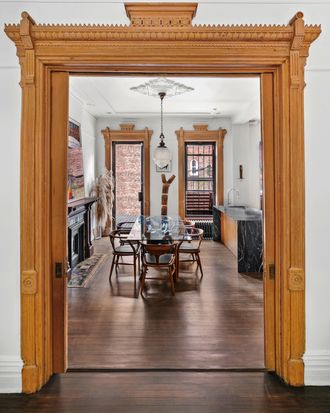 Original moldings in the 1899 townhouse seem inspired by Southeast Asia, where Allison Warner and Loran Hamilton ended up traveling as they built a life together.
Photo: Allyson Lubow
When Allison Warner used to walk to her subway stop at Utica Avenue from her old Jefferson Avenue apartment, she liked to cut down Stuyvesant Avenue. The townhouses matched, like ducks in a row. The tree canopy overhead made her feel far from the city. And the street was quiet, kept up by homeowners in their 60s and 70s. She liked to daydream of someday living there. Then, in 2009, a for-sale sign appeared in a window. A four-story townhome with six bedrooms and four bathrooms for $650,000.
The 1899 home, and others along the block, was designed by Amzi Hill, whose townhouses can be seen all over Brooklyn — most often in Bedford-Stuyvesant, but also in Crown Heights, Clinton Hill, and Park Slope, according to preservationist Suzanne Spellen. This particular row is in the Néo-Grec style, a 19th-century rejection of flowery, ornamental Italianate townhomes. But Brooklyn's Néo-Grec townhomes rarely have the style of moldings seen on the 200 block of Stuyvesant. Frames around the windows and entryways on the parlor floor have a line of abstract petal shapes that fan upward like flames or the drippy ornamentation on the gates and roofs of Hindu temples.
Property records showed the house was owned by Irma and Hamilton Robinson, a former NYPD chief of patrol, before the Bridge Street Preparatory School took over in 1994, transforming the bedrooms into kitchens and offices and slathering the interior with peach paint. "It needed cleaning up," Warner says. She pulled up carpet, took down fluorescent lights, and replaced all the showers, which hadn't been used in years. She worked alone on her own time and lived lean: "It looked like an artist studio on the parlor floor. I didn't really have much furniture. I was living the bachelorette life." The place was so empty during the renovation that Warner could rollerskate between rooms.
But there was a downside to living alone in a creaky, giant 19th-century home. At night, she heard knocks, objects dropping. She and her contractor saw what appeared to be a tool scuttling away on its own; terrified, Warner spent the night at a friend's place. "The house had a little bit of a weird energy," Warner says. Then Loran Hamilton, her partner, and Hamilton's two children from a previous relationship moved in. The house's eerie energy just "disappeared," says Warner. "She's very spiritual. Maybe whoever was lurking around wanted a family here? Who knows."
The two finished the job together. "We call her the designer. I am the refiner," Hamilton says. She pushed Warner to get the kitchen done and helped pick out the marble countertop. Warner opened up the parlor floor — turning a window in the back into a door and adding a deck out back. On the top floor, Warner knocked out the ceiling, exposing beams and brick, then painted the old floors white — to create an artist studio they could both use. Often, they were almost strangely in sync. Like the time Warner took the lead on renovating the upstairs bathroom and Hamilton came to her with an idea for a tile she thought might be nice for the space — a wavy emerald green encaustic from Morocco, flown in from Paris. Warner was shocked. "I'd been looking at these for years," she says. "The exact tile."
Now Hamilton — a real-estate agent — is the one selling the house they spruced up, and raised a family in, together. Warner says she isn't afraid of the change. She's never been, which is why she still loves tackling renovations — in the last ten years, while finishing the house, she's flipped no fewer than eight apartments across Brooklyn with Hamilton as her listing agent. "If you mess it up, you scrape it off and you start over," she says.