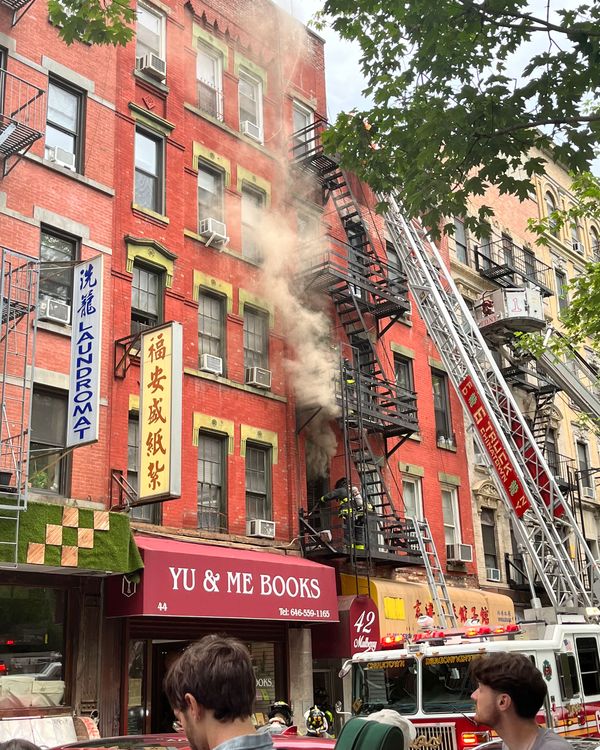 In the early afternoon on July 4, Lucy Yu was behind the counter at Yu & Me Books, the bookstore and café she founded in Chinatown, when she began to smell smoke. A customer asked, "Are we safe?" and Yu said it was probably from the fireworks down the street. She was planning to have an easy day — some of her friends were coming over to hang out and drink whiskey — but then a woman who lived upstairs burst in. "There's a fire!" she shouted, coughing. "You need to get out!"
Yu yelled at everyone to leave — "I don't even remember what I grabbed" — and locked the door. She stood across the street, watching in shock as firefighters arrived minutes later and smashed the upstairs windows, sending plumes of heavy smoke billowing up. Her neighbors had already gotten out, and they were mostly stunned but okay, with the exception of an elderly Asian man who lived directly above the store, whom first responders took out on a gurney in critical condition. His bulldog, who sometimes accompanied him in the bookstore, was carried out in a tarp, already dead.
While fighting the flames, the firefighters got in position to bash through the bookstore's windows. "Please stop!" Yu yelled. "I'll let you in." When she opened the door and took one step inside, her foot plunged into shin-deep water, which she realized was pouring in through the ceiling and drenching thousands of books and the space she'd designed to feel like a cozy living room. She didn't know how to process it. "I had to step away for five minutes to have an actual full-blown panic attack," Yu tells me. "Like, I did the wiring of the speakers, I fixed our ceiling, I built our furniture by hand. I felt, at that moment, fully ruined."
When Yu & Me Books opened less than two years ago at 44 Mulberry Street, with the goal of spotlighting diverse books in the historic immigrant neighborhood, it quickly became a beloved gathering space for Asian American readers and writers and a community hub for a neighborhood reeling from the pandemic and hate crimes. It's now the latest storefront in the neighborhood to succumb to a fire. For Rochelle Kwan, a Chinatown resident and a friend of Yu's who was supposed to hang out at the bookstore that afternoon, it was the second time in three years she's had to help a friend clean up their Chinatown store after a fire. "It just feels like, Oh my God, no, not again," says Kwan. For her, the space wasn't just a bookstore; it was where she could talk with friends late into the night in its back reading room or even DJ a birthday party.
The Fire Department says the cause of the fire is still under investigation. Just weeks ago, an e-bike shop ignited on Madison Street, killing four residents who lived upstairs, and a fire at a Mott Street souvenir shop displaced 50 others just three months earlier. Last year, another fire on Mulberry Street killed two residents and destroyed Dim Sum Palace, and, in 2021, another shut down Golden Diner. At 70 Mulberry Street, a massive fire devastated the Museum of Chinese in America's archives in 2020, the same year a fire ripped through Grand Tea & Imports on Grand Street, the other store Kwan had helped clean up.
When she showed up with her friends at Yu & Me — "We arrived thinking we were going to hang out, so everybody was looking so cute" — they found Yu alone, drenched from head to toe, silently sorting books into trash bags. They got to work helping her separate the wet and dry books. Yu hardly noticed them at first. "It was just so quiet in my head. And then an hour later, I looked up and 15 of my friends were around me just helping me do the same thing," she says. "I felt bad, I was like, 'Guys, if you have July 4 plans—' and none of them even gave me a chance to finish that sentence. They brought me clean clothes; they brought me dumplings. We had three bottles of whiskey we started passing around outside of the store, just laughing and crying."
The severity of the water damage means the building will need a full gut renovation, something Yu's landlord told her will realistically take a year. As for the bookstore's other recovery needs, Yu & Me received an immediate and tremendous surge of donations, raising more than $325,000 on GoFundMe — more than double its $150,000 goal — as of Monday, with funds coming from writers like Celeste Ng, Min Jin Lee, and Ocean Vuong, along with local businesses like Pearl River Mart. That money will go toward both keeping Yu & Me's ten-person staff paid as they search for a new temporary location and replacing lost equipment and inventory while they wait for insurance payments.
With the cleanup still ongoing, Yu says she's gotten just a few hours of sleep each night since the fire. She's still coughing and has chest pain from the smoke. But she's feeling grounded, she says. "When deciding to open up a bookstore in Chinatown, I can't just relish the joy of the support from the community without also understanding some of the hardships that might come my way." And as a former engineer who calls herself "hyperindependent," it's been a life-changing lesson. "I never prepare for anyone to help me. But it takes an extreme situation to feel extreme love and kindness. And I have felt that in the past couple of days to a level that I didn't think was possible," she says. "You can't make this stuff up. Like, fiction isn't even this good."