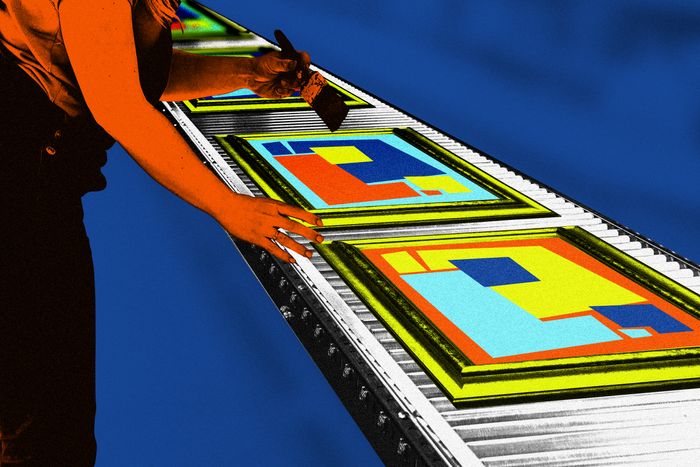 Photo-Illustration: Curbed; Photos: Getty
Let's say there's a mid-tier hotel going up near Orlando. Nothing too fancy — the kind of place a family of four might end up after a day at Gatorland. The developer wants the art hanging on the walls to say Florida but not Disney. He stayed in this place in Phoenix once that he thought was nice, so he took some pictures of that. He wants the place to be whimsical but classy enough to attract budget honeymooners.
Frankensteining this vision will fall to an art-consulting firm or, more likely, a designer with an M.F.A. in sculpture who will make it. She'll pull up the hotel's color scheme and furniture samples. Maybe she has a list of preferred artists willing to mass-produce their work for a royalty fee. But if nothing feels right, she'll search image databases for marshes or a row of palm trees and begin composing a series of images on the computer, maybe adding a few blocks of color to make it feel abstract or a color wash to make it look like the photo was taken in the 1950s. She'll do that around 45 more times, creating enough of a variety for her client to figure out what they actually want.
Deniz Miller, 31, is one such art consultant. She says creating the work that adorns the walls of retirement homes and taking direction from the interior designer of a highway hotel is actually a pretty good job, though you have to develop a thick skin. The hours are regular, the pay at her firm is decent, and it's blissfully stable work for someone with two fine-art degrees. Plus she really does like making art. But the occasional absurdity of reverse-engineering a piece based on a brand's specifications or designing a wall-size "Instagrammable moment" to be appraised by a room full of corporate heads isn't entirely lost on her. "I sold my soul to the art industry," she says. "But Warhol would be proud."
Commercial art consultancy, as one of the designers I spoke with put it, is the work of filling space. The Surrey on the Upper East Side might purchase a Chuck Close. A boutique hotel could have a relationship with a gallery in town. But the millions of mid-market hotel rooms in the country need something for guests to look at while winding down from that home-health-care-industry conference. And increasingly, their proprietors want custom art to cater to a generation of travelers just as likely to take their business to Airbnb.
Lisa Chervinsky, a hotel-administration lecturer at Cornell University who runs her own Chicago design firm, says that 20 years ago, hotel brands were all about consistency. Now the hospitality industry favors "unique experiences" and a tangible sense of place. The specialized art consultants working in these venues, she says, are a relatively new phenomenon. So are the desk jobs in the mid-five figures entirely dedicated to designing art to hang in a hotel.
These jobs are often to graft together art-world concepts — "modern," "impressionistic" — and the kinds of adjectives brand managers favor like "gritty" or "airy" or "classic." In less ambitious settings, the goal is to create something that telegraphs the idea of art without the potentially alienating qualities of an actual piece. Abstract works are popular for this reason: They communicate a vague sense of design history without much in the way of a specific point. Also, the piece has to complement a particular shade of paint.
An earlier iteration of the industry was more catalogue-based, with a set number of watercolors of lighthouses available to order, but the advent of Photoshop meant even the budget-conscious retirement home or hotel could turn toward the bespoke. It's difficult to quantify the size of the industry because of how varied the work can be, but in the firms that cater to mid-market developments, art-school graduates spend their days pumping out huge volumes of the kind of innocuous work a person might gaze at across a hotel bar while winding down after a real-estate-brokers conference in Kansas City. A package of custom work — a framed mirror, two guest-room paintings, a collage for the bathroom — in an average hotel could start at around $15,000 or $20,000. (The price per property is less for franchises like Comfort Inn or Ramada, which might have a firm create a series of brand-safe options and ask individual owners to purchase whichever they want.)
"There's that style I would almost call 'Target modern,'" says an art consultant who has worked with a number of ubiquitous mid-market chains in the past, soft shapes with squiggly lines running through them that hang in corporate lobbies and apartment buildings across the U.S. Wayfair sells it, you see it in some of New York's short-term-rental start-ups, a version of it hangs in some of the rooms at Williamsburg's William Vale hotel. It's the visual equivalent of Muzak — "a style of art that doesn't exist outside of this industry," she says.
Depending on the project and firm, the photo collage hanging in a hotel room could be the end product following a lengthy negotiation between a team that could involve interior designers, developers, brand managers, architects, and art consultants contracted to turn a mood board into a collection of framed prints. Consultants might source inspiration from popular photo sites, gesturing at existing work while careful not to mimic it too closely so they don't find themselves in a copyright suit. ("While there's nothing wrong with touring Pinterest, Etsy and other websites for inspiration," one art-consulting firm notes, it's crucial to be wary of lawsuits when presenting a client with a piece of existing art.) An art-consulting firm might reflect Margaritaville's "brand values" by creating a 14-foot "sculptural flip-flop" and Salvador Dalí–inspired paintings like "Dripping 5 o'clock" at the resort's location in Times Square.
Basically, says Tristan Villanueva, a former art designer who became disillusioned with the job, he'd get a request for a piece from an interior designer that included its projected dimensions and specifications — there might be a color scheme or a mood board of art samples to help dictate the intended aesthetic thrust. Then he'd render what they'd asked for using a combination of stock photography, Photoshop filters, and collage work. But he found that translating vibes into a coherent artwork to be challenging. And sometimes, a customer would ask him to "do copyright infringement" he says, asking for painterly renderings of Disney characters or specific figures for which no stock photos exist.
Occasionally, client requests can veer into the absurd. "Once they know you design the art, they want to put their own touch on it," another designer says. "So I'd have people send me pictures of their dog and be like, 'Photoshop my dog's head on to this bust of a person.'"
Graphic design is an industry focused on the visual communication of ideas. This kind of design is more like communicating the idea of art — the final product is a series of references to existing works without all of the unpredictability and expense of art in its less managed form. As everyone I spoke to was eager to note, at the end of the day, you're just making what a client requests. But it's still work.
"It's hard to complain," says the designer who coined "Target modern." "I guess I'm using my degree?"