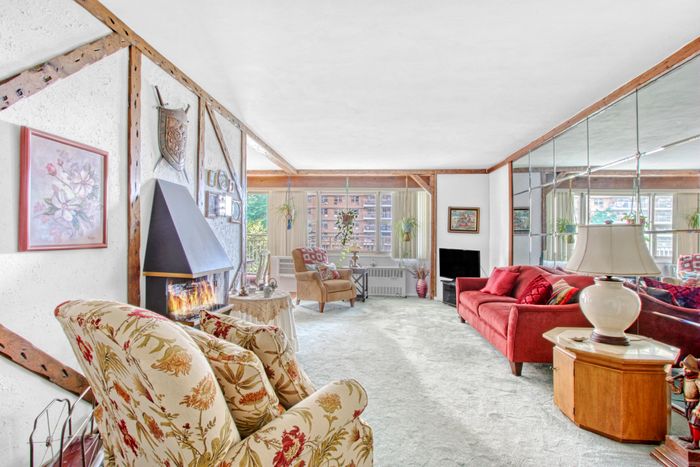 The two-bedroom apartment in Trump Village has been home to one family since 1964.
Photo: Jason Abrishami
The Shimshi family moved into 440 Neptune Avenue in 1964, just after the building opened. The 23-story tower off the Coney Island boardwalk was part of Trump Village, Fred Trump's Mitchell Llama–financed affordable development — and the first building in the city bearing the family's name. When it converted, Salvatore Shimshi, a machinist at the family's pajama factory, bought shares for the two-bedroom apartment on the fifth floor and stayed put: Salvatore, along with his wife, Phyllis, raised their two sons there. Phyllis remained in the apartment after Salvatore's death in 2005. It's only now, after Phyllis passed away last year, that David Shimshi and his brother are selling the place their parents fussed over for decades.
"My mother had very nice taste. She really did," says David, a retired NYPD supervisor. He would come home to find the living room furniture had been moved, a new picture hanging. "She didn't like the way things were. She rearranged and rearranged." One day, his mother brought home a faux fireplace that turned on with a dial. Glass shelves held her growing collection of Limoges porcelain.
It was Salvatore's idea to use wood to warm up the boxy apartment. He added faux-wood-and-brick paneling in the boys' bedroom, and beams to walls and ceilings — purely aesthetic, not load-bearing in the least. Salvatore's green thumb meant the terrace was always covered with plants. David thinks his father's design sensibility was drawn from "that Spanish look," as his paternal grandfather was a Sephardic Jew by way of Spain and spoke Ladino, or Judaeo-Spanish.
David had the kind of childhood one might expect in Coney Island, playing in parks and on the beach and going to the movies nearby. "My mother didn't want us in the house," David says. When the ice-cream truck pulled up, Phyllis would throw down change and her order on a piece of paper, which she balled up in a piece of aluminum foil. "One time, she forgot to put the quarters in, and it floated and got stuck in a tree," recalls David. (Salvatore threw down a basketball, dislodging it just in time.)
The sale has the same neighborhood sensibility as their earliest days on the block: The broker is Jerry Minsky, who moved into a nearby development in 1963, when he was 2 years old, and has honed a specialty in selling the apartments his classmates inherited. (David and Minsky were second-grade classmates.) "I'm in my 60s, and most of my friends' parents are dying," Minsky says. "They all need me for their parents' estates." He estimates he's sold almost two dozen apartments in the building this way, and a few more by word of mouth.
The sale is bittersweet and inseparable from his grief, David says. His mother passed away very suddenly, a day after going in for what the family expected would be a routine procedure. Clearing out cabinets and going over scrapbooks has been emotional. "There was 48 years' worth of stuff in that apartment," he said. "It's your youth, you know? It's where you grew up."
Updated at 3:53 p.m.: This article originally stated Minsky grew up in Trump Village. It has been corrected to reflect that he grew up in a neighboring development.