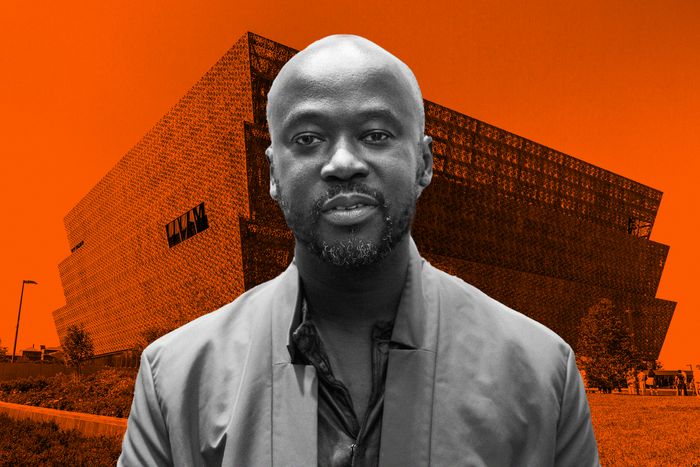 Photo-Illustration: Curbed; Photos Getty Images/Shutterstock
Until this week, David Adjaye was not just the world's most famous Black architect, or African-born architect, or British architect under 60. He was also a certified heroic genius, virtually the only one left in architecture whose reputation was still ascendant. He had a knighthood, much quoted presidential praise, and the trophy case to prove it. Adjaye had not yet won the Pritzker Prize—it must have stung when his contemporary, the Burkina Faso–born Francis Keré, did last year—but it would likely have rolled in soon enough. The odious and misleading term starchitect, invented for a cohort of his elders like Frank Gehry (now 94) and Norman Foster (88), applied comfortably to Adjaye. Although his firm, Adjaye Associates, employs dozens of architects spread out across offices in London, New York, and Accra, the work they produce is so strongly identified with one man that it seemed to have sprung from his imagination alone.
That whole superstructure of adulation collapsed in an instant when the Financial Times published an explosive article detailing the accusations of three former employees, all Black women, all single mothers, who variously claimed he had manipulated, controlled, and sexually assaulted them. Within hours, Adjaye issued denials and simultaneously "stepped back" from a lengthening list of boards, organizations, and projects. At first, the story looks like just another MeToo aftershock, the comeuppance of a powerful man who didn't get the message that times had changed. But the case also sends righteous tremors through a frequently exploitative profession. As the FT article makes clear, Adjaye's accusers felt they were always at the boss's mercy, with no recourse, few alternatives, and a dim future if they crossed him. In that, they are not alone. A job at a celebrated firm like his is treated as a privilege that comes with low pay and can be rescinded at any time. The reward is anonymous involvement in major projects and proximity to the profession's high priests, most of whom believe in the system even if they don't abuse.
I have mixed feelings about Adjaye's work. Like most critics, I praised the National Museum of African-American History and Culture. I was less impressed with his affordable housing complex in Harlem. It's somehow not surprising that a man allegedly so intent on controlling others has made a fetish of darkened hallways and thick stone walls. (I've been looking at his building at 130 William Street, and I'll have more to say about that soon.) For now, what's clear is that no museum, memorial, or condo building, no matter how refined, can justify an antiquated system that turns a designer into a petty potentate. If Adjaye's disgrace endures, it will cause plenty of collateral damage: employees who looked to him for financial and moral support, intellectuals who valued his promotion of Black architects and African urbanism, admirers who saw him as a champion of socially engaged architecture, clients who paid for his prestige, institutions that sought his counsel. All will pay a portion of the price for his hubris.
Ayn Rand enshrined the image of the architect as lone genius, thrusting with confidence and stylistic fervor. Frank Lloyd Wright embodied that role, demanding—and receiving—adoration from acolytes, women, clients, and the press. The late 20th century produced a new crop of self-mythologizing auteurs—including Daniel Libeskind, Richard Rogers, Renzo Piano, Jean Nouvel, Zaha Hadid, Gehry, and Foster—whose stylistic quirks permeated work they sometimes hardly touched. All have had loyalists and minions to translate their sketches into fully realized buildings, often with computer software that the stars never learned how to use. (Richard Meier, now 88, removed himself from the firm that bears his name in 2018, after multiple sexual harassment accusations.)
At Adjaye Associates, the founder has played his guru role to the hilt. He gives all the interviews, takes all the credit, and limits his collaborators' autonomy. That's true in many high-profile firms but not all. Some charismatic figures, notably Rem Koolhaas's Office for Metropolitan Architecture, have cultivated talented young people who eventually spun off their own outfits. Joshua Ramus formed REX, Dan Wood and Amale Andraos started WorkAC together, Bjarke Ingels launched BIG, Kate Orff created SCAPE. Many big-name artistes get clients comfortable talking to their lieutenants or map out plans of succession as they age. For Adjaye, it's all about Adjaye. One clue to his imperious attitude cropped up in his response to the FT's report: He denies taking nearly $800 out of an ATM in Accra to pay off a woman he had just assaulted; he withdrew the cash, his lawyer claimed, "to pay for a police escort to assist with driving through traffic."
In recent years, critics, prize committees, and even clients have become more attuned to the collaborative nature of architecture — to the "associates" or "partners" lumped together in corporate anonymity after the chief's full name. In 2010, Polshek Partnership, named for its founder, James Polshek, rebaptized itself as Ennead Architects after its nine principal partners. A few months ago, Deborah Berke Partners became TenBerke to emphasize the firm's multiple points of view.
Even so, the junior architect's trajectory from student years through the licensing process, to stable employment, independence, and perhaps a measure of respect, remains a treacherous one. In a tight-knit and harshly competitive world shot through with informal relationships and old grudges, a negative word from an ex-employer, or even just a grimace, can make someone virtually unemployable. For architects of color, who have barely begun to penetrate the ranks of European and American firms, a career path can be even narrower. Adjaye Associates is one of the few international companies with a reputation for cultivating Black talent — which makes the allegation that he targeted three Black women all the more dispiriting.
A global business that runs on whim, long hours, free or low-paid labor, and star power is a petri dish for abuse. One lesson of the Adjaye affair should be the need for architects to organize. Many of the industry's luminaries have explained to me all the ways that unions are incompatible with their practices. Margins are thin, success unpredictable. Deadlines can require all-night sessions, scarce clients are scared off by the specter of labor unrest, firms must be able to add and shed personnel as the market for their services fluctuates, new graduates don't know enough about the profession they've chosen and must be trained on the job. And so on. Yet employees at Bernheimer Architects formed the country's first union last year, winning voluntary recognition from management. A group of Snøhetta staffers attempted, but failed, to do the same. Unionizing architects won't solve all problems or tame all abusive bosses, but it could help inculcate a supposedly enlightened profession with one quality it seems to consider a frill: respect for the people who do the work.