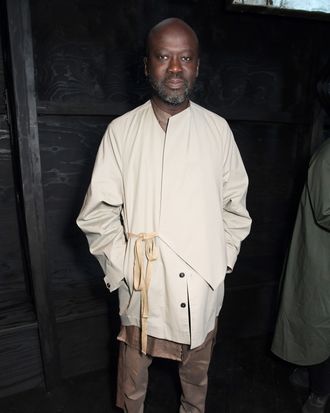 Architect David Adjaye's luxury tower 130 William was completed a week before former employees went public accusing him of sexual assault and harassment.
Photo: David M. Benett/Getty Images
The first line of the marketing copy for the high-rise tower at 130 William Street mentions its architect, who is described as "award-winning," "inventive," and "internationally recognized." It has not been updated to reflect that the architect, David Adjaye, was accused of sexual assault and harassment by former employees on July 4, a week after the building's completion.
Those allegations are already leading companies and institutions to pull projects away from Adjaye's firm, while Adjaye himself has withdrawn from a number of prestigious positions. But their effect on his completed buildings is murkier. No one is halting sales at 130 William — where only 10 percent of its 242 units are still available.
That's because luxury-condo shoppers may not have cared too much about Adjaye's reputation to begin with. "Buyers just like beautiful buildings. They don't even know who designed it most of the time," said Joe Lui, a Corcoran broker whose clients bought at 130. (To his point, Lui himself hadn't heard of the allegations when I talked to him two days after the news broke.) Joanne Burton, who is representing a seller at 21 East 12th Street, designed by Annabelle Selldorf, the architect behind the Frick renovation, says buyers would be silly to hang too much on an architectural pedigree. "There are people who will only buy hoochie-poochie Louis Vuitton," she said, but she counsels buyers to look for quality. "When I buy with my clients, we buy what they like." In other words, says Stephen Kliegerman, the president of development marketing at Brown Harris Stevens, buyers snapping up luxury units consider an architect "more for their design acumen than their personal lives."
Still, a star architect does push up prices because they can attract international attention, says Kirsten Jordan, a Douglas Elliman broker whose European clients bought at 56 Leonard, the Herzog & de Meuron building, and saw their purchase as a way of owning a piece of art: a well-designed place that might also be a good investment. As for whether a reputation shift could pull those inflated prices down? "Multiple buildings still have Trump on them. I don't think anyone cares," Jordan said. (To be sure, some people do. Residents have asked for the Trump name to be removed from their buildings, though at least half a dozen others in the city still bear it.)
The news about Adjaye could even push up resale prices at 130 William, suggested Deborah Rieders, a Corcoran broker who regularly represents new developments. On a tour, she fell in love with the look of the building and even found herself taking selfies in the bathroom. If developers refuse to work with Adjaye, she imagines a future where 130 William is his only luxury building in New York, making its apartments the hottest commodities in real estate: rarities. "I think it could have some sort of intrigue," Rieders said.
A reputation shift might not pull down sales, but it might present a funny problem for brokers when it comes to marketing, says Richard Rosenthal of Brown Harris Stevens, who found himself representing an $8.5 million condo in a Richard Meier building at 173 Perry Street a year after Meier was accused of harassment by five women. "The only time it came up was whether or not we thought we should put it in the copy," he said. In the end, they did, but the buyers hardly noticed — they were happy with the water views and the West Village address. Which makes sense to Rosenthal. "I wonder how many people who are not savvy in real estate know who Richard Meier was?"