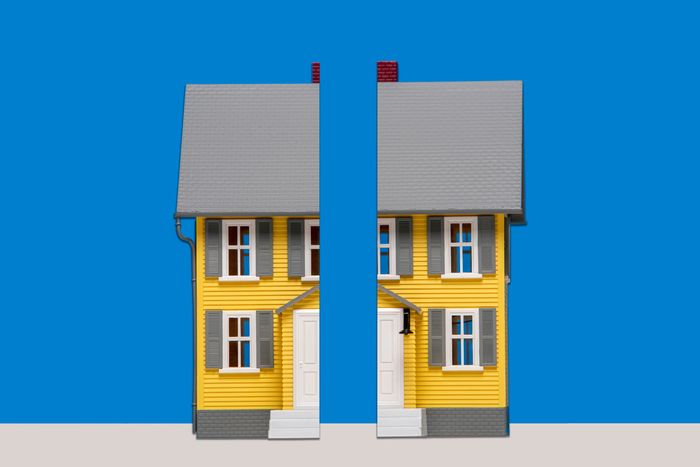 Photo: PM Images/Getty Images
The biggest twist in the New York Times story announcing that former mayor Bill de Blasio and Chirlane McCray were separating wasn't that they were splitting. It was that the couple, parents of grown children, planned to continue living in the same home. (This despite the fact that they own not one but two Park Slope townhouses.)
Unexpected? Maybe. But not unprecedented: Postdivorce cohabitation seems to be having a moment. Tom and Ariana of Vanderpump Rules are still sharing a home in the midst of their acrimonious divorce for what appear to be reasons of finance and spite. "I pay a hefty mortgage," Ariana says of her unwillingness to stay in an Airbnb. "I'm not going to shell out more money because of someone else's shit." Besides, her soon-to-be-ex keeps to the guest bedroom or the gym: "I might hear footsteps, but that's about it." And Kevin Costner's ex-wife is staying firmly put in the family home even after he agreed to pay her moving costs and $30,000 per month for a rental. (Although that one seems more like a tactical maneuver than a matter of necessity, enduring affection, or convenience.) The phenomenon has even seeped into fiction: Steve and Miranda recently made the married-to-roommates transition on And Just Like That …
Living with your ex postdivorce is even more common among non-famous people in New York. "Honestly, I've seen multiple times that divorced couples stayed in the home together, usually for financial reasons," says Dimitri Petrovsky, a Corcoran agent.
The logistics can be just as complex as the emotional dynamics. Some years ago, Petrovsky got a call about selling a house in Borough Park owned by a divorced couple with grown children. When he walked in, Petrovsky found they had divided the house down the middle with a wall. (They might have been inspired by Steve Martin, who reportedly cleaved his San Remo apartment in two with a soundproof wall in the midst of his divorce.) Even the staircase had been split down the middle. They had been living like that for about three years, Petrovsky says, and it worked until it didn't: "One of them had met someone else." It was a challenging layout to sell, though someone did eventually buy it. "The staircase was so narrow, like two feet wide on each side," he says. "It was weird, the whole thing was weird."
Michcal Stanley, a real-estate agent at Keller Williams, had a similar situation with a couple selling their "dream home" in the Bronx while going through a nasty divorce. The housing market was down at the time and the home took a while to sell, so in the meantime, the couple bought duplicates of basic household items so they wouldn't have to share anything, put Post-its on stuff that was "theirs" and shouldn't be touched, and worked different schedules at the nearby hospital to avoid seeing each other. "The husband even put white surgical tape on areas such as the double vanity in the bathroom to visually show separation," says Stanley.
Sometimes, bitter exes unwilling to stand their situation any longer resort to other means. "I had a client, and she and her husband were living together in this beautiful house in the Hamptons. She just couldn't stand him — he was cheating on her," says Nancy Chemtob, a prominent divorce attorney who has represented celebrities like Mary-Kate Olsen and Tory Burch. "So she started putting Nair in his shampoo. His hair was getting thinner and thinner. He thought it was the stress of the divorce, so he finally moved out."
But it isn't all bad feelings: Others are actually looking to live with an ex on purpose. Several years ago, Mark Martov, an agent at Corcoran, sold a townhouse near the Clinton Hill–Bed-Stuy border to what he initially assumed was a married couple. The husband came to an open house, then returned with a woman Martov took to be his wife. The pair had a young son, and when they brought another couple to see the house too, Martov figured they were friends or family weighing in on the purchase. Not until the man started talking about putting in a new internal staircase did the situation become clear: The couple was divorced and planned to move in with their new significant others, each pair taking a floor and renting out the bottom-level duplex.
"Obviously, they did it for financial reasons and to be close to their son," Martov says. "But with most people, by the time you're at the divorce part, you'd rather move in with your parents than be stuck with your ex."
These situations do occasionally have a happy ending — of sorts. Heather McMaster, an associate real-estate broker at Corcoran, met a couple in the early aughts who were the first parents she had known to try nesting. They kept their three-family Carroll Gardens townhouse with the parents rotating between the townhouse duplex and another apartment nearby. They had always planned to sell when the kids were grown, but when the time came, they realized that after taxes and splitting the profit, there wouldn't be much money left over for each of them to buy something. So they kept the house and renovated. She took the ground floor and garden with her long-term partner, digging a rec room out of the basement. He took the parlor floor, building out a very nice deck. As for the upper-floor duplex, it sold for a few hundred thousand over the $1.9 million asking price.