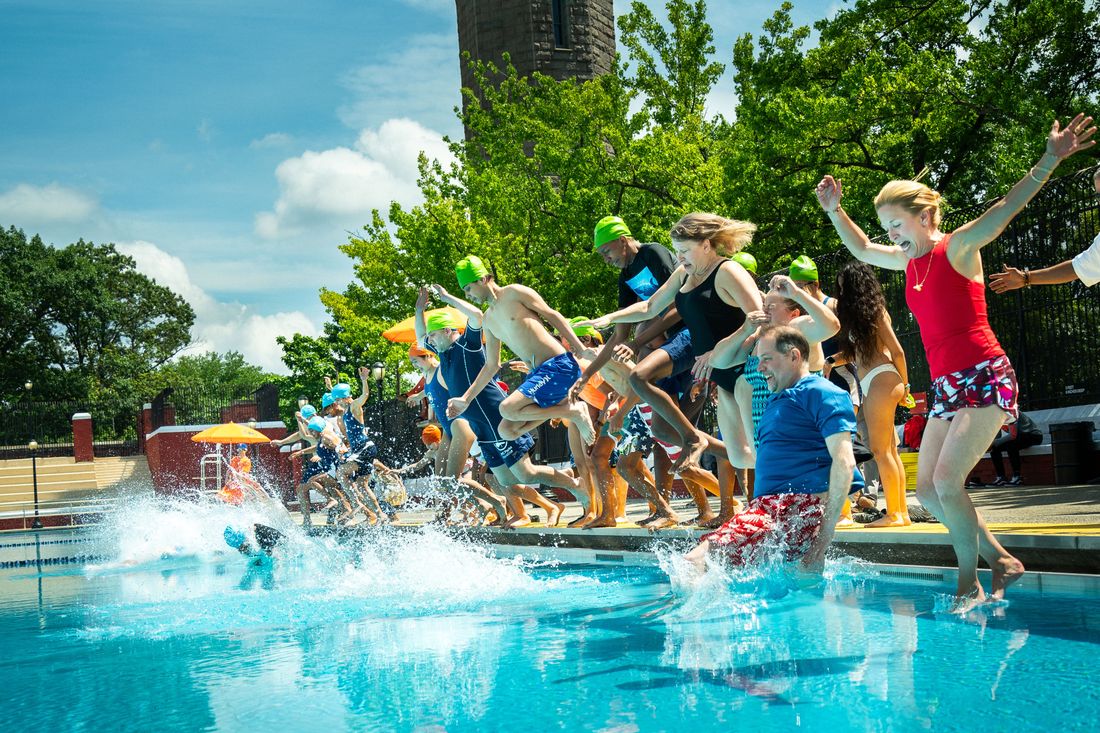 Season-opening ceremony at Highbridge Pool in Washington Heights.
Photo: Brian Finke
Most everyone can agree that summer doesn't really begin until the pools open. On June 28, a day after schools let out, dozens of children gathered in bright swim caps at Highbridge Pool on Amsterdam Avenue, gearing up to jump in for the first time this season. When I asked 15-year-old Dayvian what he was most looking forward to, he answered only as a tenth-grader can: "Bothering my friends underwater."
Thankfully, it was a sunny day, a rarity after what seemed like weeks of gray skies and soupy humidity. The pool itself is immense, familiar to anyone who has seen Lin-Manuel Miranda's musical In the Heights, whose pool scene is a fantasy of sultry summers in the city. But the idyllic setting belied some of the problems that have bedeviled the city's 48 active outdoor pools. Amid a national lifeguard shortage, the Parks Department has managed to hire only about 650 so far this summer — fewer than half of the 1,400 who staffed the pools and beaches before the pandemic.
To boost recruitment, the department raised the hourly wage for new lifeguards to $21.26 (from $16.10 in 2021) and offered all who stay through mid-August a $1,000 bonus. But the powerful lifeguard unions have reportedly been slowing recruitment efforts amid contract negotiations. Last year, with 900 lifeguards total, the Parks Department had to close pools in the early morning and evening and pause programs like Learn to Swim, a free youth class.
Parks commissioner Sue Donoghue said, "We're doing everything we can to encourage kids and New Yorkers to learn to swim and come out and join us and become a lifeguard — it's a great summer job." That is, except for the classic downsides: As the kids walked by to line up for the big jump, one adult asked teasingly who was going to pee in the pool. In response, they all screamed "Ew!"