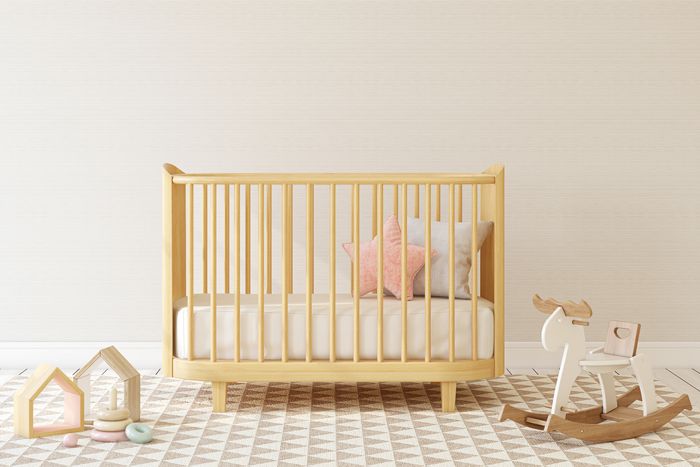 Photo: poligonchik/Getty Images/iStockphoto
Lindsay Lohan wanted her nursery to feel "peaceful" like an ocean — so she went to Nestig. Naomi Osaka wanted her nursery to also feel "peaceful," kind of like an ocean but instead the sky — so she went to Crate & Kids. Apparently it's spon-con nursery week, and the celebrities are designing their nurseries (in partnership with the baby-furniture companies) to look as serene as possible — which is to say, almost exactly the same.
"The planes and the sailboat felt so instantly classic, but the almost-rainbow watercolor effect felt really fresh and unexpected," Lohan said to Architectural Digest, describing the neutral-toned wall mural that she made in collaboration with Nestig — a special piece for her baby to gaze at that can also be yours for $499. Meanwhile, Osaka's baby will be looking at a special neutral-toned wall mural designed by Crate & Kids that features clouds, according to a People "exclusive." She'll also have a rocking chair: "I wanted one that reflects my style, and the Pollie Rocking Chair is exactly what I had in mind," Osaka said.
Getting a company to collaborate with you for your nursery build-out is a longtime celebrity rite of passage — there's Tan France's nursery collection (also with Nestig) that is animal-themed (also with a wall mural), and basketball stars Diana Taurasi and Penny Taylor's "ecofriendly" nursery designed by Pottery Barn Kids. Mandy Moore, who also has a nursery with Crate & Kids, wanted a room that was — to no one's surprise — "neutral and light." All of these nurseries end up looking, if not exactly the same, then very similar. Although, of course, every one is, like the babies themselves, special in their own way! And yours for just the cost of one year of private school!