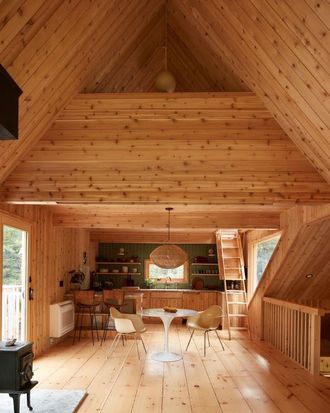 The Antler House might be best described as delightful. The 1968 Bauhaus-inspired modernist home in the Springs, designed by Andrew Geller, has — per the listing — "owl-eye" windows for "peek-a-boo" views, a litany of "hide-a-way nooks," and an "origami roofline." "People love the house," says Esteban Gomez, the Compass real-estate agent who has the listing for the $2.49 million property. "There's this playful, naïve quality to it. It's whimsical."
But as it turns out, naïve and playful aren't qualities most Hamptons buyers look for these days. And despite the enthusiasm for all things modern and minimalist, most aren't in the market for a 1,200-square-foot house, either. Which is why so many other lovely little modernist gems like the Antler House have been razed and replaced with hulking mansions.
The Spaeth House in East Hampton, a 1956 shingle-style manse designed by Gordon Chadwick and George Nelson — a home whose significance to the Hamptons Paul Goldberger once said "cannot be underestimated" — was demolished earlier this year. It joined Philip Johnson's Farney House in Sagaponack, the Motherwell Quonset Hut house in East Hampton, and the Lloyds House, designed by Norman Jaffe. The latter, said to be a personal favorite of the architect and a turning point in his career, sold for $4.5 million in 2013 and was replaced by an utterly unremarkable seven-bedroom that went for $10.5 million. "The dirt is just so expensive," says Gomez, who has another architecturally significant modernist listing nearby — Marshouse, designed in 1974 by Hamilton Smith, a partner at Marcel Breuer & Associates. (Marshouse, which sits on 4.5 acres, is asking $11.5 million.)
"You'd think with all this decluttering, people wouldn't need these massive walk-in wardrobes. How many outfits are they going to wear in the six weeks they're out here?" says Timothy Godbold, an interior designer based in Southampton who runs a nonprofit, Hamptons 20 Century Modern, that is trying to save modernist homes in the area. "But unfortunately a lot of people are like, 'Bigger, better, more of it.' The mentality after the war into the '70s was building smaller, but in the '80s it just got crazy. People wanted their Ralph Lauren faux English houses." Nowadays, buyers go for both traditional and contemporary styles, just so long as they're gigantic and outfitted with the finest and most up-to-date amenities: huge kitchens, huge pantries, huge closets. That is, exactly the opposite of well-designed modernist structures, with their small footprints and thoughtful layouts.
It's possible to tear these down in the first place because, unlike in New York City, where the Landmarks Preservation Commission has the power to dictate the smallest changes to landmarked buildings, in Long Island, owners can do mostly whatever they'd like with their properties. They're limited only by town zoning and permitting requirements — both easy to overcome with cash. The longtime owner of the Bliss House, on Meadow Lane in Southampton, for instance, is in the midst of a legal battle to demolish the house he hired Jaffe to design decades ago; he wants to sell the land to someone who will build something newer and bigger. After the town's architectural-review board denied his application for a demolition permit, he sued, arguing in part that several other local Jaffe houses had been knocked down recently. He'll most likely get his permit — the Suffolk County Supreme Court decided in his favor this spring, and even though the town has vowed to fight the decision, it can hardly argue that the house contributes to the local character since they mandated that it be obscured from view with landscaping in perpetuity when it was built in 1978. The stark triangular shape was considered an eyesore.
Even the Jaffe-designed house at 100 Further Lane in East Hampton, which sold last year at auction for $16.8 million and has more than 6,000 square feet, a pool and a tennis court, is slated for demolition, according to Godbold. Doomed by a small kitchen and a very prime location.
Not every wealthy Hamptonite wants to build gambrel-roofed monstrosities on the graveyards of modernist masterpieces, of course. While scrolling through Gomez's Instagram account earlier in the pandemic, the designer and art collector Lisa Perry saw that the Scull House was for sale. She restored the property and turned it into a gallery.
Antler House, which has been recently renovated and isn't directly on the ocean — which would be a significant risk factor — has a better chance of finding a sympathetic buyer than others. (The seller, filmmaker Chris Fisher, also wants to make sure the house lands in good hands, says Gomez.) And Marshouse, which has been owned for years by landscape architect Edwina Von Gal, will likely be protected from demolition by its wetland location — environmental regulations prohibit building anything new. But it will probably be demoted to a secondary home in a larger compound; there's a three-bedroom cottage on another part of the 4.5-acre property that can be replaced with something bigger and almost certainly will be. "Most likely someone will come in, rebuild where the cottage is, and put in a swimming pool," he says.