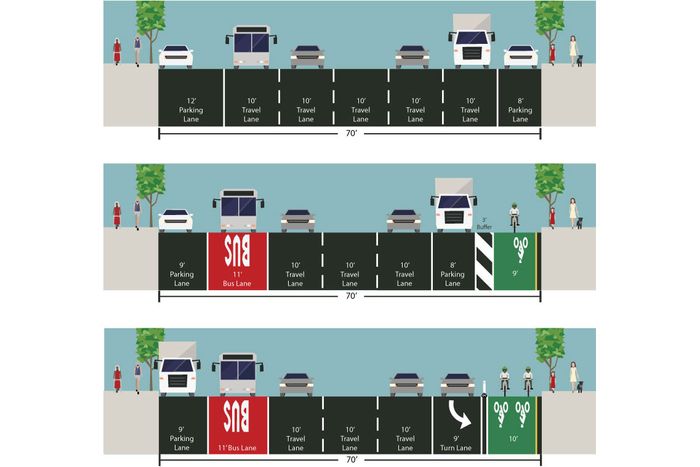 At top, Third Avenue before; at center and bottom, after the redesign, as it will be reconstructed on the straightaways and at intersections with left turns.
Photo-Illustration: NYC – Department of Transportation
A couple of years ago, when New York's Justin Davidson wanted to demonstrate what a complete New York street makeover might look like, he chose for our proof of concept a stretch of Third Avenue in the low 30s. It had (and has) no dedicated bike or mass-transit lanes, and no bump-outs at the corners to ease pedestrian crossings and improve sight lines. It is what planners disdain as a "traffic sewer," a city street that has been turned into a highway to sluice cars through its neighborhood at the expense of every other user. Our idea, at the time, was that this reimagining would demonstrate everything that could be done, replicable at large scale, toward making our streets more livable and safe (admittedly at great financial cost).
Yesterday, the Department of Transportation announced a Third Avenue makeover, not on that stretch but a little farther uptown, from 59th Street to 96th Street. It's pretty good! There's a dedicated bus lane, a protected bike lane, better management of left turns, some pedestrian islands, some dedicated delivery-worker bike space, and one less lane for car movement. Presumably this stretch was chosen because it really clogs up as traffic flows off the Queensboro Bridge and turns right.
There's still no trash containerization, but that's up to the Department of Sanitation rather than the DOT (and Jessica Tisch is at least talking the talk over there). Nothing on view here is wildly innovative, which is actually a good thing — it's all been put into action elsewhere, including stretches of First, Second, and Ninth Avenues, to good and lifesaving results.
Now let's see the city continue this design scheme all the way up Third Avenue into Harlem and the Bronx (where there is only mildly less traffic and "complete streets," as these redesigns are called, are desperately needed) and down to the Bowery. We've got a couple of blocks around 33rd already sketched out for you.