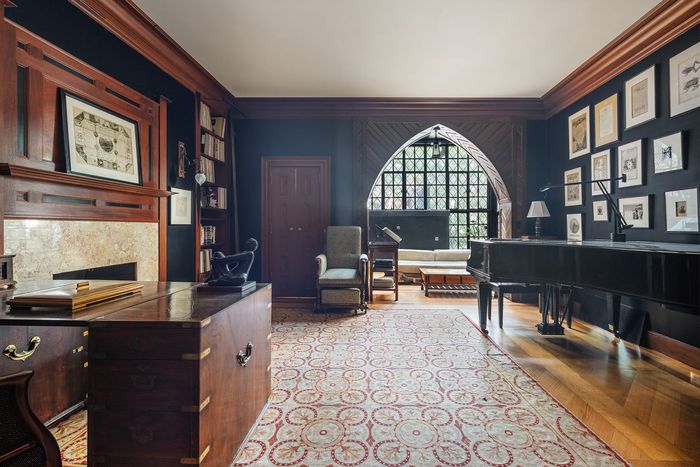 The music studio.
Photo: Courtesy of Compass
In the song "Another Hundred People" from the musical Company, Kathy sits in a midtown park and tells Bobby, "There's a time to come to New York and a time to leave it." If you happen to have $7 million and are a fan of Stephen Sondheim, your time to come to New York is now. His seven-bedroom townhouse at 246 East 49th Street in Turtle Bay Gardens has just been put on the market.
Although Compass's listing did not name the owner, a few clues make it obvious which "one of Broadway's most celebrated composers and lyricists" it is. A media room with custom bookshelves displays a wall of framed lobby-card posters of his works, including those for Pacific Overtures, Merrily We Roll Along, and revues like Side by Side by Sondheim and Putting It Together. Above one of the many mantels is a Seurat-style painting of audiences watching Sunday in the Park With George, Sondheim's Pulitzer Prize–winning musical based on the painter's life and work. The composer famously loved puzzles and games (he wrote the first crosswords for New York), and many are visible in the pictures of the rooms.
Sondheim bought this Turtle Bay Gardens house — one of 20 surrounding a shared private garden — in 1960. He knew he needed to purchase a full townhouse so he wouldn't bother the neighbors while he played the piano, he told the author of a 2008 book, Manhattan's Turtle Bay. "After a friend gave me an economics lesson in real estate," he said, "I realized that with the royalties from the recent success of Gypsy, I could afford a down payment. And then I rented out the top three floors of the townhouse to help me pay the mortgage." That privacy got him only so far, though: One night at 3 a.m, as he finished writing — and singing — "The Ladies Who Lunch" at the piano, he discovered his next-door neighbor, Katharine Hepburn, glaring at him through the back door. (He soon bought an electric piano with headphones for after-hours work.) It's the house where he attempted to cosplay marriage with Mary Rodgers, and later and more successfully lived as a married man with producer Jeff Romley. Sondheim kept the house until his death in November 2021.
The Turtle Bay townhouses are coveted and rarely on the market; in addition to Hepburn, E.B. White, Garson Kanin, Robert Gottlieb, and Mary-Kate Olsen lived there. Built in 1899, Sondheim's five-story house is well preserved, and the price almost feels low for the 5,690-square-foot building, which includes a 32-foot-long living room with chevron-patterned floors and a formal dining room with Romanesque beveled windows. There are wood-burning fireplaces throughout, as well as a gym, a library, a basement (about which there have been wild sex-dungeon rumors, which Sondheim denied), and a studio apartment with a rain shower on the top floor. Some rooms look to have been recently renovated, including the kitchen and at least a couple of the three and a half bathrooms. The building also got a round of updates and repairs in the 1990s, after a fire severe enough to merit a story in the New York Times.
For fans of the composer, the most captivating part of the listing is probably the second-floor music studio, where Sondheim wrote many of his celebrated works, including A Funny Thing Happened on the Way to the Forum, Company, Follies, A Little Night Music, Sweeney Todd: The Demon Barber of Fleet Street, Into the Woods, and Passion. And then there's the view: Through a solarium paneled in stained glass and up a set of curved stairs, a door opens to a private 30-foot terrace overlooking the gardens.