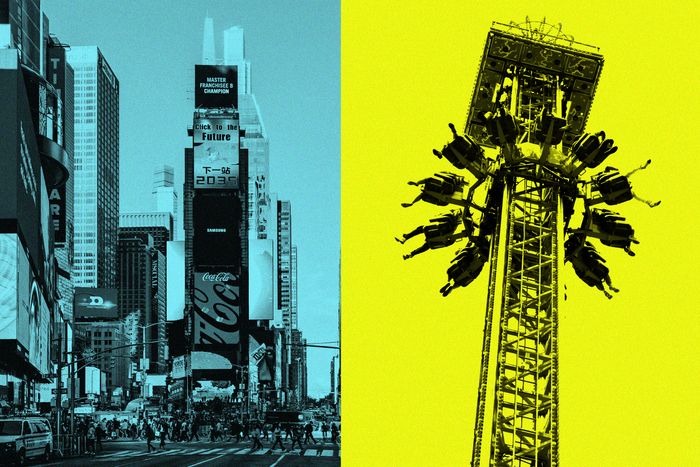 Photo-Illustration: Curbed; Photos: Getty
It's hard to think of anything less quintessentially Manhattan — even in greater Times Square — than a theme-park ride installed atop a 51-story hotel. The district might occasionally attract a fantastical oddity, like a Ferris wheel or a flight simulator, but it has yet to succumb to the full Disney treatment. An amusement-park ride, however, is exactly what Gary Barnett, founder and chairman of Extell, is planning for a site on Eighth Avenue just west of Times Square. Currently under construction — it's now a big hole in the ground — 740 Eighth Avenue will eventually be a hotel with its very own 260-foot-tall drop ride.
Looking closer at the zoning document filed by Extell's attorney, Paul Selver, the schematics for 740 Eighth show a sleek hotel with what appears to be a naked elevator shaft — Selver calls it "the stem" — interrupting its glassy façade for roughly 260 feet. Above this are five floors that hold a restaurant, a multistory observation deck, and a "VIP observation level."
The weird, in-between "stem" space is where the thrill ride will go. It's based on an attraction called Zumanjaro: Drop of Doom at New Jersey's Six Flags amusement park, which promises a "heart-racing plummet" during which "gravity pulls your gondola downwards at 90 miles per hour."
But why would anyone wedge an amusement-park ride into a swank Manhattan hotel? The official explanation is right on the zoning application, where Server quotes a hospitality trade magazine: "Faced with customers that crave immersion and experiences, overnight accommodation is no longer an end in itself."
The market for immersive experiences has already taken over many of the city's dead retail spaces and the pinnacles of its office towers. The Edge, an observatory on the 100th floor of 30 Hudson Yards is billed as the "highest outdoor sky deck in the Western Hemisphere," and features a City Climb option in which tourists who pay $185 for the privilege can scale an outdoor stairway to the building's summit, where they can lean outward into the abyss. The earliest precursor of this is the Ledge, at the Willis (formerly Sears) Tower in Chicago, which encourages visitors to step onto a series of glass-floored balconies to get the illusion of floating 1,353 feet above the Loop.
But both the Ledge and the Edge are, in some way, about showing off the buildings they're in, whether it's their extreme heights or their structural ingenuity, and, of course, the view of the city below. Whereas the Eighth Avenue drop ride is qualitatively different: It's an outdoor amusement-park attraction sealed in a glass tower, shoehorned into a 1,000-room hotel. Riders will not linger on intriguing views of the city or pause to admire the building's architectural flourishes because they will spend most of their minute and a half of ride time plummeting.
The developer's application cites examples of resorts and other venues that have on-premises rides. Predictably, many of them are in Las Vegas, including the Stratosphere Hotel, which features thrill rides like the Big Shot (a round-trip version of a drop ride) and an 865-foot-tall roller coaster called the XScream. The application also cited examples in tourist destinations such as Opryland and Orlando, and in the former Portuguese colony of Macao, a casino-filled island that is now a destination for gamblers from mainland China.
Manhattan zoning doesn't permit amusement-park rides, but Selver successfully convinced the Department of Buildings with these examples; if a hotel could offer its own in-house thrill ride in Las Vegas or Orlando, it should also be acceptable in New York. On March 9, the Department of Buildings signed off on the idea that "the proposed observation deck and indoor amusement attraction would be an approved accessory use for a transient hotel at this location."
By calling the thrill ride an "accessory to the hotel," the developer was able to sidestep the long and painful process of adding a new land use to the area. But it also sets up a worrying precedent. Indeed, at a June 21 meeting of Manhattan Community Board 5's land-use committee, its chair, Layla Law-Glisko, raised concerns that allowing the developer to take the "accessory" shortcut, instead of going through the slog of passing an amendment to the city's zoning text, might open the door to other accessory uses. As she pointed out, if we deem something a proper accessory use for a hotel because it exists in Las Vegas, "does that set a precedent regarding casinos?" Given the recent proposal for a casino by SL Green in the middle of the Times Square bow tie, it might seem that the area is steadily being turned into Las Vegas.
But this is less an example of Times Square turning into Las Vegas than a developer behaving exactly like a developer. Extell, in particular, has mastered the trade secrets of the industry, especially the sale and transfer of air rights. The firm amassed air rights to create the first supertall condo tower on 57th Street and kicked off the spree of air-rights purchases from surrounding buildings that made the very tall, very skinny towers of Billionaires' Row possible. 740 Eighth itself is a large-scale development enabled by an air-rights purchase. The Shubert Organization sold the air rights belonging to its Imperial Theater to Extell for some $51 million. But that's not the full story here. For that you have to look at the drawings.
In this case, what the schematic drawing of 740 Eighth Avenue tells astute observers of real estate is that the ride is in a "mechanical void." Typically a mechanical void is an architectural sleight of hand found in luxury residential buildings, where a floor that contains nothing but, say, ventilation equipment, is much taller than it needs to be. Because mechanical floors aren't counted as part of a building's floor-area ratio, the formula that dictates the maximum square footage of most New York City buildings, a developer might insert a mechanical void with 20 feet — or more — of unnecessary headroom. This pads the overall height of the building, making the uppermost floors all the more valuable. As Selver himself stated at the community-board meeting, "The ride by itself doesn't have any floor area," and the stem area was "totally mechanical."
Extell, in fact, is quite proficient at the trick; the company's 50 West 66th Street originally included a stunning 160-foot-tall mechanical void on the 18th floor. Following years of lawsuits and protests, the void height was somewhat reduced, and the project was allowed to move forward in 2022. However, as a result of Extell's actions and similar moves by other developers, the mechanical-void trick was banned in 2019 in certain residential neighborhoods but not in dense commercial districts like Times Square.
The 260-foot-tall thrill ride thus adds 20-plus floors to the building without using up any FAR, making it the mother of all mechanical voids and lifting the VIP level and observation decks even higher into the skyline. Extell's theme-park ride may ostensibly exist to satisfy touristic cravings for an immersive experience, but really it's there for a much more primal reason: Height equals money.
Carol Willis, president and director of Lower Manhattan's Skyscraper Museum, contends that the thrill ride atop the midtown hotel is, in a way, old hat. She sees it as a familiar strategy named nearly two decades ago by Rem Koolhaas in Delirious New York. In the book, he argues that all the late 19th and early 20th century innovations that made the dawn of Coney Island so amazing (such as electricity and elevators) also made Manhattan's modern skyscrapers inevitable. In Koolhaas's words, "fantastic technology" begets "pragmatic technology." Repackaging Zumanjaro: Drop of Doom as a hotel amenity is therefore New York City in a nutshell.