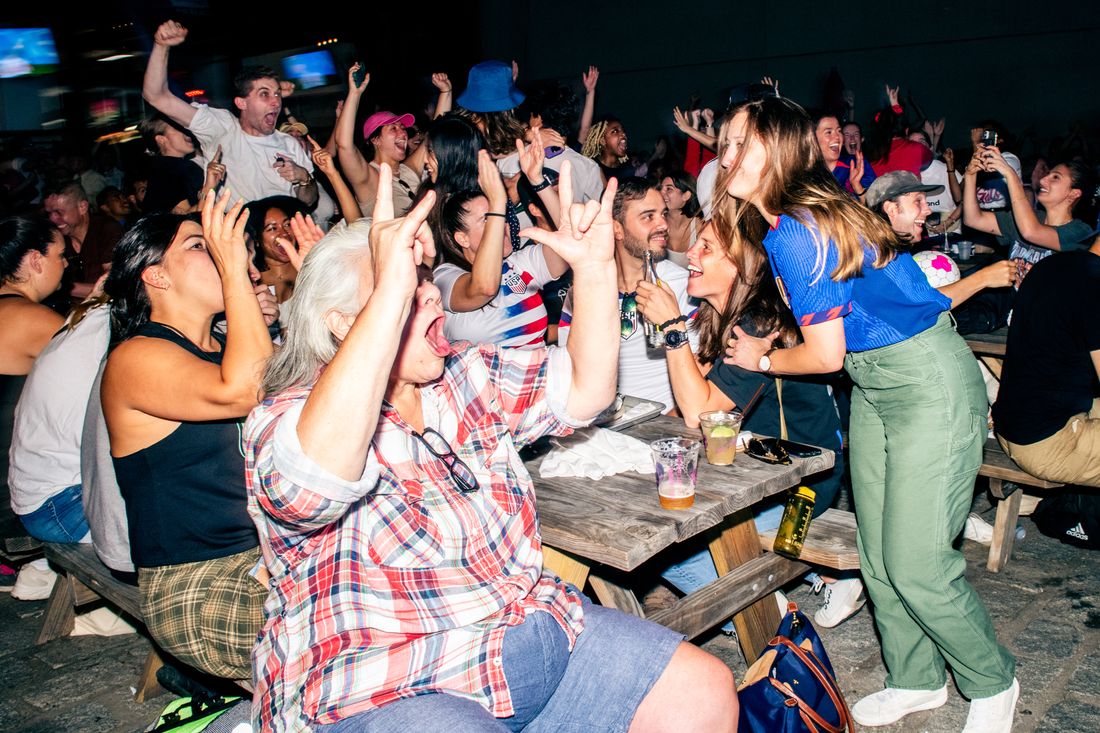 The USA World Cup watch party at Pig Beach BBQ in Astoria.
Photo: Erica Snyder
I'm overstimulated," said Jessica Scaparro after watching Daniëlle van de Donk of the Netherlands land a crunching tackle on the U.S.'s Lindsey Horan. The crash and the fiery exchange that ensued, which saw Horan shove van de Donk, were replayed on the jumbotron and dozens of screens at Pig Beach BBQ in Astoria, where a packed crowd of hundreds of U.S. supporters (and about a dozen Dutch ones) had gathered to catch one of the most anticipated matches of the Women's World Cup being played in Australia and New Zealand.
Despite the heat advisory, there was a breeze, and at the start, the smell of barbecued pork wafting through the air felt like a harbinger of victory for the Americans. "I'm oddly not nervous," said Sara Ach 30 minutes before kickoff. Unlike its male counterpart, the U.S. women's team is a powerhouse in the sport and the favorite to win the tournament. Previous World Cups had been dominated by the issue of unequal pay, which persisted for years despite the immense popularity and winning ways of the women's team. But the women signed a historic equal-pay deal last year, meaning fans wouldn't need to chant "Equal pay!" at every opportunity and could just focus on the soccer. The problem at Pig Beach was that the Dutch had scored first, and by the time van de Donk had turned Horan into a crumpled heap on the field, the crowd was restive.
Moments later and clearly angry as hell, Horan stormed the box and smashed a corner kick into the back of the net. The stone pavement shook as the crowd stomped the ground and flew off the picnic tables in celebration. But the match ended in a draw, sowing doubts that the U.S. team could actually win it all. "I feel we're catching up a little bit," said Farid El Nasire, who was born and raised in the Netherlands, about the Dutch team. "We're not quite there yet, but you know, 1-1 is a good score."