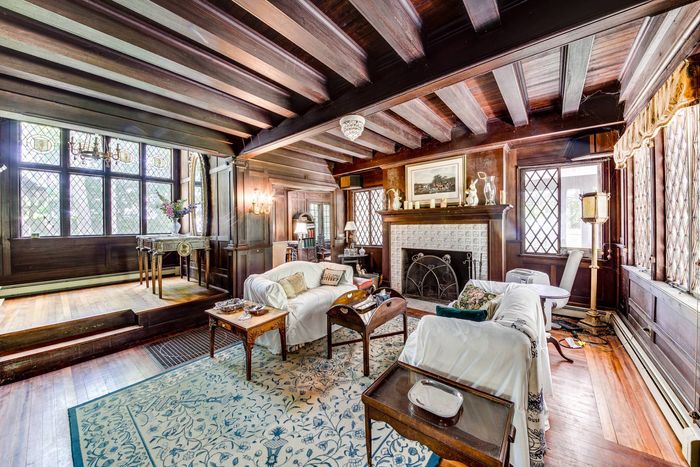 The living room at 12 Woods Lane, the 1893 home that Joseph Greenleaf Thorp stuffed with charming details, such as the stained-glass medallions on the windows at the landing that feature seahorses.
Photo: Saunders & Associates
The architect Joseph Greenleaf Thorp made his name designing airy summer palaces across the Hamptons. Among them: the 14-room Grey Gardens; the sprawling Frederick G. Potter House; the imposing, towered Frances H. Davies home; and Calvin Klein's crisscrossing former mansion on Georgica Pond, which sold two years ago for $85 million.
But for himself, Thorp built at a different scale, boiling down the luxury he made for Gilded Age barons into an economy-size six-bedroom. And at an address slightly more convenient for a working architect: just off East Hampton's Main Street. "It looks a bit grand from the outside, but inside it feels more cozy," says Stephanie Moriarty, who bought the home in 1986 with her husband, James, who died last year.
Still, Thorp managed to incorporate many of the details he was known for — more, maybe. Although compared to other Gilded Age craftsmen, Thorp, with his "whimsical places to get away from the heat of the city," per Gary Lawrance, author of Houses of the Hamptons, was almost a minimalist. In 1903, Architectural Record praised him for his commitment to "unpretentious architecture." The Tudor revival has coffered ceilings, leaded windows, and tiled fireplaces. Stained-glass medallions of swimming seahorses stretch from the landing of a grand staircase up three flights. Wood paneling covers the walls and ceiling of a library. "I think Thorp built this for himself with much more detail," Moriarty says. Even the home's orientation — with bedroom windows that face the sunrise — seemed to be the result of Thorp's careful thinking. "I think an architect's own home is kind of like a work-in-progress, like their own painting, if you want to think of it that way," Lawrance says. "With your own home, you can really focus on little idiosyncratic things you happen to like."
The Thorp family left for Italy in 1912, according to the East Hampton Star, selling to Louis and Maude Bock, who kept the home in pristine condition with one major improvement: Maude was an obsessive gardener and turned the yard into a traditional English garden. Annuals still pop up every now and then, though the rest is lost to time. "We didn't know how to keep it up," Moriarty says. "The deer were eating everything." The couple — who were only the home's third owners — upgraded what couldn't be seen, adding insulation and improving plumbing and heating: "It almost killed us." They also made aesthetic upgrades that fit Thorp's vision, replacing chipped tiles around the living-room fireplace with real Delft and completing an unfinished third floor as a hangout lounge with an extra, fourth bathroom. One thing they never touched: mother-of-pearl buttons on the wall in every room, which, if they worked, might call down to servants in a butler's pantry.
The listing suggests a future owner could add a pool and a guesthouse, but the Moriartys never saw the point; the home is a short walk from East Hampton's Main Beach. Which is how they found it: James was a sailor who first got to East Hampton via the marina. "He loved the house," Moriarty says. "If he were here, we never would have sold."