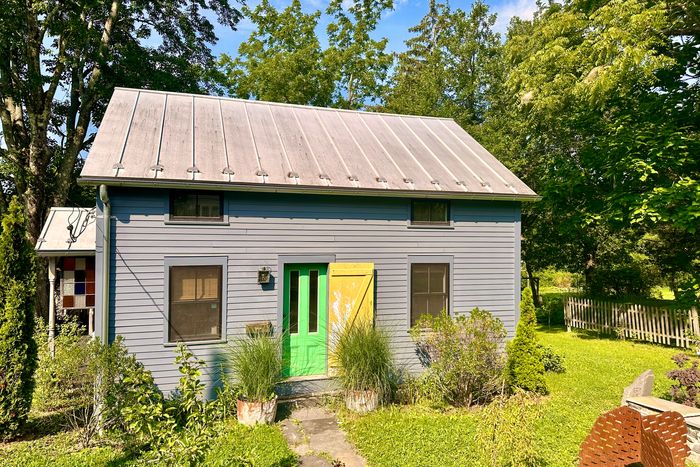 Isaac Nichols spent eight years restoring this 1865 home, even pouring a new foundation. Shards of the old foundation ended up in the front yard.
Photo: Sean Zimmerman
You may not know Isaac Nichols, but you probably know his work. His "boob pots," terra-cotta planters made curvaceous with breasts and nipples, have stared up from the display cases of Opening Ceremony (RIP), the shelves of Urban Outfitters, and the mantels of basically every art-adjacent apartment documented by design blogs in the mid-2010s. The pots, an off-the-cuff idea posted to Instagram in 2013, turned Nichols into something like a ceramics tycoon. That virality — "totally random" and "a total mistake," he says — helped finance the near-wholesale restoration and renovation of a 19th-century home in Saugerties, 15 minutes north of Kingston, now on the market for $549,000. "I paid for all that with boob and butt potts."
Nichols was a teenager when he fell in love with architectural salvage — with the fun of the hunt and the creativity of a good restoration. He dropped out of school at 15 to learn the trade full-time from a business near his home in Maine, later moving to Philadelphia, where he studied art. After transferring to Cooper Union in his 20s, he scavenged construction sites and curb trash for pieces to flip and sell. Destiny led him to a Greenpoint construction site getting rid of a 35-foot Art Deco bar. The sale earned him $14,000 cash, which he used for the down payment on the Saugerties house at 13 Mynderse Street, a teensy wooden box with a garretlike second story. It was owned by the family of a former roommate, who offered to sell with a lease-to-buy agreement. (As for the bar, it's now on Tompkins Avenue in Bedford Stuyvesant, where it's still very much a bar.)
13 Mynderse Street had once been an outbuilding off the larger farm next door. They both appear on an 1875 map, according to the neighbor who renovated the main house. By the time Nichols arrived, it was in bad shape, its windows boarded, its exterior covered with grody shingles, and no heating to speak of. "The house should have been torn down," Nichols said. But he had a plan. "I just wanted to do it how I saw it in my head and I didn't want to let that vision go."
The home feels like it's been lived in for a century or two by some tinkering, creative family that's solved every problem that comes with the task of living. Shelves in the kitchen, not much wider than the dishes they hold, curve gently at the edges, as if they've been hewn back to prevent head bumps; in fact, they were cut from Nichols's grandparents' curvy dining-room table. "None of us had great memories of it, but we didn't want to throw the table away." When he painted the bedroom white, it seemed too stark, so he sanded down just the beams. Little livable solutions pop up in every corner: a stained-glass window, hanging on the side porch, shades a bench; a hole in boards on the second floor has been patched with a circle of old copper. The bathroom renovation took two years, he said, the result of "decision fatigue." (What tiles to choose? What fixtures?) His goal was to create, almost from scratch, a home that felt like an old home, but with the energy efficiency of a spaceship (it costs $180 per month to heat in winter). "I just rebuilt everything. I'm kind of freaky like that."
The project started in 2015, when Nichols barely had cash to pay the first and last months' rent. He fixed up the bathroom and kitchen to livable levels and rented it out until he had money to pull off grander plans. When his tenants left in 2017, he moved up full-time, living in a tent as he took the building down to the studs and rebuilt it from the inside out — tearing out the kitchen and bathroom he'd fixed up two years earlier. He poured a new foundation and preserved what he could save — some beams were left intact with the stripes of plaster that once hid them, and an old foundation found a second home as raised garden beds. The bulk of new wood came from an 1815 home being torn down in Massachusetts, which he'd found on Craigslist. Nichols rebuilt the home from the inside out, sometimes putting down a floor just to strip it down. "It was like I was building and restoring at the same time," he said. "Nobody should do that."
"It's not a 'buy cheap, paint it black, and flip for profit' kind of house," says Sean Zimmerman, who met Nichols at a dilapidated house they were both interested in fixing up, and is now representing his house with Jimi Billingsley. Zimmerman laughed telling the story of an agent who, on a tour, pointed out the knob-and-tube wiring and said she didn't see the value. "She thought it was just an old house someone had glossed over and chosen not to update the electric," he tells me. Which just may be the highest compliment. "When you walk into it, it feels effortless," says Billingsley.
If Nichols sells the house, he'll be able to pay the mortgage on his next home: another fixer-upper in Saugerties, right off the town swimming hole. "This is what I really want to do," he said. "Just renovate old houses. I love it."
Update 3:21 p.m.: The article originally stated that Zimmerman met Nichols while spelunking for salvage. They actually met at a home they were both interested in buying to fix up.