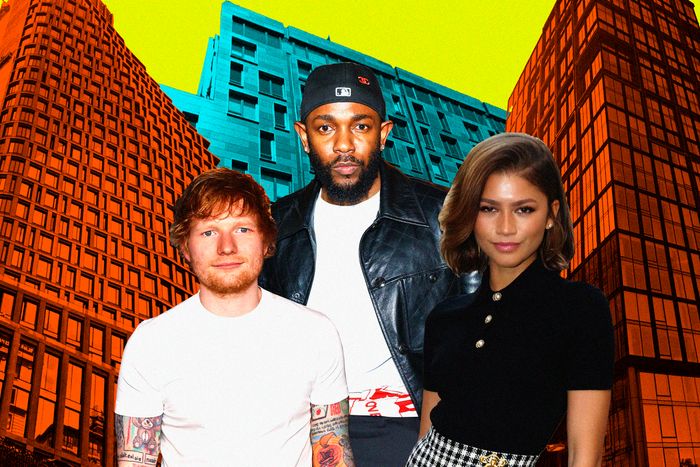 What do Ed Sheeran, Kendrick Lamar, and Zendaya have in common? Scooping up apartments with water views.
Photo-Illustration: Curbed; Photos: Getty, Google Maps
When Kendrick Lamar went shopping for a New York pied-à-terre this summer, he focused on three buildings just a few blocks from each other — all glassy, new-construction condos off the Brooklyn waterfront, where apartments run big, elevators bring owners straight from the garage, and the views of Manhattan across the glittering East River are unimpeded.
Lamar looked at the Quay, along the Brooklyn Bridge Park, where Zendaya snapped up a $4.95 million three-bedroom. He looked at the sail-shaped Olympia, in Dumbo, where Ben Simmons of the Brooklyn Nets and the songwriting duo behind Frozen's "Let It Go" bought two units each. And he looked at the Pierhouse, the same building where Ed Sheeran is paying $36,000 a month to rent the borough's most expensive rental listing. Lamar opted for a triplex there for $8.99 million.
"They're incredibly sexy buildings with incredible waterfront views," says Deborah Rieders, a Corcoran broker who was head of sales when the Pierhouse went on the market; she used the adjective "sexy" three times in our 17-minute phone call. Rieders says celebs like Lamar are drawn in by views and amenities, but there's a third lure, relevant especially for anyone accustomed to California-size homes: scale. Sheeran's rental, which Rieders sold to its first owner, is "an over 4,000-square-foot apartment with multiple outdoor spaces and insane views." Lamar also owns a seven-bedroom spread in Bel-Air and may not want to downsize. (Sure, he could get the same scale if he bought a Brooklyn townhouse — but for a pied-à-terre? Not worth the upkeep.)
Brooklyn just didn't offer this sense of size or luxury before these towers started going up a few years ago. Or their views. Developers behind the Pierhouse actually overbuilt, blocking the sight line from the promenade and spurring a lawsuit. Because the buildings stick out, the views are even better — making you feel like "I'm by myself floating above the city," said Mark Jovanovic, a Compass broker who has repped celebrities in the area.
And before these went up, there weren't many Brooklyn buildings that went to such lengths to help celebrities escape the paparazzi. Rieders says the Pierhouse has its own garage, and a key fob can bring residents from their parking spots to their apartment floors without having to risk interacting with a plebeian. The Olympia has the same deal — a spot is $200,000, and penthouse units have private elevators. Zendaya's security team reportedly signed off on her Quay purchase. Plus, who would bother her here? The neighborhood is a bit of a no-man's-land; Ryan Serhant, who represented the building when it opened, built his marketing around its proximity to the marina where owners can dock yachts. The area is a no-man's-land, devoid of any of the bodegas and fruit stands that make neighborhoods in New York feel like neighborhoods in New York.
These buildings are also a bit of a statement for the celebrities who chose them over, say, 150 Charles or other celeb hideaways in Manhattan, says Charlie Homet, a broker who specializes in Dumbo. "It's a way of saying, I have all that money in the world but I'm choosing to live on the Brooklyn waterfront," he says.