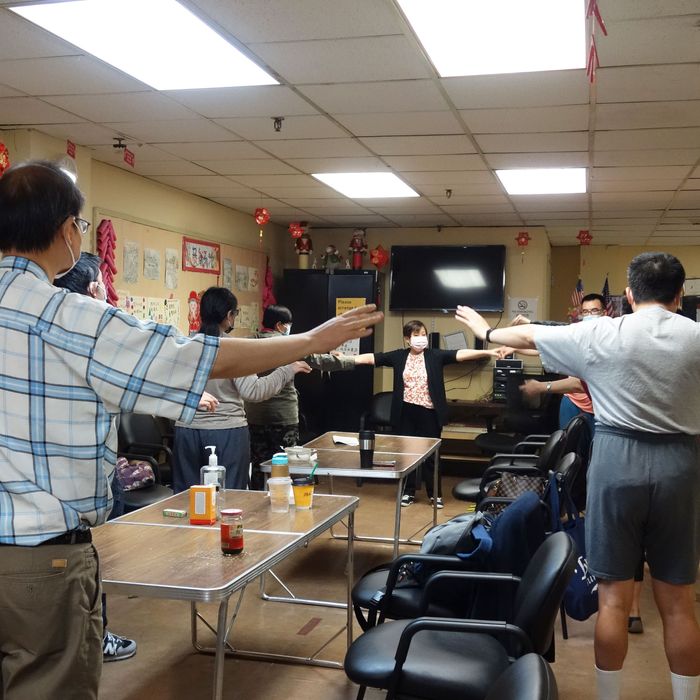 Attendees of the Continuing Day Treatment Program in the Lower East Side stretching during their daily treatment sessions.
Photo: Rong Xiaoqing
Before he began attending the outpatient program at the Lower Eastside Service Center, Binzai* had bounced back and forth between hospitals and community rehab centers for nearly a decade. After watching his father die in a car accident in 2007, he had stopped working at a Chinatown bakery and shut himself in at home all day, where he would talk to the wall. In 2009, he tried to go outside with hardly any clothes on, claiming he was being chased by Japanese assassins. When his mother blocked the door, he grabbed a knife and tried to stab himself. That was the first time Binzai was hospitalized. During another hospitalization, he had kneeled down before a doctor and begged him to kill him with an injection because "life is too painful."
Binzai's mother, Yuping Huang, didn't know how to help her son. Working a minimum-wage job at a day-care center and speaking no English, she couldn't afford to care for him around the clock. The treatment programs he attended did not stave off his manic episodes, which would bring him right back to the hospital. His mother started taking antidepressants herself. "Those days, I prayed to God to let me die soon so I didn't have to see my son suffer," she said.
But ever since Binzai began participating in the Lower Eastside Service Center's treatment program, he has not been hospitalized. It's been seven years. Sitting hunched in a chair with a hard-to-read expression on his face, Binzai often looks sulky and bored. But he's there at the center five days a week. Margaret Lai, the program's director, has monitored him the entire time. "Whenever Binzai looks edgy, Ms. Lai would call me, and we'd discuss how to deal with it," said his mother. "If not for her meticulous care, he wouldn't have the life he has now."
The program Lai runs in the 500-square-foot room on East Broadway is the only one like it left in the city that is designed specifically for Chinese-speaking patients with severe mental illnesses, including schizophrenia and bipolar disorder. Like Binzai, the dozen or so Chinese immigrants who are regulars had cycled between hospital and home and sometimes the streets before doctors referred them to the program. In the small room, decorated with red lanterns and cut-paper art, Chinese pop songs play in the background. Around the table, they practice t'ai chi–style exercise and take classes on getting along with family members, anger management, and other methods of coping with themselves and the world. But without enough Chinese-speaking social workers or funding from the state — which favors new, more flexible models of treatment — it's at risk of closing down.
Lai, the 68-year-old director, is petite, barely five feet tall. She rarely raises her voice, and yet, when she speaks, it seems to have a calming effect on all the patients. She has worked at the Continuing Day Treatment program since graduating from Hunter College's social-work program 40 years ago. After the other full-time social worker quit last year, she's the only one left. When a patient begged Lai to expand the program to seven days a week, she mentioned that she should be considering retirement instead. But that made everyone very agitated. Some attendees can't imagine their futures without Lai. She tells them, "I won't leave without making sure you continue getting good care."
But she doesn't know how she'll fulfill this promise. The center's job opening for a bilingual social worker who speaks Chinese has been open for a year, but has attracted only three applicants so far. None has been a good fit. Most community-based mental-health services face this problem. "Workforce, that's the No. 1 issue," said Amy Dorin, president of the Coalition for Behavioral Health, which represents more than a hundred such providers in New York. "The salary is not high enough, so people are choosing other fields." While Lai would not state the salary for the position, she did say that she does not make much more than the high end of the clinical social worker salary in the city, which is $76,200.
But finding staff who speak Cantonese or other Asian languages like Bengali is even more difficult. Elaine Ho, who coordinates the Asian Bi-Cultural Clinic for Behavioral Health at Gouverneur hospital in downtown Manhattan, says her program faces the same shortage. "If we offer sponsorship, it might be better, but we don't," said Ho — most nonprofit organizations cannot afford the thousands of dollars needed to sponsor the work visa and green card for newly graduated international students majoring in social work. She is now one of the only two social workers left to staff her program, down from a total of eight before the pandemic.
The biggest challenge, however, is that many Chinese immigrants with mental illness are extremely reluctant to begin treatment. Because of the stigma, many of the family members who take care of the patients in Lai's program have never shared their situation with anyone outside the family. "I have a colleague who is functional but a little odd. I've seen other colleagues laughing at him behind his back," said the sister of one of the attendees. "I cannot imagine how they would react if they knew my brother has schizophrenia." By the time someone goes to see a psychiatrist, "most likely it's going to be a very severe case," said Xinlin Chen, the visiting psychiatrist for Lai's program. When the illness is in a more moderate or early stage, "people try to keep it a secret." Some in the older generation also resort to folk remedies, like swallowing the ashes of burned incense, which they believe will drive away the devil that has possessed one's mind. Others consider mental illness to be a symptom of physical ailments and never think about visiting a psychiatrist until they are on the verge of being hospitalized.
Researchers have found that culturally competent mental-health services can help reduce the sense of stigma for patients and increase the possibility that they will look for treatment and see better outcomes. But helping patients find such services is still a challenge. A recent survey on the mental health of Asian American women in New York found that 84 percent of the respondents agreed that talking to a mental-health professional would positively impact their life, yet only 45 percent said they know a community-based organization that provided mental-health services in their preferred language.
Without other full-time staff, Lai must juggle running the program, filling out all the time-consuming paperwork required by government regulators, and fundraise, since state funds are not enough.
On a humid day in June, Lai started class by leading the group of adults in their 30s to their 60s in reading the goals listed on the whiteboard aloud. They included Confucian tenets like "Respect your elders" and practical tips like "Read newspapers to keep connected with the world." The virtue she highlighted above all was being punctual — seeing your doctors and taking medicine on time.
"If you miss your pills, what will happen?" she asked the students in Cantonese.
"Being hospitalized." they answered in unison.
"Do you want to be hospitalized?"
"No."
"Then what do you need to do?"
"Take the pills on time."
The lesson might sound frivolous or alarmist. But Lai believes that referencing Chinese culture and educational methods makes it easier for the patients, many of whom grew up in mainland China or Hong Kong, to absorb certain lessons. For example, she frames anger-management skills in terms of respecting one's parents, rather than taking your frustration out on them, and she tries to boost the self-esteem of the members with lines from Tang-dynasty poems. As for taking pills on time, Lai repeats this goal every few days. For many of her students, skipping their medication has had catastrophic results: Some have attempted suicide, others have stormed out on family members, and a few ran away from home and spent the night on the streets. In the end, they'd all ended up involuntarily committed in hospitals, which none of them wanted to repeat.
The goal of outpatient programs like Lai's is to stabilize patients and keep them out of hospitals through daily, on-site treatment. These programs began gaining support in the 1980s, offered as a solution during the deinstitutionalization movement of the time which wanted to prevent the abuse of patients locked away in psychiatric wards. Better medicine also meant many patients could control their symptoms while living in their own communities, rather than in hospitals. Then, in the 2000s, the state turned away from the goal of stabilizing patients and focused instead on their recovery and reintegration into society. In 2010, the New York State Office of Mental Health prioritized a new program model called Personalized Recovery Oriented Services, or PROS.
Compared to the CDT treatment model, PROS offers patients greater flexibility in arranging their own services and aims for them to live independently. PROS patients are not required to attend treatment programs every day, and they can set their own goals, including finding a job (the employment rate of PROS patients is around 15 percent statewide), something a CDT program is not able to provide. Many providers say PROS also makes better financial sense for the government in the long run, since it pushes patients to wrap up treatment and reintegrate into society after a couple of years, while CDT programs might serve a patient for decades — the one who's stayed the longest in Lai's program has been there for 30 years.
Many service providers have switched to the PROS model — there are now up to 79 in the state, while the number of CDT programs has plummeted from 190 in 2005 to 11 across the state. The state has also launched several new service models after PROS, and it no longer issues new CDT licenses. In New York City, CDT programs serving Asian patients dropped from four to just the one run by Lai.
But even fans of PROS agree that it cannot completely replace CDT. Peter Yee, a former assistant executive director of behavioral health services at Hamilton Madison House on the Lower East Side, was involved in transitioning the organization's CDT program to PROS about eight years ago. He likes the individualized services that PROS provides, but, he cautions that patients "have to function high enough to understand the concepts." When Hamilton Madison House closed its CDT program, Yee said, some higher-need Asian patients who wouldn't fit in PROS were referred to Lai's program. However, a spokesperson for OMH said that the PROS model was designed to meet the needs of people with serious mental illness at any stage. "OMH strongly believes that all individuals have the capacity to recover and that decisions about the level of support any one individual needs should be made through a person-centered and recovery-oriented framework," he said.
But Lai doesn't plan to switch. The OMH "would like the patients to build function and be independent," said Lai. "But for the patients we have, missing one day of the program could lead to a relapse." She still remembers when a member who lived alone didn't answer multiple phone calls during a period when they had paused in-person meetings because of the pandemic. Lai begged the manager of the building where he lived to check on him. He was found dead in bed. "This is how important it is to meet every day in person," said Lai. "It's not easy to know for sure whether someone is well over a phone call."
This year, the state and the city announced a plan to add more psychiatric hospital beds, and Mayor Adams last November revealed a new policy that permitted police and emergency medical workers to involuntarily hospitalize mentally ill patients living on the streets who they determine might hurt themselves or others. To Lai, that plan looks like a step backward. Those who have family members in Lai's program are even more concerned. "When Binzai was hospitalized before, I couldn't even communicate with the doctors," said Huang.
On the day I visited, two members were missing from class. One of them, Xiaoli, had called Lai in the morning to ask for a day off. Her mind was "chaotic," she told Lai. The visiting psychiatrist to the program had recently increased the dosage of her medicine. Lai told her to do some breathing exercises, take a good rest, and drink a lot of water.
But no one had heard from Ah Wen, a former messenger in his 40s who occasionally put on a tie to read the newspaper aloud to everyone. When he didn't pick up Lai's calls, she called his brother to let him know. The members wondered aloud about whether he was sick, hospitalized, lost on the streets, or — the worst case — had died.
As the members talked, Lai's phone rang. Xiaoli's husband told her that Xiaoli had been hospitalized after developing hallucinations. The members gasped when they heard the news. Ah Wen's brother called a few minutes later to report that Ah Wen had been tracked down. He had thrown a tantrum in his supportive housing unit and refused to talk to anyone. Everyone seemed relieved that no one was still missing.
Lai doesn't want her patients to be cocooned in their own world. She encourages them to donate from their meager supplemental-security income to underserved children and to do volunteer work in the community to help them build self-esteem, one of the major tasks Lai gives to herself. But when Binzai went to a bakery in Chinatown to offer his skills for free, he was let go after half a day when the manager found out about his condition.
This can make it hard for Chinese immigrants with severe mental illness to live independently. "It's not like Chinese patients do not want to find a job. But they don't speak English, and employers in the Chinese community won't hire them," said Ho.
I asked Lai how she measures her accomplishments if the risk of relapse is permanent and if her patients may not ever be able to live independently. "Any progress they make, no matter how tiny, makes me happy. And you have to measure the progress by years, not by days," Lai said.
Then she went to lead the class into their favorite session — singing. She placed a notebook on the table — a collection of 84 Chinese songs from the past several decades. They sang together, and some also took turns singing solos. When Lai placed the notebook in front of Binzai, he shook his head and his eyes darted away, which is how he usually reacted whenever he was asked to sing in the class. But that day, he picked up the notebook and slowly flipped the pages. In a quivering voice, he began to sing, "In a place far away, there is a fine maiden / When people pass her tent, they turn their head back and keep glancing …"
Lai cheered and applauded, as if Binzai, who had once damaged the bathroom door at the venue in one of his manic episodes, was a pop star. Then she turned away and dabbed the corners of her eyes. It was the first time he had sung in public.
* All patients named in the story are referred to by pseudonyms to protect their privacy.