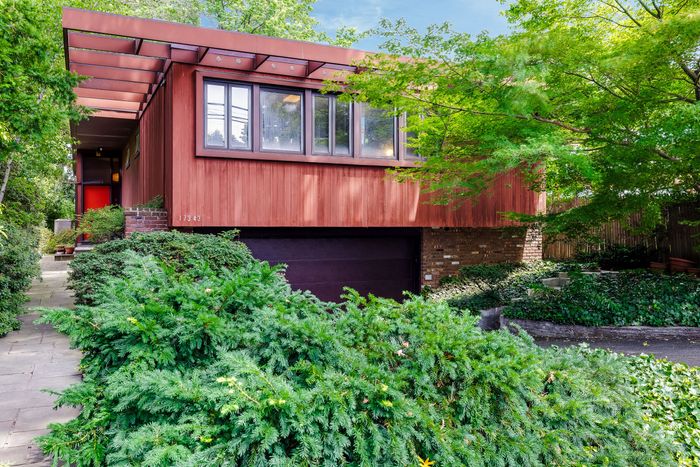 The Edelsteins designed their home out of California redwood with open-eave overhangs, a Frank Lloyd Wright–inspired contemporary style which was out of joint with Jamaica Estates.
Photo: Patrick Golden/Keller Williams Realty Landmark II
Arthur and Martha Edelstein ended up in Jamaica Estates because they wanted space. Martha was an artist who had studied at Pratt and worked as a fashion illustrator for Henri Bendel. Arthur was a photographer and a mechanical engineer with a knack for building anything he could imagine — including devices that helped scientists position objects with precision lasers. She wanted a studio for her abstract paintings; he needed a dark room. They flirted with the idea of buying a brownstone, but didn't want to fit their lives into someone else's vision; they had their own.
The 1960 three-bedroom that they designed and helped build is an anomaly in Jamaica Estates, where most of the houses are stuffy colonials. 173-43, meanwhile, is a Frank Lloyd Wright–inspired home built of rust-colored California redwood that lays low to the ground, its front door tucked to the side. An entryway lined with walls of bookcases gives way to an open-plan dining and living area. And that looks out onto a yard that takes up the entirety of the deep 10,000-square-foot lot. Martha, an iconoclast, landscaped in the style of Japanese gardens. The theme continues indoors, where Japanese screens set off the primary bedroom.
"It was an amazingly wonderful opportunity to create something out of nothing," said Lisa Sack, their daughter, who grew up in the house. "They were both just incredibly creative people living at a time when other people were a bit more constrained." The Edelsteins may have tapped into the Second Bay Tradition, where California's mid-century architects reinvented Frank Lloyd Wright's principles. But the two untrained architects might have simply designed in response to a pressing problem: how to get a lot of space on a slim budget. The style let them skip fussy extras. The brick free-standing fireplace and exterior redwood are left exposed. And why waste cash on unnecessary walls? That fireplace is all that separates the living room from the dining room, which is set off from a kitchen by nothing more than its cabinets.
"This was the house that all of our friends always wanted to come over to because it was the cool house," says Andrew Edelstein, their son, who credits the open-plan design, which wasn't typical at the time. There were Thanksgiving dinners for the whole clan and cocktail parties for other couples. Andrew and his friends could be found in the downstairs workshop, making stop-motion animations, while upstairs his sister and her classmates wrote musicals, and in the five-by-five-foot darkroom their father labored over baths of chemicals. The art studio was always in use, and it's where the children now have a display of some of their mother's last paintings.
Arthur died in 1991. Before Martha died this year, she explained some of her design sensibility to her granddaughter Gemma Sack at Brown University's The Indy. She said the couple had no interest in building another one of Jamaica Estates's "'sedate houses of memory,' which were meant for 'duchesses,' 'large gowns' and 'well-mannered tea parties.'" And she said, the idea of grass was stifling: "She never wanted 'to become a servant to a lawn,' which she considered 'a green carpet that you're essentially vacuuming all the time.'"
To their family, the home is now another part of the Edelstein family's legacy as artists and creators. And Daniel Akerman, their real-estate agent, felt that way, too, when he first walked in. "This is not something somebody did to make a book or sell a home. Somebody built this house to express themselves and their lives," he said. "Somebody's soul is in this house."