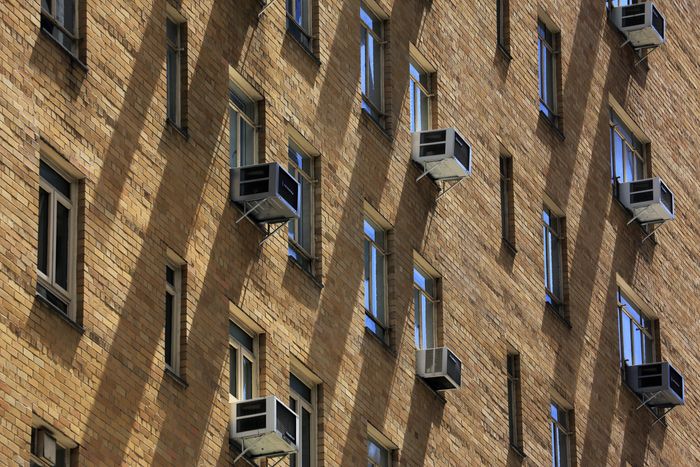 Photo: Getty Images/Getty Images
Gary Barnett, the developer behind One57, has been enmeshed in a years-long lawsuit with a neighboring landlord over the Diamond District hotel he's building. As The Wall Street Journal reports, the heart of the conflict involves a couple dozen air conditioners that hang off the side of a building on 47th Street. But this time it's not Barnett who's maneuvering to wring the most air rights out of a site.
The air conditioners in question are attached to 29 W. 47th Street, a building that houses a number of diamond businesses and is owned by Jack Elo, whom the Journal describes as a "smaller scale" landlord. Those AC units hang over the lot where Barnett plans to put a 33-story luxury hotel. Although Barnett owns the 18 inches of land and the air space above that that's currently occupied by Elo's air conditioners, Elo is trying to claim not only that strip of air, but also the air rights that go with them. He's arguing that because his building's air conditioners and an antenna have been hanging in that space for the past 15 years, it now belongs to him via the doctrine of adverse possession, also known as squatter's rights. (It's the same doctrine that a Fifth Avenue co-op is invoking to try to take a pit behind Eliot Spitzer's Upper East Side condo project, arguing that because it stored some construction supplies there, it now belongs to them.)
Elo's lawyer also says that the hotel going up will force Elo to permanently shutter some windows. The loss of a lot-line window is a sad but common occurrence in New York. So common, in fact, that bedrooms with lot-line windows are not considered "legal" bedrooms in condo offering plans because the assumption is that someone will build next door.
As the Journal notes, Elo's case is a long shot: New York State tightened its adverse-possession laws after a couple successfully annexed part of their neighbor's yard in 2006 by installing a bird feeder and drainage on it.
In any case, Barnett, king of air-rights assemblages, does not seem especially impressed by Elo's legal maneuverings; in court filings, Extell accused the landlord of being motivated by a "rapacious desire to extract unwarranted concessions."