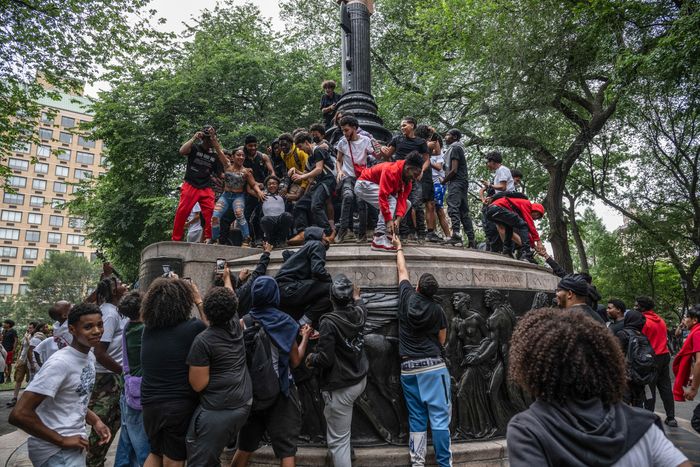 The crowd climbed up the Independence Flagpole in Union Square.
Photo: Victor J. Blue
When Twitch streamer Kai Cenat announced a giveaway and an IRL stream in Union Square Park August 4, people replied, "Booked flight." "Camping there already." Cenat, who was born in the Bronx and is based in Atlanta, said he picked Union Square because "all the trains go there, right?" Thousands showed up Friday afternoon (some even claimed on social media that they had camped overnight). But finding Cenat or getting any of the free PlayStations, gaming chairs, or computers he had promised seemed unlikely in the crowd, and people quickly turned their energy to, well, other things. Social-media footage showed people jumping on cars, throwing drinks and food, and berating local workers. The Union Square Greenmarket closed early, and trains bypassed Union Square during the height of the chaos. Police arrested dozens of people, including Cenat, who was charged with inciting a riot and unlawful assembly.
Cenat rarely makes public appearances, choosing instead to have celebrities and collaborators join him on his Twitch livestreams. Fans clamor for his attention in the comments section of his social-media pages — he has 6.6 million followers on Twitch, 4 million subscribers on YouTube, and 7.2 million subscribers on TikTok. As last year's "Streamer of the Year," Cenat's talent clearly lies in his ability to draw his fans in online. The moment he diverged from that dynamic, literal chaos ensued. Yesterday, he addressed what happened in a livestream, saying he was "disappointed in anyone who became destructive that day."
According to those who were at Union Square, things started getting out of hand around 3 p.m., around an hour before Cenat's scheduled appearance,. But the crowd had dissipated by around 7 p.m. after the police made arrests. Three people who were present look back on their experiences that day.
.

The rapper who decided to make a music video
Oscar Guzman, a 25-year-old who lives in Brooklyn: I saw on TikTok the day before that Kai said he was going to come to New York in Union Square, so I decided to pull up. I already knew it was going to be chaos because his fan group is just too strong.
Before Kai was supposed to get there at 4 p.m., it wasn't that bad. But then it looked like he wasn't going to show up, and it got hectic. That was around 4:15. When you looked to the right or the left, you'd see everyone started doing something different — dancing, fighting, crowding around. That's when I got my camera out and started recording because I thought it would be a great place for a rap music video. I already had the song ready, but I uploaded it as "Kai Cenat Riot" on YouTube.
It was a movie out there. So chaotic. I saw people twerking on light poles and throwing footballs. People threw yogurt, paint, everything.
I stayed until six or seven. Things started calming down when people started getting arrested, so the crowd left or just got into the subway. I was the only person there filming a music video; everyone else was just clowning around.
.

The photographer who happened to be in the park
Bruce Schaff, a 24-year-old who lives in Brooklyn: I just happened to be in the park at that time — I usually go there to feed the pigeons. When a crowd started forming, I couldn't figure out what was going on by looking online, but someone told me it was a thing for some YouTuber. I heard a commotion around 2:30, and I carry my camera with me everywhere, so I started taking pictures.
I saw people start running because they thought they saw Kai and then I saw police chasing them and trying to get a handle on the situation. Everyone just ran out of the park down Park South and around the corner of 20th Street and then back to the park. With each avenue, the crowd shrunk.
I watched the crowd from a distance, but I heard shouting and saw some mascots like what you usually see in Times Square. I don't remember who they were, but I remember that it was weird and slowly but surely getting more chaotic. Something big had to be going on because why else would there be mascots? At that point, I started filming as much as I could.
Police were there the whole time, but I don't think they ever realized how big it was going to be. Slowly, more and more police showed up. They were trying to get a handle on the situation, but people were throwing things and running around and being crazy while I was there for a few more hours.
.

The vlogger who knew it would get crazy
Jaiden, an 18-year-old student and YouTuber who lives in Brooklyn: I saw a flyer on Instagram that we could meet Kai at Union Square to win a free PS5 or a free PC, so I was like "All right, bet," told a group of friends, and we went together. We got there just a little before four, but Kai wasn't even there yet. There were mad YouTubers and streamers there that I recognized, like a lot of famous NYC people.
It was already crazy from the second I got off the train. The first thing I saw was people running, but I didn't know why. I feel like a lot of people were there for clout more than winning stuff, but I went there to vlog. I knew it was going to be crazy, but I didn't expect it to be as crazy as it got.
It got to the point where I was like, "Oh, nah," when me and my friend saw people climbing all the way to the top of the statue. I don't even know what the statue was, but people were all over it. When Kai came, people were pushing and shoving me, and I'm not used to crowds like that.
I left around seven. The cops started pushing people back in the square near Kai, and the people who didn't move back got arrested. People were throwing plates from restaurants and stuff in cops' faces, and at one point I saw smoke — I'm not sure what it was. I wasn't scared or anything, but I'm glad I made it out.
.

The true fan who waited since 9 a.m.
Miguel, a 24-year-old vlogger who came from Connecticut: I've been following Kai for a long time, so the second he announced this event on a Twitch stream, I called my friend and told him that we had to make it to New York for this no matter what. I wanted to be there early to talk to people and see if they were really fans of Kai, but it seemed like a lot of them just wanted free stuff.
I got there at 9 a.m. and documented as much as I could. At first, it was really organized, but people started getting impatient and disorganized around two. By three, people were throwing water bottles and whatever else they could get their hands on — paint cans, traffic cones, bottles, whatever. Around 3:30, the cops really started showing up and pushing people around. I only stayed until around 4:30 or five because it was just getting too crazy. I was never scared for my life or anything, but I did start getting hit in the head with water bottles and stuff.
A few people were able to get gift cards, but I just feel so bad for Kai. He never has events like this, and he just wanted to give back to his community by giving people the equipment they need to be able to stream and stay off the streets. Kai is not the kind of person to encourage craziness like this. I wasn't expecting a Travis Scott concert with people raving and throwing stuff and fighting each other. He has so much influence on people — including me — but most of these people causing problems were not his fans, I don't think.