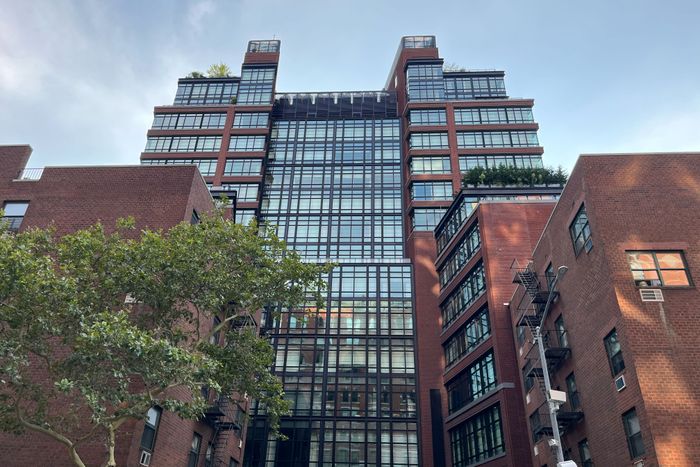 Fluffy bursts of green atop 150 Charles in the West Village hint at two enviable roof decks overlooking the Hudson River, which belong to two twin penthouses. They were built as twin units, with the same square footage, the same number of rooms. Why did they sell this year at vastly different prices?
Photo: Adriane Quinlan
150 Charles Street in the West Village is home to two twin towers that hold two twin penthouses. At the 15th floor, the towers start rising up from the rest of the massive condo — a block of brick and casement windows that nod to the industrial warehouse it replaced. Each penthouse is a duplex capped with a roof terrace, with five bedrooms and six bathrooms across 4,610 square feet of interior space and 2,500 square feet of private outdoor space. Like twins, who sometimes share not just genetics but destiny, the two penthouses sold this summer at almost the same time.
Penthouse A sold first on June 28 for $52 million — the month's top sale. Then, just 30 days later, on July 28, Penthouse B sold for $38.5 million. This seemed strange: The two apartments seemed to be as similar as any two apartments could be. Besides the square footage, both had cascading staircases, roof decks with grill tops, private elevator access, and great rooms with unimpeded views of the Hudson. When they were built, they were "the same," said a spokesperson for COOKFOX, the building's architect. The firm that designed the interiors, Alan Wanzenberg, did not respond to a request for comment.
So what could explain the $13.5 million gap? "It's a mystery, a deep mystery," says the appraiser Jonathan Miller, who was not at all certain we could solve it. "The fact they're identical apartments, that they sold in the same year …" he said. "It's a good one."
When the building first opened in 2016, it drew celebrities: Ben Stiller and Christine Taylor, Jon Bon Jovi, model Irina Shayk, and fashion photographer Steven Klein. The building's developer, Steve Witkoff, snapped up Penthouse B for himself for $24 million, which appeared to be a discount: Penthouse A sold for nearly $30 million.
It's possible that since then, the owner of Penthouse A made the place even more over the top. A broker who represented the developer in its 2016 sale did tell The Real Deal that it "underwent an extensive renovation since it last traded." (Neither Witkoff nor that broker responded to a request for help solving our mystery.) Because both penthouses were sold off-market, it's hard to know the most recent floor plans, finishes, and anything else that might distinguish them from each other.
But could a renovation that happened as early as 2016 really account for a $13 million price gap? "That's getting a little long in the tooth for a high-end property," says Miller. Plus, he could hardly imagine a renovation that would add that much value. "$13 million is a reimagination of the whole space." To put that number in context: For $13 million, you could buy a five-story townhouse in Greenwich Village's private Macdougal–Sullivan Gardens, a gut-renovated seven-story townhouse off Central Park, or another luxury West Village penthouse with outdoor space and river views.
So maybe it's not a renovation. There is one clear difference between the twins, visible to all. Penthouse B faces north, toward the other luxury high-rise buildings that have sprouted between the West Village and the Whitney Museum, following the High Line into Chelsea. The pricier Penthouse A faces south, looking over the lower buildings of Greenwich Village, Soho, and Tribeca. The low-rise views could make a difference, says John Walkup, a co-founder of UrbanDigs, a real-estate analytics company that tracks sales data.
Dustin Crouse, a Douglas Elliman broker, regularly represents rentals at 150 Charles and is working with the sellers of a two-bedroom there. To Crouse, the north side of the building, where Penthouse B is, is markedly different from the south. There, he says, the views are not "showstopping," while they are on the south end's higher floors. Plus, the south-facing units get the light coming through those cold casement windows all day. "It gives a whole other level of character and warmth to those properties," he says.
Still, Stephen Kliegerman, the president of new-development marketing at Brown Harris Stevens, who helps price new buildings, was skeptical. Taking into consideration cardinal directions, floor heights, and views that encompass significant architecture or bodies of water, he said that pricing for a view can "vary widely," as much as $1 to $2 million. "But $13 million? There's gotta be some other factor."
What else could be going on? The sales of both penthouses were arranged between LLCs, shielding both the sellers and the buyers, and they both happened "off-market." Were the transactions hiding something else?
City records show the closing date for Penthouse B, the cheaper $38.5 million apartment, came 17 days after the $52 million sale was filed with the city and publicized by The Real Deal. So the $38.5 million seller might have been long past signing a sales agreement by the time they learned they could be asking for more. And the buyer who shelled out $52 million for Penthouse A? They would not have had a way to know about the cheaper unit across the way. "Basically, the price discrepancy is more likely a function of the opacity inherent in private, off-market listings," says Walkup.
This is a risk of off-market listings, says Miller. "With a pocket listing, it's not vetted in the market. That can sometimes be a disadvantage: You get the privacy, maybe you're hoping someone is going to overpay — but it could go the other way." In this case, it might have gone both ways: One buyer overpaid, one seller got stiffed.
And it would be hard to call almost everyone involved to ask if this is, in fact, what happened. Penthouse B was sold by one shell company, Berkeley Interests LLC, to another, 150 Charles PHB, LLC. Penthouse A sold to 150PH LLC from 150 Charles Street PH A LLC.
It's hard to find out much about those buyers and sellers, but we do know the seller of Penthouse A because he was already identified when he bought the unit in 2016: Robert Shafir, the former CEO of Credit Suisse Americas and the former CEO of the hedge fund Sculptor Capital. And the broker who represented him, per The Wall Street Journal, was Richard Ziegelasch.
Between 2012 and 2014, Shafir and Ziegelasch both worked in private banking at Credit Suisse — Shafir as the department's co-head, Ziegelasch as a director until he left in May 2014. As it happened, this was a good time to get away from the bank: That month, Credit Suisse pleaded guilty to conspiracy charges filed by the Department of Justice, which had spent years investigating how the bank helped customers evade taxes by, among other things, "assisting clients in using sham entities to hide undeclared accounts." Ziegelasch has since pivoted to become one of the top brokers at Brown Harris Stevens, and more recently jumped over to Corcoran. (His bio credits all this success to "an extraordinary professional network established during 20 years as a senior private banker with Credit Suisse and the UBS Group" and "an uncommon fluency in complex monetary concepts and investment strategies.")
One way to hide undeclared accounts is, incidentally, to pay more than an apartment is worth and specify in a separate agreement that the buyer will put the difference in an offshore account. Raymond Baker, the president of the Washington D.C. nonprofit Global Financial Integrity, which investigates real-estate transactions, says that when prices fluctuate vastly — as in the case of two similar apartments selling at a big gap, or even go back and forth, gaining and losing value year to year — it may be an indication of those separate agreements. He says that his organization also sees the reverse: a buyer underpaying for a home and depositing the difference in the seller's offshore account. By putting money in a foreign account, the beneficiary can avoid "graspy in-laws," Baker suggests, or maybe "you're about to divorce your spouse and you want to get money out of that person's sight before you do it." (There are other reasons, too.) He says the practice is widespread and is just one of the reasons he believes that in the last half-century, price and value have "become two separate concepts," he said. "Price is a fiction."
Without speaking to the buyers and sellers of either of these apartments, it's impossible to say whether views, renovations, secret selling agreements, or any other factors pulled the value of these twins apart. What we know for sure is that in the stratospheric ultraluxury market in New York City, prices are hard to set, evaluate, and probe. This summer, the five-story penthouse under the copper point of the Woolworth Building sold for $30 million — after it was listed for $110 million. Stephen Ross, the CEO of Related Companies, sold a penthouse in January for $40 million after initially asking $75 million. Those gaps might have absolutely nothing to do with shady separate agreements. Instead, like Basquiats brought to auction, each home is so rare that agents can't guess who is willing to spend more or how deep their pockets might be. There is no other Woolworth tower to stuff a penthouse in, not so many Columbus Circle penthouses that are first gifted to their developers, and — perhaps in the case of 150 Charles's Penthouse A — few West Village penthouses with unimpeded views across that part of Manhattan. For the top one percent of the one percent, what's an extra $13.5 million?