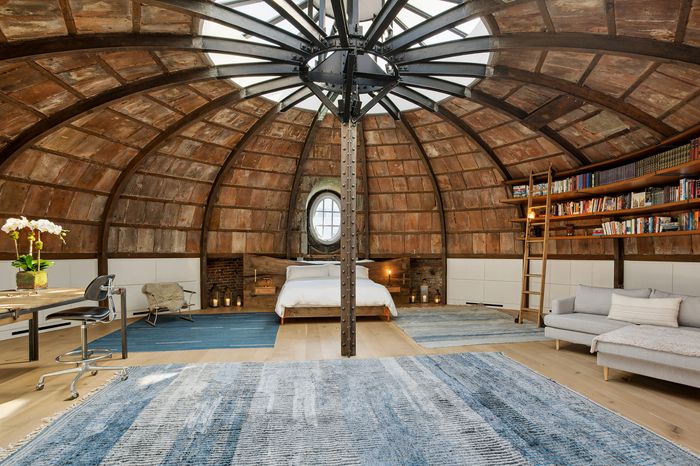 The dome to the north of 240 Centre Street served as the radio room for the New York Police Department before it moved its headquarters in 1977. Megan Ellison, film producer, has used it as the bedroom of her pied-à-terre since buying it in 2008.
Photo: VHT
There are technically two domes atop 240 Centre Street, the former police headquarters turned luxury co-op. And Megan Ellison, the founder of the production company Annapurna Pictures and heiress to the fortune of billionaire Larry Ellison, doesn't own the apartment with the building's biggest, grandest dome. (That sold in 2021 for $10 million.)
She owns the one-bedroom with the wider, flatter dome at the north side of the building, a nipple-shaped vault described as a dome "of lesser importance" in a 1978 Landmarks report that notes it was "gilded and paneled in the Austrian rococo manner." The NYPD apparently used it as the "radio room," where pre-iPhone switchboard operators fielded emergency calls, and a 1932 photo of the central skylight seems to match up.
Ellison used it as her bedroom, according to a listing that went live this week; the apartment is for sale for $3.7 million. The place also has a wood-paneled shower, a high-ceilinged kitchen, and "a sophisticated sound system, projector, and drop-down viewing screen."
This was, apparently, only ever a pied-à-terre. A 2021 Variety article described Los Angeles as Ellison's "home base." There, she's been a fairly successful real-estate flipper. Between 2008 and 2013, she sold three homes for a net gain of $14.15 million. In 2016, she sold another for $5.9 million. In 2017, she sold another for $35.7 million. And then, in 2018, she sold another for $4.07 million. If she sells this apartment at asking price, she'll have netted $900,000 more than she bought it for in 2008.