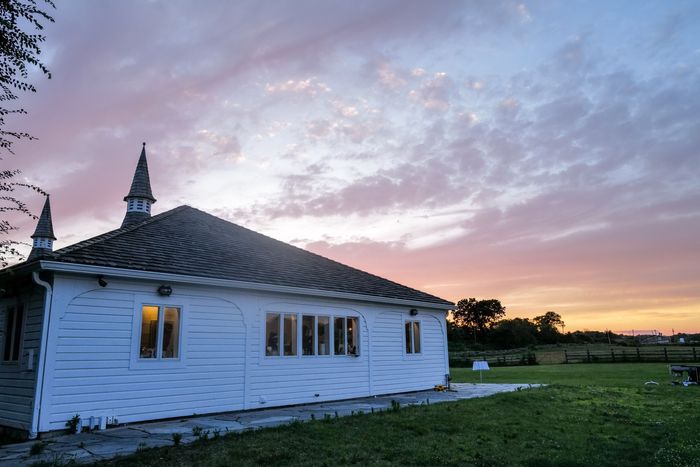 Photo: Madison McGaw/BFA.com/Shutterstock/Madison McGaw/BFA.com/Shutterstock
Andy Warhol was apparently bored of the Hamptons until, charmed by a local motel, he fell in love with end-of-the-world Montauk. So in 1987, he and his manager and collaborator Paul Morrissey snapped up a 20-acre parcel on a bluff. It included five shingled homes built by the family behind Arm & Hammer, and Warhol turned the family compound into an artistic one. Jonas Mekas came often, as did Peter Beard. Jacqueline Onassis, Dick Cavett, Truman Capote, and Elizabeth Taylor made cameos. The entirety of the Rolling Stones once spent five weeks there rehearsing. The place is still standing. And it's now the scene of a battle between two warring art dealers on either side of its fence, according to Annie Armstrong's wild Artnet piece that culminates dramatically with one calling the other "fat boy."
Let's begin with the dealer Adam Lindemann, an established 62-year-old billionaire who has sold a $40 million Basquiat. In 2015, he bought the last five acres of Warhol's former Montauk estate that the Warhol Foundation hadn't turned into a nature preserve. At the time, "Page Six" reported that he "had no interest in the horse farm," a 24-acre site that never belonged to Warhol but had been tacked onto the property by the last owner.
Someone else was interested: Max Levai, a 35-year-old gallerist who was recently ousted from the prestigious Marlborough Gallery by a board that found he may have led Marlborough to "substantial economic and reputational harm." That same summer, Levai "stumbled upon the property," according to the New York Times, and paid $8.2 million for the farm, which is set up around two matching barns. He renovated one to use as a gallery space for outsider artists and stunt shows, like an upcoming exhibit of work made by artists who were either drunk or stoned that a press release promised will "monitor the effects of these two altered mind states." In the other barn, he continued to keep horses, telling the Times that he considered the horse ring to be a "church." "We're really invested in the philosophy that this is a farm first," he said. But he also seemed invested in pointing out his proximity to Warhol: The Times noted that the farm was "adjacent" to Warhol's estate (it's actually across the highway), and Vogue happened to observe that "Andy Warhol summered on his property, Eothen, only a mile away."
Sources tell Artnet that this annoyed the neighbor who did own Eothen. According to Artnet, Lindemann was even more annoyed when, last fall, Levai's gallery offered a free painting to whoever won an Easter egg hunt. Brad Troemel, an internet artist whose work was described in The New Yorker as "a jab at the rigid rules of the art world and an experiment in what art might look like if those rules didn't exist," didn't win the competition (an 8-year-old did). In his search for eggs, he trampled Lindemann's fence, breaking it. Levai paid for the repair.
But the battle drawn over the rightful heir to Warhol's Montauk property came to a head in July. Artnet says several sources reported Lindemann showed up at the ranch on a "private tour with a friend." But he was spotted by Levai, who reportedly "became incensed" and asked him to leave. When Lindemann didn't, Artnet reports that Lindemann shoved Levai and said, "What are you going to do about it, fat boy?" One thing he did do? Call the cops. Lindemann's attorney confirmed him as the perp who showed up in a police report, and he now faces charges of criminal trespass and harassment.
But Lindemann denies the shove, telling Artnet, "There's no story. You're taking advantage of a nothing fracas."