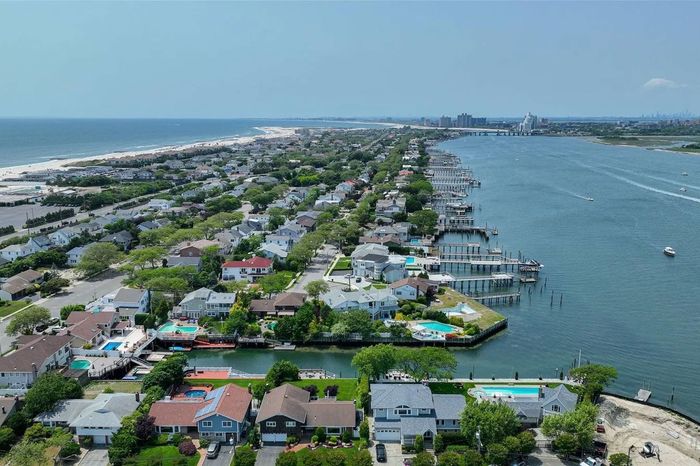 Photo: Courtesy Douglas Elliman
You might have heard recently that Atlantic Beach, a small beachfront community on the western edge of Long Beach, is the "new Hamptons." Looking around, it may not be clear why, but the hype can all be traced back to a single story: a New York Post piece from July that declared, "Wall Street is eyeing this Long Island area as the 'new Hamptons.'" The Post argued that because of Atlantic Beach's proximity to the ocean, private beaches, scarcity of listings, and much shorter commute to Manhattan, it's becoming a Hamptons-like destination. A few outlets picked it up, including the Daily Mail, which quoted the Post and wrote, "Forget trekking out to The Hamptons, wealthy New Yorkers now have a tony place to visit much closer to home."
This all seems to be generated by the Post's spin of a single source: Thomas Tripodi and Enzo Morabito, the real-estate brokers trying to sell the neighborhood's most expensive home — a listing with six bedrooms, six baths, a pool, and a dock — for $11.5 million, a record for the area. "Atlantic Beach is the Hamptons without the commute," Tripodi told the Post. He was also quoted in the Long Island Herald, again claiming that Atlantic Beach has the potential to become the "new Hamptons," one of the reasons being the high price of the very property he's selling.
But what do the people who live in Atlantic Beach think? They've pushed back — also to the Post — on the idea that their neighborhood, which has only three restaurants and two bars, is anything like the Hamptons. "It's more of a family. It's a community with the family," Stu Yachnowitz, the owner of a local beach club, said in another Post story, published just four days after the original article, which was linked to as evidence of the "industry chatter" that "Atlantic Beach is becoming their 'new Hamptons.'" In the Herald, residents of the town, which totals just 1,800 people, were even more displeased: "I don't think this community really sees itself, or wants to be seen, if you will, as the 'new Hamptons,'" Village of Atlantic Beach trustee Nathan Etrog said. A few weeks after the Post's story, Insider even sent a reporter to find out if Atlantic Beach was, indeed, the new Hamptons. (The conclusion: "I don't think it featured enough attractions or square mileage to make it a real Hamptons competitor.")
The Post, though, is still using the moniker it has created based on a single real-estate listing. And now there's trouble in paradise, i.e., the new Hamptons. The Post's most recent headline about Atlantic Beach reads "Long Island Town Dubbed the 'New Hamptons' Accused of Discriminating Against Jewish Sect" because the Village of Atlantic Beach is being sued for trying to seize property that the Chabad of the Beaches bought to provide religious services and programming. There's no mention, however, of who is doing the dubbing.