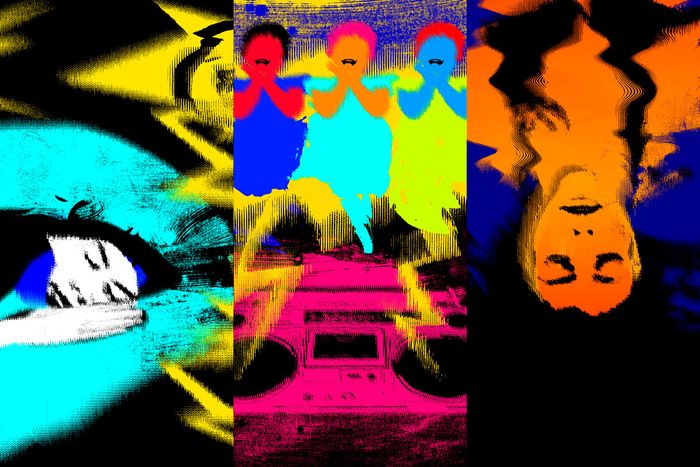 Illustration: Michele Febbraio
Last week, Curbed published a series of stories about noise in New York City — about the people who make it, are trying to stop it, and are losing their minds over it. It's a condition of living here that many of us are constantly, sometimes physically tormented by — whether it's a neighbor playing a particular song on repeat or a construction crew still going after midnight. We knew our readers would have their own stories to share, and we've collected some of the ones you offered in the comments of our Noise Week stories, below.
.

Mystery squeaks and 6 a.m. crash landings
In our compendium of noise horror stories, one resident in Crown Heights found herself the steady recipient of a stranger's morning sermon until her fiancé began blasting death metal back (see Google search: "Satan death chants"). Readers also shared their own small battles and victories.
In response to an interview with Arline Bronzaft, the city's "noise queen" and an environmental psychologist who has been spent five decades trying to make the city a quieter place, some readers identified a few problem spots for her:
.

When "noise" is a cover for cheap construction
"The Noise Next Door" delves into a dispute between two Bronx neighbors over noise that turned deadly and highlights how little recourse there is for those who call 311 or their landlords about a noisy neighbor. It reminded readers of similar experiences:
Relatedly, one astute commenter suggested a new apartment-hunting tip. As user so_pedestrian noted:
"You could also look at: Apartment HVAC systems installed by amateurs and improperly maintained by clueless or hostile management, unless they themselves are directly affected. These can generate a lot of noise and vibrations and be most notable at night. You might not notice it in the 5 minutes you have before putting down a deposit. Look out for apartments with a lot of turnover. You may also sense that it feels "wrong."




Industrial air conditioners that lack noise mitigation. These send shock waves (sub 75 Hz) into surrounding buildings and collect at the top. (Any Midtown apartment in the vicinity of a restaurant or commercial establishment.) You may or may not hear it audibly, but your body will register the noise over time, when the stress and loss of sleep/sleep quality can make you very sick, especially in a small apartment with no escape. Low frequencies–long sound waves–can travel a quarter mile or more so you may not even see the source.
.

When clinking spoons together physically hurts
Sufferers of hyperacusis, a rare medical condition, find even ordinary sounds extremely painful. One reader found some comfort and company in the story of Joyce Cohen and other hyperacusis sufferers, who take extreme care to muffle all the sounds in their apartments and environments:
.

The worst of the worst
We also put out an unofficial poll on social media: What is the worst noise in New York City? Besides a lot of agreement about the scourge of helicopters, many of you offered up some classics: